News
Boy Scouts of America Presents Award to St. Luke's CEO Richard A. Anderson
November 08, 2017
St. Luke's University Health Network President and CEO Richard A. Anderson received The Boy Scouts of America Minsi Trails Council's 2017 Good Scout Award.
The prestigious award was given at the yearly South Mountain District Good Scout Breakfast on Wednesday morning at the Event Center at Blue in Bethlehem. Anderson was recognized by area Scouts as well as business and community leaders for his achievements and service to the community.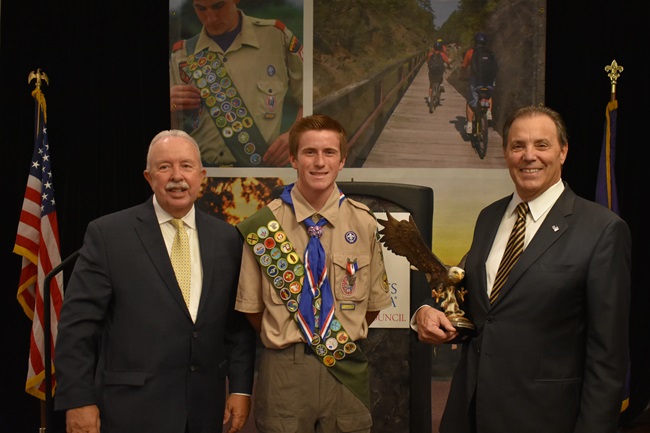 From left, Dave Lobach, President of Embassy Bank and master of ceremonies; Benjamin Szydlow, Eagle Scout representative speaker; and Richard A. Anderson, President and CEO of St. Luke's. Anderson is the 2017 Minsi Council Boy Scouts of America Good Scout Award recipient.
---
"Richard Anderson exemplifies all the good that comes out of our community – the character, leadership and positive impact," Arby Beisel, South Mountain Senior District Executive, said. "We are grateful that under Richard Anderson, St. Luke's has been a tremendous partner, faithfully providing facilities, education and donations to Scouts."
Anderson has led St. Luke's University Health Network since 1985. He has overseen St. Luke's evolution into one of the largest health networks in Pennsylvania and Western New Jersey.
Media Contact:
Sam Kennedy, Corporate Communications Director, 484-526-4134, samuel.kennedy@sluhn.org

About Minsi Trails Council, BSA
Minsi Trails Council provides leadership and character development programs to nearly 10,000 youth through more than 5,000 adult volunteers. The council serves young people throughout the Anthracite Region, Pocono Mountains and Lehigh Valley in Pennsylvania along with western New Jersey and serves six-counties: Lehigh, Northampton, Monroe, Carbon, Luzerne, and Warren counties. The local Scouting heritage dates back more than 105 years when the council's first Scout troops were established in the Allentown and Easton areas. To learn more about Scouting, please visit www.minsitrails.com.
About St. Luke's
Founded in 1872, St. Luke's University Health Network (SLUHN) is a fully integrated, regional, non-profit network providing services at seven hospitals and more than 270 outpatient sites in the greater Lehigh Valley. The network's service area includes 10 counties: Lehigh, Northampton, Carbon, Schuylkill, Bucks, Montgomery, Berks and Monroe counties in Pennsylvania and Warren and Hunterdon counties in New Jersey. In partnership with Temple University, St. Luke's created the region's first and only regional medical school campus. Dedicated to advancing health education, St. Luke's operates the nation's oldest School of Nursing and 23 graduate medical educational programs and is considered a major teaching hospital – the only one in its region. Repeatedly, including 2017, St. Luke's earned Truven's 100 Top Major Teaching Hospital and 50 Top Cardiovascular Program designations, in addition to other honors for clinical excellence. St. Luke's is a multi-year recipient of the Most Wired award recognizing the breadth of St. Luke's information technology applications such as electronic medical records, telehealth, online scheduling and pricing information. St. Luke's is also recognized as one of the state's lowest cost providers.