News
Auxiliary of St. Luke's University Hospital Celebrates the 105th Charity Ball
May 08, 2017
Benefits Women's Imaging and Wellness
Bethlehem, PA (5/8/2017) – The Auxiliary of St. Luke's University Hospital held its 105th Charity Ball at Saucon Valley Country Club on Friday, May 5th. Over 675 people attended the ball and more than $300,000 was raised for Women's Imaging and Wellness.
Dr. Hal and Mrs. Kimberly Folander served as honorary chairs, underscoring their outstanding service and many years of dedication to the health network. Kimberly Folander is a biochemist and Dr. Hal Folander began his career at St. Luke's Chief of Radiology in Fountain Hill and now serves as the organization's Chief Medical Strategy Officer.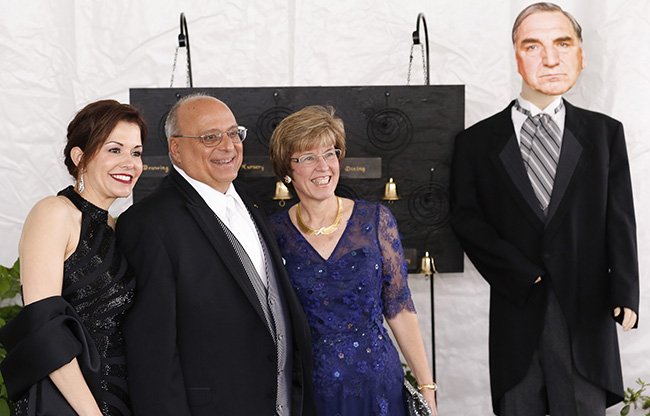 Ball chairs, from left: Lisa Amortegui and Dr. Hal and Mrs. Kimberly Folander, standing by the Downton Abbey set. More photos available for download here.
---
"As a biochemist and an interventional radiologist, we have had the privilege of being at the forefront of clinical discoveries and the development of technologies improving the wellness and care of patients, and ensuring that St. Luke's benefits from our collective endeavors," said Dr. and Mrs. Folander. "It is a shared honor that we serve as the Chairs of this year's Charity Ball benefiting Women's Imaging and Wellness programs provided through St. Luke's Community Health Department."
Inspired by the acclaimed PBS television series, "Downton Abbey," the Dinner at Downton-themed event was chaired by Lisa Amortegui. "As a breast cancer survivor, mammography technologist, and mother of two daughters I want to ensure that the latest technology is available and accessible so that our Greater Lehigh Valley community has every advantage necessary to fight this disease," said Amortegui. "In the St. Luke's Women's Imaging department, our goal is to make the experience positive for every woman regardless of their outcome. To be face to face with cancer each day takes a special and committed team of which I am proud to be a part."
The efforts behind the 2017 Charity Ball seek to further enhance the Imaging and Wellness programs offered through St. Luke's Community Health. The funds raised will provide a financial safety net for patients whose unique situations prohibit them from receiving quality care. Proceeds will afford more patient access to the highest quality individualized breast care by expanding low-dose 3D mammography offerings, and minimizing additional barriers to care such as lack of transportation, language and insurance barriers that keep women from annual screenings.
Guests dined on a starter course of Belgian endive spears with radicchio, watercress, and shaved asparagus garnished with sugared walnuts, mango white stilton, and cherry tomatoes with a champagne vinaigrette dressing, followed by a main course of poached salmon with a lemon yogurt dill sauce and filet mignon with a red wine demi-glace, rosemary scalloped potato galette and pea timbale. Dessert selections were sticky toffee pudding, English trifle, brandy snap, raspberries and raspberry puree, and Dolce Patisserie chocolates.
Attendees of the 2017 Charity Ball included Auxiliary President, Ann Marie Brogle and Dr. Patrick Brogle; Vice President, Amy Thompson and Richard Thompson; Ball Chair Lisa Amortegui and Dr. Jose Amortegui; Section Chief of Women's Imaging, Dr. Joseph Russo and Ashley Russo; Network Director of Womens Imaging, Michele Giletto and Basil Giletto, Bruce & Vicky Huegal and Rob & Peg Albert from B. Braun; Mark & Tina Connar; Dr. Timothy and Virginia Oskin, Eileen and Marshall Taff, Kelly and Daniel Dunn. Dr. Jay and Fran Fisher, Kris and Andrew Warner, Dr. Ted and Barbara Burger, Patricia and Robert Schoenan. Of the event, honorary Ball chairpersons Dr. Hal and Kimberly Folander remarked, "As we enjoy this sumptuous meal and evening of grandeur, we are mindful of the generation that ushered in a new age in medicine and look forward to supporting and embracing the strides yet to be made."
Special recognition is acknowledged to the following sponsors who made the event a great success:
Downton Abbey
B. Braun
Violet Dowager Countess of Grantham
Progressive Physician Associates, Dr. Hal & Kimberly Folander, Elaine Emrick, Merck, BB&T, Service Electric, The Medical Staff of St. Luke's Health Network
Ladies Mary, Edith & Sybil
Olympus, Gross McGinley Attorneys at Law, Geisinger Health Plan, Madison Farms, Air Products, Moravian College
The Crawley House
Boyle Contruction Management, IMC Construction, Capital Blue Cross, The Morning Call, Lutron
Mr. & Mrs. Carson
Victaulic, AON, Adams, Working Dog Press, Kevitch Chung & Jan Aesthetic Surgery Associates, Quandel, The Press Times, Lehigh University, Moravian Village of Bethlehem, FLB Attorneys at Law, Pheonix Medical Construction, DeSales University, Plantique, Highmark, TierPoint, BRF, The PEAK TV, Special Events Tent & Party Rentals
Charity Ball Contact
Lisa Amortegui, lisarenee143@yahoo.com, 865-712-5849
Media Contact
Samuel Kennedy, Corporate Communications and Media Relations Director, Marketing & Public Relations, 484-526-4134, Samuel.Kennedy@sluhn.org
About St. Luke's
Founded in 1872, St. Luke's University Health Network (SLUHN) is a non-profit, regional, fully integrated and nationally recognized network providing services at seven hospitals and more than 270 outpatient sites. The network's service area includes Lehigh, Northampton, Carbon, Schuylkill, Bucks, Montgomery, Berks and Monroe counties in Pennsylvania and in Warren County in New Jersey. Dedicated to advancing health education, St. Luke's operates the nation's oldest School of Nursing and 22 graduate medical educational programs and is considered a major teaching hospital, the only one in the region. In partnership with Temple University, St. Luke's created the region's first Medical School. Repeatedly, including 201t, St. Luke's has earned Truven's 100 Top Major Teaching Hospital designation as well as 50 Top Cardiovascular program in addition to other honors for clinical excellence. St. Luke's is a multi-year recipient of the Most Wired award recognizing the breadth of St. Luke's information technology applications such as electronic medical records, telehealth, online scheduling and pricing information. St. Luke's is also recognized as one of the state's lowest cost providers in comparison to major teaching hospitals and other health systems.