News
ASR Media Productions Team And St. Luke's University Health Network Receives Its Third Mid-Atlantic Emmy® Award
September 11, 2017
Hershey, Pa, September 9, 2017 – Hard work truly does pay off. Earlier this evening, ASR Media Productions and St. Luke's University Health Network took home an additional Mid-Atlantic Emmy® award for The PEAK TV's programming, awarded by the Mid-Atlantic Chapter of the National Academy of Television Arts and Sciences. The honors were presented during the event held at Hershey Lodge, Hershey, PA. The Mid-Atlantic Emmy® Awards recognize excellence in regional television news, programming, and individual achievement.
Awards for excellence were awarded for:
Title: "Catholic Charities: A Hand Up, Not A Hand Out"
Category: Public/Current/Community Affairs Feature/Segment
Kathryn Wallace, Director of Photography
Abigail Mutschler, Editor
Emily Paulin, Coordinating Producer
Ashley Russo, Executive Producer
Kenneth Szydlow, Executive Producer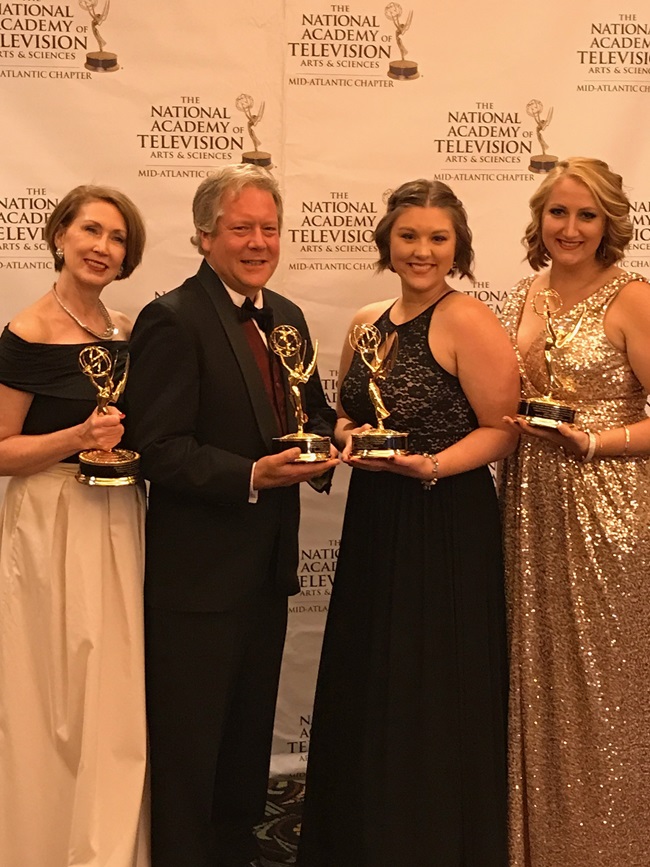 Pictured left to right: Tina Hasselbush, ASR Media, Ken Szydlow, St. Luke's University Health Network, Abigail Mutschler, ASR Media, & Kathryn Wallace, ASR Media
---
The ASR Media/PEAK TV team previously earned two Mid-Atlantic Emmys®; one in 2013 and the second in 2015. Ashley Russo, President and Executive Producer of ASR Media Productions and host of The PEAK TV stated, "I am so proud of our team. Their dedication to a superior product was recognized tonight. Sharing the stories of the Greater Lehigh Valley is what drives us each day."
ASR Media Productions received five Mid-Atlantic Emmy® nominations in 2017, announced at PBS39 on August 2. All of the nominated works were part of the company's health and wellness television program, The PEAK TV, which airs every Sunday at 6:30 PM on WFMZ Channel-69 and nationally on Dr. TV.
"The PEAK is an intelligent addition to the wide assortment of programing available in the Lehigh Valley," reports Executive Producer, Ken Szydlow. "It's news you can use and allows talented, local videographers an opportunity to feature their work."
Russo added, "ASR Media Productions is thankful for the support of local organizations, among them St. Luke's University Health Network, Girl Scouts of Eastern Pennsylvania, United Way of the Greater Lehigh Valley, the Archdiocese of Allentown, and the Greater Lehigh Valley Chamber of Commerce, who value the show's mission."
Szydlow and Russo wish to acknowledge and thank Barry Fisher and WFMZ-Channel 69 for the continued support of The PEAK TV and the shared vision to focus on the Lehigh Valley as valued community.
The Mid-Atlantic Chapter serves the television community in the Pennsylvania, New Jersey and Delaware region. Peer panels in other major television markets judge entries.
About The PEAK TV
Two-time Emmy® winning The PEAK TV is a thirty-minute television program focusing on health, wellness, lifestyle, and community. Hosted by award–winning producer, Ashley Russo, and, radio and sports legend, Mike Mittman, The PEAK TV features stories from around the Lehigh Valley that educate, engage and inspire viewers to be their best self! Since its first episode in 2012, The PEAK TV has earned ten nominations and was awarded an Emmy® statue in 2014 and 2015. The PEAK TV airs Sunday at 6:30 PM on WFMZ-TV Channel 69 (Service Electric HD Channel 508, RCN Channel 1007) and re-airs Sunday at 5:30 AM. The PEAK TV is also seen nationally on DrTV Channel Tuesday 1:00 PM EST & Friday 3:30 PM EST with LIVE broadcast available on their website www.drtvchannel.com[drtvchannel.com]. For more information, visit www.thepeaktv.com[thepeaktv.com].
Media Contact:
Sam Kennedy, Corporate Communications Director, 484-526-4134, samuel.kennedy@sluhn.org


About St. Luke's
Founded in 1872, St. Luke's University Health Network (SLUHN) is a non-profit, regional, fully integrated and nationally recognized network providing services at seven hospitals and more than 270 outpatient sites. The network's service area includes Lehigh, Northampton, Carbon, Schuylkill, Bucks, Montgomery, Berks and Monroe counties in Pennsylvania and in Warren County in New Jersey. Dedicated to advancing health education, St. Luke's operates the nation's oldest School of Nursing and 23 graduate medical educational programs and is considered a major teaching hospital, the only one in the region. In partnership with Temple University, St. Luke's created the region's first Medical School. Repeatedly, including 2017, St. Luke's has earned Truven's 100 Top Major Teaching Hospital designation as well as 50 Top Cardiovascular program in addition to other honors for clinical excellence. St. Luke's is a multi-year recipient of the Most Wired award recognizing the breadth of St. Luke's information technology applications such as electronic medical records, telehealth, online scheduling and pricing information. St. Luke's is also recognized as one of the state's lowest cost providers in comparison to major teaching hospitals and other health systems.