News
Former Philadelphia Eagles Placekicker David Akers Joins St. Luke's
March 22, 2017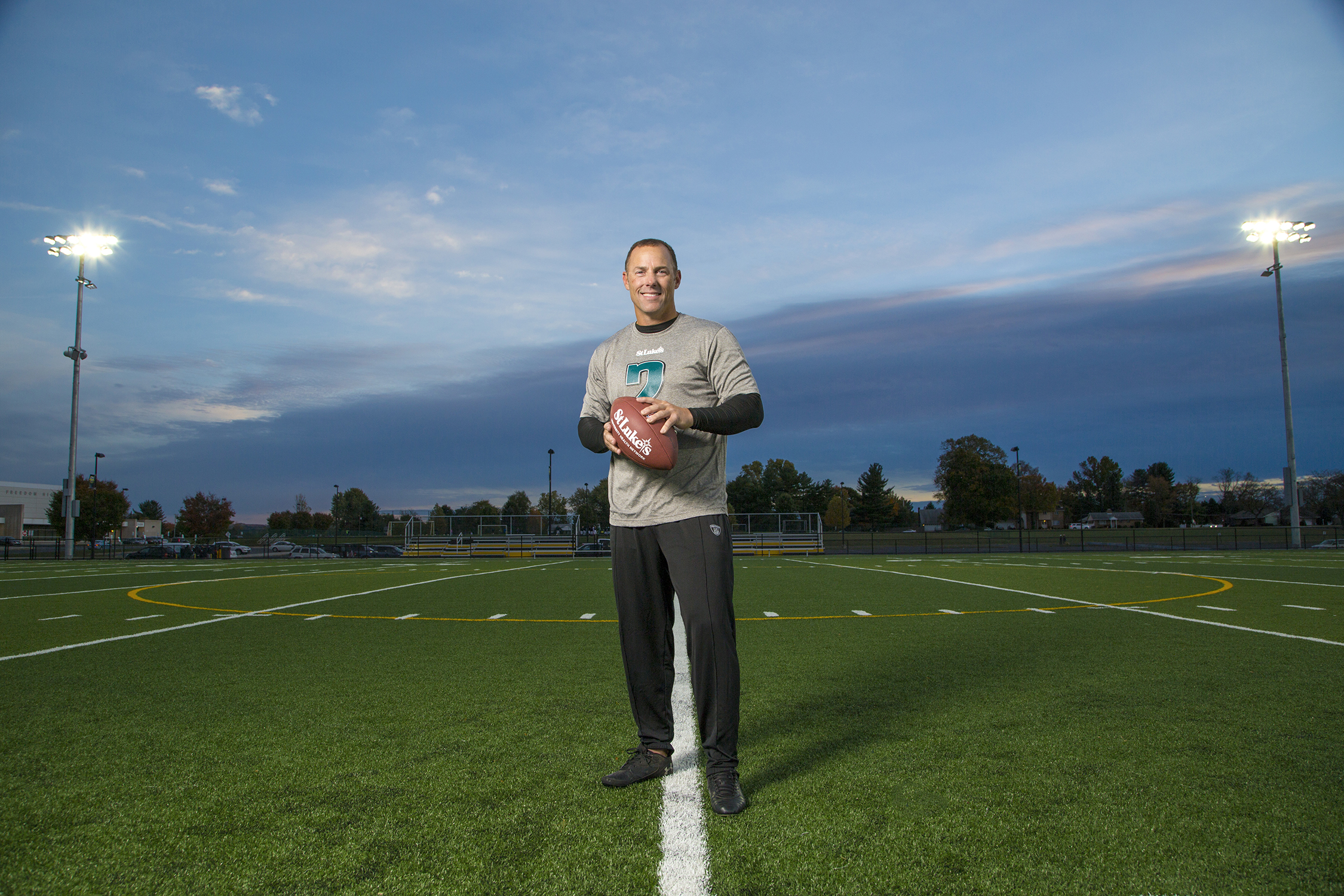 Former Philadelphia Eagles Placekicker David Akers Joins St. Luke's
Hard work, perseverance and teamwork have paid off for David Akers.
David was cut three times before defining his career with the Philadelphia Eagles. Being served walking papers in Carolina, Atlanta and Washington, intertwined with jobs as a substitute teacher and waiter, provided David with an early dose of reality. Those early hardships formed the foundation of this truly humble man.
Today, after a tremendously successful career in professional football, playing in more games in an Eagles uniform than anyone ever (188); becoming the franchise's all-time leading scorer with 1,323 points; being named to the Eagles 75th Anniversary All-Time Team; being voted as the kicker on the NFL 2000's All-Decade Team; setting the NFL mark for points in a decade (1,169 from 2000-2009); and playing in six Pro Bowls and two Super Bowls, David is a philanthropist, a motivational speaker and a family man.
And now he has joined St. Luke's University Health Network as an ambassador for and a representative of St. Luke's Orthopedic Care and all its related services – St. Luke's Sports Medicine, St. Luke's Fitness & Sports Performance and Physical Therapy at St. Luke's.
"St. Luke's has a great philosophy of the most appropriate care for the injury – it's not a cut first mentality – that's incredibly important," David says. "They're open to other opportunities to let injuries heal properly using the body's own abilities and employing treatments such as physical therapy. This is outside of the box thinking for orthopedic surgeons and the whole sports medicine team.
But this approach also goes beyond sports to regular people who get injured in a fall or on the job or just have chronic pain. St. Luke's applies the same kind of thinking for everyone. Evaluate, come to a consensus, do the best thing for the patient. This is beyond top shelf. This is elite stuff.
I'm with St. Luke's because I love what they are doing. I'm their cheerleader. I love what they're doing in the schools, in the community. This is state-of-the-art thinking. I want to support them because they're bringing something to the community and to the schools that is very much needed."
David is as tireless in the community as he is on the field… and a champion there as well.
Early in his career, the Fall of 2001 in fact, David launched David Akers' Kicks for Kids with the mission to provide Greater Philadelphia/Delaware Valley children with opportunities to pursue their dreams. The Foundation provided interactive programs and events designed to directly benefit children facing serious challenges in their lives whether due to mental or physical challenges or the environment in which they live.
Many of the programs helped kids and their families enjoy what might be a brief respite away from the stress brought on by illness or other tragedy. Two such programs are Field of Dreams and David's Locker.
The Field of Dreams program was for a child and his/her family who has gone through a difficult physical and/or emotional time. Taken by limo to and from an Eagles game, each child received Eagles gear and got to go on field pregame to meet a player. In his absence, David maintained the program through ex-teammates and was able to expand this program to San Francisco thru the 49ers Foundation where he sent families from Ronald McDonald House in Stanford to 49ers' home games.
Each year, more and more families were in need of the David's Locker Program. Many families are overwhelmed by the financial hardship that a chronic or life threatening illness of a child brings. Many had to make choices between buying medicine or medical supplies or pay bills and buy food. David's Locker provided assistance to these families.
Most important to David was that his Foundation was a hands-on affair. While in Philadelphia, he went to CHOP every week and visited patients to try to make their time a little more pleasant and less stressful.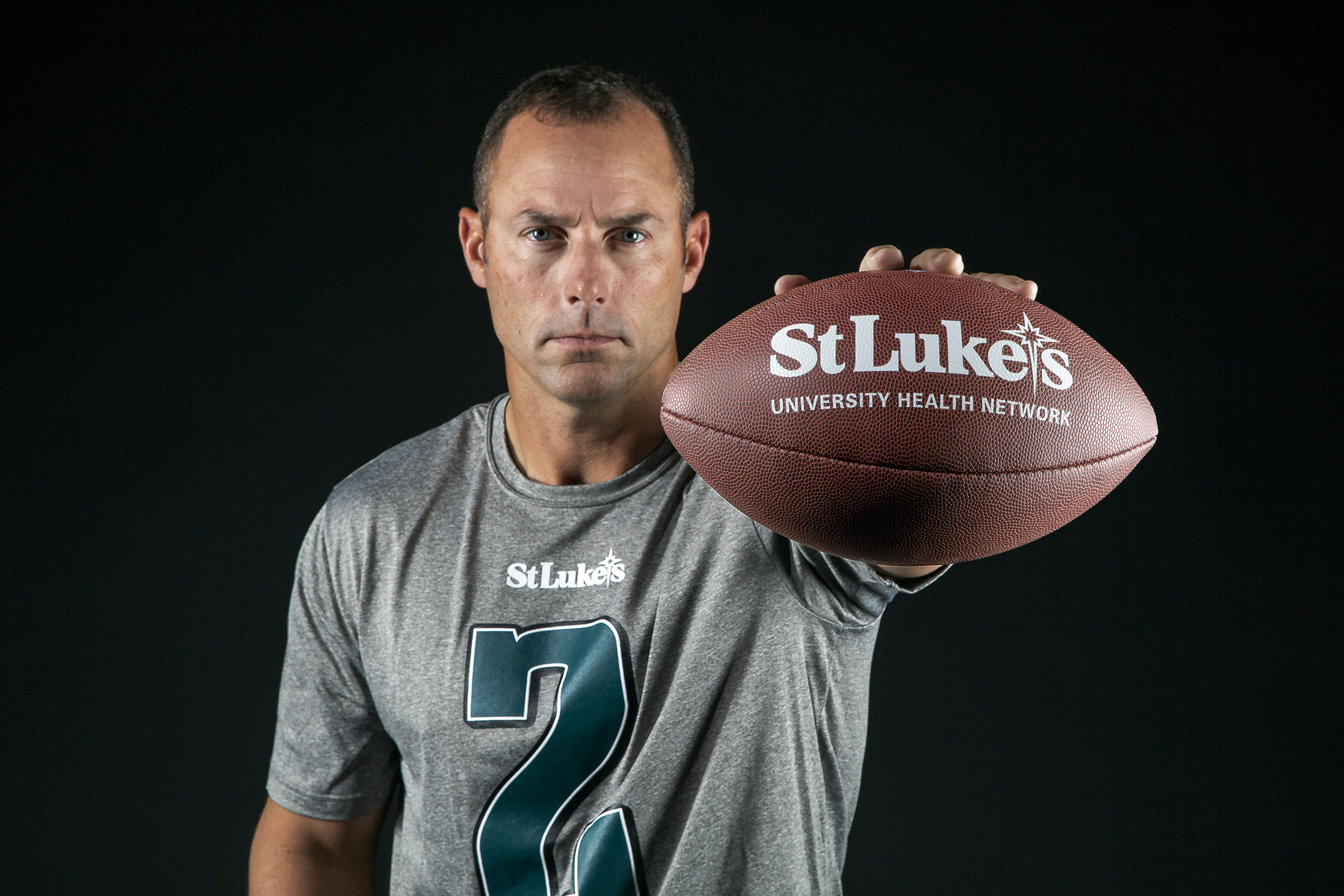 It's all about team, he says. "I'm an athlete so I tend to talk in sports terms but my message is really about life. Perseverance and attitude, never quit, be willing to take a few steps forward and a few steps back … but don't lose the mindset. You're never self-made. You rely on your family, friends, co-workers, mentors, coaches – lots of people in your life – that give you the learning tools, opportunity, accountability and encouragement. You need that to be a successful person. You need a team. Dick Vermeil said it best… 'if you want to be great, you need to surround yourself with greatness.'"
"That's how I feel about St. Luke's. You can count on St. Luke's professionals to get you back to where you need to be. Whether you're in sports or not, this is your team. These people are your teammates.
For adults and non-athletes, it's about attaining the best quality of life that you can."
"You know, you can never accomplish anything in life if you don't have a want for it, if you don't dream about it. St. Luke's is a great team… whether you're an athlete or not, they'll help you accomplish great things."

About St. Luke's
Founded in 1872, St. Luke's University Health Network (SLUHN) is a non-profit, regional, fully integrated and nationally recognized network providing services at seven hospitals and more than 270 outpatient sites. The network's service area includes Lehigh, Northampton, Carbon, Schuylkill, Bucks, Montgomery, Berks and Monroe counties in Pennsylvania and in Warren County in New Jersey. Dedicated to advancing health education, St. Luke's operates the nation's oldest School of Nursing and 22 graduate medical educational programs and is considered a major teaching hospital, the only one in the region. In partnership with Temple University, St. Luke's created the region's first Medical School. Repeatedly, including 2016, St. Luke's has earned Truven's 100 Top Major Teaching Hospital designation as well as 50 Top Cardiovascular program in addition to other honors for clinical excellence. St. Luke's is a multi-year recipient of the Most Wired award recognizing the breadth of St. Luke's information technology applications such as electronic medical records, telehealth, online scheduling and pricing information. St. Luke's is also recognized as one of the state's lowest cost providers in comparison to major teaching hospitals and other health systems.