News
Temple/St. Luke's Medical Students Teach Healthy Living to Bangor Students
March 14, 2016
Bangor, PA (3/14/2016)
– Students from The Lewis Katz School of Medicine at
Temple University/St. Luke's University Health Network
visited Bangor Area School District's sixth graders at DeFranco Elementary School to provide an interactive health education and science assembly to interest students in healthy living and disease prevention.
Each of the topics involved a hands-on activity to help demonstrate how the different systems of the body function; balanced nutrition; proper hand washing and the importance of vaccinations/immunizations.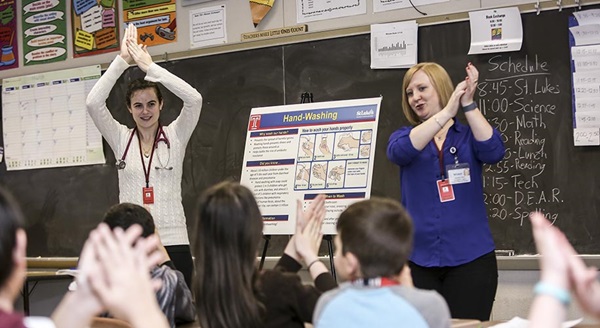 ---
Temple/St. Luke's medical students Cristina Funghi (l) and Heather Winn (r) demonstrate proper hand-washing technique to a sixth-grade class at DeFranco Elementary School.
St. Luke's Anderson Campus
has partnered with Bangor Area School District and the Slater Family Network since January 2014 with a collective goal of improving the overall health and wellness of the student population. The goal of the St. Luke's Adopt a School Program is to improve health outcomes of Bangor Students through Mobile Youth Health Services (Medical, Dental, Vision Vans, Mental Health Assessments and Programs), Healthy Living Initiatives (Tail on the Trail, Live Your Life, School Gardens, Nutrition and Health Education Programs), Literacy Programs (Dr. Seuss Day, Reading Rocks and Little Free Libraries), and Youth and Career Development Programs.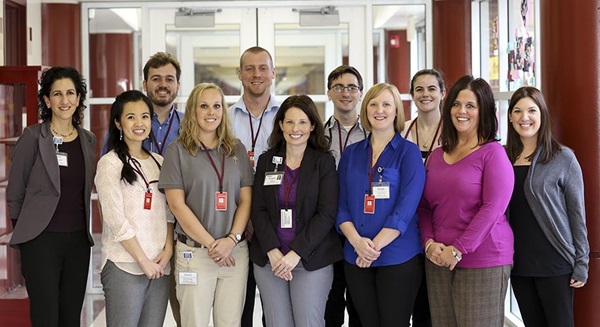 ---
Front row (left to right): Suzanne Liu, Rachael Kyper, Kathleen Dave, PhD (Director of Student Affairs, St. Luke's), Heather Winn, Deborah Bowman (Community School Director, DeFranco Elementary). Back row (left to right): Rosemarie Lister, MPH (Community Health Liaison Manager, St. Luke's), Charles Cox, Colin Caverly, James Conti, Cristina Funghi, Katie Werkheiser (East Stroudsburg Univ. student, Intern with St. Luke's Community Health) Not pictured: Avani Amin and Sam Towne
About the Health Education Program
Topics being addressed with the students included nutrition, body systems and communicable and chronic diseases. Medical students from The Lewis Katz School of Medicine at Temple University/St. Luke's University Health Network developed creative and engaging activities to stimulate learning and encourage an understanding of how students can do their best to make good choices to improve their overall health and well-being. They then recruited additional Temple/St. Luke's medical students, who volunteered to help facilitate the activities in a small, classroom setting. A pre- and post-test will be included to measure the impact of the learning objectives.
About St. Luke's
St. Luke's University Health Network (SLUHN) is a non-profit, regional, fully integrated, nationally recognized network providing services at six hospitals and more than 215 sites, primarily in Lehigh, Northampton, Carbon, Schuylkill, Bucks, Montgomery, Berks and Monroe counties in Pennsylvania and in Warren County, New Jersey.
---
Media Contact:
Mariella B. Miller
Senior Director, Corporate Communications
St. Luke's University Health Network
484-526-4134
Mariella.Miller@sluhn.org
Kate Raymond
Marketing Director
St. Luke's University Health Network
484-526-4131
Kate.Raymond@sluhn.org
For more information about St. Luke's services or to find a physician, call St. Luke's InfoLink toll-free at
1-866-STLUKES (785-8537) Monday through Friday from 8:30 am to 4:30 pm or email us anytime at
Info.Link@sluhn.org
.