News
St. Luke's Rodale Institute Organic Farm Keeps Growing
July 14, 2016
St. Luke's Rodale Institute Organic Farm Keeps Growing

Bethlehem Township, PA (7/15/2016) – The St. Luke's Rodale Institute Organic Farm has added variety and forged partnerships over the past year that will increase its impact on the health and wellness of the Lehigh Valley community, according to Ed Nawrocki, President, St. Luke's Anderson Campus.

Located at the Anderson Campus and now in its third season, the farm – a joint initiative between St. Luke's University Health Network and Rodale Institute – enables St. Luke's to provide organic produce to patients, staff and visitors.

Indeed, in 2016, to supply the growing network of employees, patients and community members the farm serves, the Rodale team increased the number of varieties of produce it plants to 100 – up from 30 varieties last year. New fruits and vegetables include: melons, corn, brussels sprouts, ground cherries, kohlrabi, leeks and okra. The farm has also doubled its footprint and now spans 11.5 acres.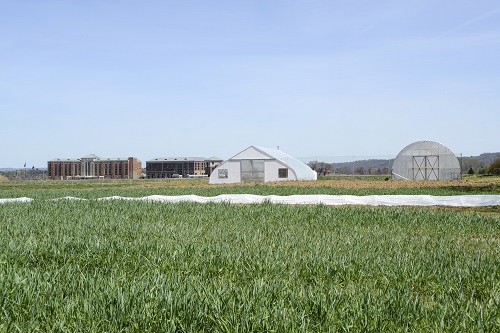 ---
St. Luke's Rodale Organic Institute Farm celebrates its third growing season by adding variety to the fruits and vegetables it grows and by widening its distribution.
This year the St. Luke's Rodale Institute Organic Farm has partnered with the Kellyn Foundation and its mobile healthy grocery market known as the "Eat Real Food Mobile Market." Kellyn has purchased a truck, trailer and an industrial sized cooler that will be stocked with produce from the organic farm and other local farms, as well as some grocery staples, such as eggs, beans, brown rice, and whole grain bread and pasta. The "Eat Real Food" Mobile Market travels to low income areas in Northampton County where people don't have reliable access to fresh produce.
There have been numerous studies proving that diets rich in fruits and vegetables, especially organically and/or locally grown, offer many advantages over the traditional American diet, including increased amounts of vitamins, minerals, essential fatty acids and antioxidants according to Bonnie Coyle, MD, MS, Director of Community Health, St. Luke's University Health Network.
"From a health perspective, this translates into a reduced incidence of heart disease and some cancers and a lowered risk of common conditions such as cancer, heart disease, allergies and hyperactivity in children," Dr. Coyle says. "That's why we feel it is so important to find a way to get our produce into the hands of these underprivileged communities."
As part of the original partnership, Rodale Institute provides St. Luke's with a farmer to run the operation following organic farming practices. Lynn Trinza, aka "Farmer Lynn," has been working the farm since its inception.
This year Farmer Lynn has added two work study students to her roster of farm hands, thanks to a new partnership between St. Luke's University Health Network and the Children's Home of Easton (CHE) called the "Healthy Citizen" program.
---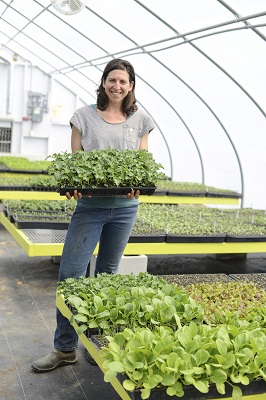 Farmer Lynn in the greenhouse with one of our first crops - kale transplants
"I am really excited that we will be involving these young people in what we do," Trinza said. "Exposing the next generation to organic farming practices and the many benefits of eating organic fruits and vegetables is one more way that St. Luke's and the Rodale Institute are 'planting a seed' in sustainable and local food production and the best way to ensure that our farm continues to flourish well into the future."
Todd Nemura, Wellness Program Manager from the Children's Home of Easton, is thankful for the work that the organic farm is doing to bring healthier eating into the community and for the opportunity being given to the CHE students this summer. "Hopefully, this is a partnership that will continue to grow as the farm continues to grow and more of our students will be able to work on the farm year after year," he said.
Today, the St. Luke's University Health Network continues to be one of the few hospitals in the nation to offer patients organic produce grown at an organic farm onsite at a hospital campus.
This fresh organic produce is distributed every week in season to all six St. Luke's hospital cafeterias. The patient menu in all hospitals has been re-designed to incorporate fresh, organic produce from the farm and to increase awareness for patients choosing menu options. By providing patients and employees with local grown organic produce, St. Luke's is showing a commitment to the environment and promoting the health of its patients and the community.
St. Luke's University Health Network and Rodale Institute were the recipients of an "Excellence in Sustainability" Award presented at the 2015 Da Vinci Science Center Hall of Fame Gala. The award recognizes organizations that are advancing sustainable business practices and lifestyles through eastern Pennsylvania and western New Jersey. In addition, St. Luke's Anderson Campus earned the "Save Our Planet Award" from the Pocono Chamber of Commerce for its commitment to protecting or improving Monroe County's environment.
For more information about the St. Luke's Rodale Institute Organic Farm please visit
www.sluhn.org/organicfarm
.
About St. Luke's
St. Luke's University Health Network (SLUHN)
is a non-profit, regional, fully integrated, nationally recognized network providing services at six hospitals and more than 200 sites, primarily in Lehigh, Northampton, Carbon, Schuylkill, Bucks, Montgomery, Berks and Monroe counties in Pennsylvania and in Warren County, New Jersey.
About Rodale Institute
Since its founding in 1947 by J.I. Rodale, the Rodale Institute has been committed to groundbreaking research in organic agriculture, advocating for policies that support farmers, and educating people about how organic is the safest, healthiest option for people and the planet. The Institute is home to the Farming Systems Trial (FST), America's longest-running side-by-side comparison of chemical and organic agriculture. Consistent results from the study have shown that organic yields match or surpass those of conventional farming. In years of drought, organic corn yields are about 30 percent higher. New areas of study at the Rodale Institute include rates of carbon sequestration in chemical versus organic plots, new techniques for weed suppression and organic livestock. Learn more at RodaleIns
www.rodaleinstitute.org
.
---
Media Contact:
Mariella B. Miller
Senior Director, Corporate Communications
St. Luke's University Health Network
484-526-4134
Mariella.Miller@sluhn.org
For more information about St. Luke's services or to find a physician, call St. Luke's InfoLink toll-free at
1-866-STLUKES (785-8537) Monday through Friday from 8:30 am to 4:30 pm or email us anytime at
Info.Link@sluhn.org
.