News
St. Luke's Quakertown Campus Earns Trauma Center Status
October 28, 2016
St. Luke's Quakertown Campus Earns Trauma Center Status
Quakertown, PA (10/25/2016) – The board of directors of the Pennsylvania Trauma Systems Foundation (PTSF) has approved St. Luke's Quakertown Campus as a fully accredited Level IV Trauma Center in Pennsylvania effective November 1, 2016.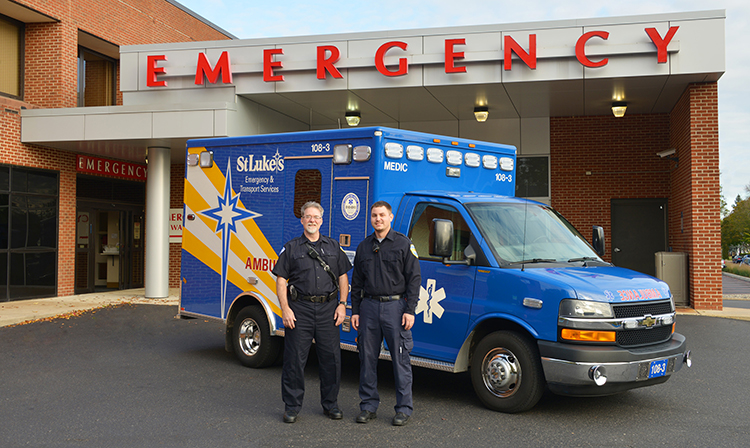 St. Luke's Quakertown Campus has earned full accreditation as a Level IV Trauma Center
---
The Level IV accreditation process includes an assessment of whether the hospital complies with standards of accreditation for appropriate and timely care of injured patients, advanced levels of trauma education for nursing and physician staff, and rigorous review of trauma care delivery. PTSF officials concluded the successful process with an inspection at St. Luke's Quakertown, Edward Nawrocki, President of St. Luke's Quakertown Campus, said.
Accreditation as a Level IV trauma center assures the public that St. Luke's Quakertown Emergency Department physicians and staff are well equipped to evaluate and treat trauma patients and rapidly transfer those patients requiring a higher level of trauma care.
"We are extremely proud to be able to provide these needed services and ensure that excellent trauma care is delivered close to home," Vicky Lazansky, DO, Emergency Department Director and Trauma Program Medical Director at St. Luke's Quakertown Campus, said. "This achievement speaks volumes about the commitment of our employees to provide great patient care, and it is a testament to our commitment to the communities we serve."
William S. Hoff, MD, Chief of Trauma and Acute Care Surgery for St. Luke's University Health Network, believes the Quakertown accreditation will serve the region well.
"Level IV Trauma Centers continue to fill a critical need especially in Pennsylvania, a state that contains so many less populated areas.
"Earning this designation means patients in Upper Bucks and Upper Montgomery counties can be seen by a trauma team more quickly because they don't have to be transported as far. Using a local trauma center decreases travel time for EMS and provides paramedics better turn-around-time. This allows them to serve the local community more efficiently and effectively," Hoff said.
St. Luke's University Health Network includes a total of three trauma centers: St. Luke's University Hospital in Bethlehem has been a Level I Trauma Center for almost 20 years, St. Luke's Miners Campus in Coaldale was named the first Level IV Trauma Center in Pennsylvania in 2013, and now St. Luke's Quakertown Hospital.
Trauma centers provide specialized medical services and resources to patients suffering from traumatic injuries. Appropriate treatment has been shown to reduce the likelihood of death or permanent disability to injured patients.
"The people of our community can be assured they are receiving the highest level of care at St. Luke's Quakertown Hospital," Nawrocki said. "Achieving Level IV Trauma Center status is yet another example of our ongoing commitment to the Upper Bucks and Upper Montgomery County communities where we continue to fulfill our mission of providing quality care close to home."
About St. Luke's
St. Luke's University Health Network (SLUHN)
is a non-profit, regional, fully integrated and nationally recognized network providing services at seven hospitals and more than 270 outpatient sites. The network's service area includes Lehigh, Northampton, Carbon, and Schuylkill, Bucks, Montgomery, Berks and Monroe counties in Pennsylvania and in Warren County in New Jersey. Dedicated to advancing health education, St. Luke's operates the nation's oldest School of Nursing and 22 graduate medical educational programs and is considered a major teaching hospital, the only one in the region. In partnership with Temple University, St. Luke's created the region's first Medical School. Repeatedly, including 2016, St. Luke's has earned Truven's Top 100 Major Teaching Hospital designation as well as Top 50 Cardiovascular program in addition to other honors for clinical excellence. St. Luke's is a multi-year recipient of the Most Wired award recognizing the breadth of St. Luke's information technology applications such as electronic medical records, telehealth, online scheduling and pricing information. St. Luke's is also recognized as one of the state's lowest cost providers in comparison to major teaching hospitals and other health systems.
---
Media Contact:
Mariella B. Miller
Senior Director, Corporate Communications
St. Luke's University Health Network
484-526-4134
Mariella.Miller@sluhn.org
For more information about St. Luke's services or to find a physician, call St. Luke's InfoLink toll-free at
1-866-STLUKES (785-8537) Monday through Friday from 8:30 am to 4:30 pm or email us anytime at
Info.Link@sluhn.org
.