News
St. Luke's Monroe Campus Gets Glowing Review from First Patient
October 03, 2016
St. Luke's Monroe Campus Gets Glowing Review from First Patient
Bartonsville, PA (10/3/2016) – Ernest H. Smith, 71, of Neola, arrived at the Emergency Department of
St. Luke's Monroe Campus before 8 am on Monday, October 3.
"He had not been feeling well for several days," his daughter, Debora Loch, said. "But care at other area facilities yielded slim results." The cellulitis associated with her father's congestive heart failure was flaring. There were sores on his legs and he could feel a pressure in his chest.
"I asked him if he could hold on a couple more days until St. Luke's new hospital opened up," Loch said.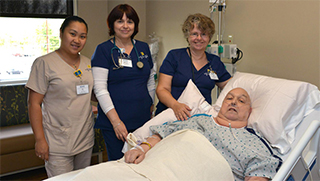 St. Luke's Staff (left to right):
Ivy Alvarez Patient Care Assistant,
Marina Bereza BSN RN, Vera Lovewell RN
"The care has been phenomenal. We are so pleased with everything," she said. They were seen and her father was admitted and transported to the hospital's third floor medical/surgical unit.
St. Luke's Monroe Campus began seeing patients through its Emergency Department, admitted patients as it quietly opened on October 3 making it Monroe County's first new hospital in more than 100 years and providing Monroe County residents with another choice for inpatient healthcare.
While today marked the soft opening of the St. Luke's Monroe Campus, the grand opening and ribbon cutting celebration will be held on October 13. Between now and then, hospital administrators will continue to review and streamline processes to ensure our patients receive the high caliber of care and service for which St. Luke's University Health Network is known.
Fully staffed and ready, the Emergency Department opened at 7:30 am and began accepting patients from St. Luke's physician provider network and walk-ins. At 4:21 pm, St. Luke's contacted the Monroe County 911 Dispatch Center to begin accepting ambulances in accordance with its multi-phased opening plan.
St. Luke's thanks the Monroe County community for its continued support.
St. Luke's Monroe Campus by the numbers
St. Luke's University Health Network invested $100 million to construct the state-of-the-art hospital.
The St. Luke's Monroe Emergency Room will be able to treat 60,000 patients a year in its 33-bed emergency room.
The facility is located on 41 acres of land in Monroe County.
Dedicated employees who work at the new hospital/Jobs added to the local economy: 446.
Structural US-made steel were used in construction: 1,280 tons.
The four-story hospital includes 180,000 square feet.
Major roadways leading to St. Luke's Monroe Campus: Three – Interstate 80 and Routes 33 and 611.
About St. Luke's
Founded in 1872,
St. Luke's University Health Network (SLUHN)
is a non-profit, regional, fully integrated and nationally recognized network providing services at seven hospitals and more than 270 outpatient sites. The network's service area includes Lehigh, Northampton, Carbon, and Schuylkill, Bucks, Montgomery, Berks and Monroe counties in Pennsylvania and in Warren County in New Jersey. Dedicated to advancing health education, St. Luke's operates the nation's oldest School of Nursing and 22 graduate medical educational programs and is considered a major teaching hospital, the only one in the region. In partnership with Temple University, St. Luke's created the region's first Medical School. Repeatedly, including 2016, St. Luke's has earned Truven's Top 100 Major Teaching Hospital designation as well as Top 50 Cardiovascular program in addition to other honors for clinical excellence. St. Luke's is a multi-year recipient of the Most Wired award recognizing the breadth of St. Luke's information technology applications such as electronic medical records, telehealth, online scheduling and pricing information. St. Luke's is also recognized as one of the state's lowest cost providers in comparison to major teaching hospitals and other health systems.
---
Media Contact:
Mariella B. Miller
Senior Director, Corporate Communications
St. Luke's University Health Network
484-526-4134
Mariella.Miller@sluhn.org
For more information about St. Luke's services or to find a physician, call St. Luke's InfoLink toll-free at
1-866-STLUKES (785-8537) Monday through Friday from 8:30 am to 4:30 pm or email us anytime at
Info.Link@sluhn.org
.