News
St. Luke's is a GE Healthcare National Show Site for Women's Imaging
August 05, 2016
St. Luke's is a GE Healthcare National Show Site for Women's Imaging

Bethlehem, PA (8/5/2016)
– St. Luke's continues to create an evolving and innovative Women's Imaging program that benefits tens of thousands of women each year and is now a national model for fellow physicians and health care providers from around the country to see. St. Luke's has been named a GE Healthcare National Show Site for Women's Imaging, one of only seven in the nation with only one other site sharing the same advanced breast imaging technologies as St. Luke's.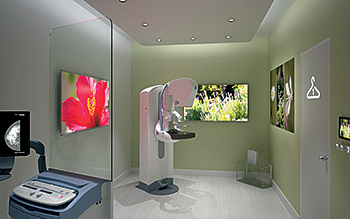 St. Luke's offers the newest advances in breast imaging,
including low-dose 3D mammography with SensorySuite
thanks to a nearly three-decade relationship with
GE Healthcare. Only a handful of locations nationwide
provide low-dose 3D mammography and SensorySuite together.
"Over the course of our 30-year relationship, St. Luke's has adapted its approach to better care for the women in this community," says
Carrie Eglinton-Manner
, President and CEO, Detection and Guidance Solutions (including Women's Health), GE Healthcare. "And at GE Healthcare, we've transformed our technologies to better suit the needs of providers. It's important that we have close relationships with clinicians and health systems like St. Luke's. Together, we benefit from more insights into what clinicians need to deliver the best patient outcomes."
With the goal of providing easy access for patients, St. Luke's program currently has 13 breast screening sites located throughout its network offering patients convenience and availability of state-of-the-art women's imaging technologies. St. Luke's offers low-dose 3D mammography (tomosynthesis) with SensorySuiteTM that allows women to have a calming, interactive experience during their mammogram. Women also may benefit from automated breast ultrasound (ABUS), technology that produces a clear, accurate evaluation of dense breast tissue without radiation.
Nationally recognized for his leadership role in the women's imaging movement is
Dr. Joseph Russo
, Section Chief of Women's Imaging, St. Luke's University Health Network. He advocates for a new way of thinking when it comes to breast imaging, with mammography no longer being a one-size-fits-all service.
While having exceptional technology is central to the program, St. Luke's also created an Individualized Breast Screening protocol that is based on family history, age and health. Patients undergo a comprehensive risk assessment, based on the Tyrer-Cuzick model that takes genetic and non-genetic risk factors into account. Effectively using breast screening tools based on a patient's unique needs and assessment of risk factors can lead to a significant increase in cancer detection rate while reducing the need for a return visit or an unnecessary breast biopsy. Interestingly, St. Luke's has reported breast cancer detection rates that are higher than the national average.
"Having an industry giant like GE recognize the Regional Breast Center as a show site is an honor," says Dr. Russo. "It's the natural evolution of all the work we have accomplished together over the years to bring the very best in breast care to the women of the Lehigh Valley. GE has been our technical and often clinical partner in determining how to best implement their fantastic breast imaging technology. Allowing our individualized approach for breast cancer screening to serve as a shining example of GE's imaging potential is a distinction that we highly value. Our show site status motivates us to continue to innovate breast health care both regionally and internationally."
About St. Luke's
St. Luke's University Health Network (SLUHN)
is a non-profit, regional, fully integrated, nationally recognized network providing services at six hospitals and more than 200 sites, primarily in Lehigh, Northampton, Carbon, Schuylkill, Bucks, Montgomery, Berks and Monroe counties in Pennsylvania and in Warren County, New Jersey.
---
Media Contact:
Mariella B. Miller
Senior Director, Corporate Communications
St. Luke's University Health Network
484-526-4134
Mariella.Miller@sluhn.org
For more information about St. Luke's services or to find a physician, call St. Luke's InfoLink toll-free at
1-866-STLUKES (785-8537) Monday through Friday from 8:30 am to 4:30 pm or email us anytime at
Info.Link@sluhn.org
.