News
St. Luke's Hosts HAP 2016 Regional Meeting
April 01, 2016
Bethlehem, PA (4/01/2016)
–
St. Luke's University Health Network
hosted the 2016 Hospital & HealthSystem Association of Pennsylvania's (HAP) regional meeting on April 1 at the Network's
Anderson Campus
in Bethlehem Township.
HAP regional meetings provide an opportunity for local legislators to discuss the hospital communities'
priorities, opportunities, and concerns
. Legislators and hospital administration at the meeting were part of a hands-on telemedicine demonstration between
Robert Dolansky Jr.
, DO, Medical Director of St. Luke's Care Anywhere and
Ray Midlam
, St. Luke's Vice President of Network Development.
The group of lawmakers and hospital managers discussed telemedicine and the support of
telemedicine payment parity legislation
which that would ensure that all payors reimburse hospitals for services provided through telemedicine the same way they would for an in-person visit.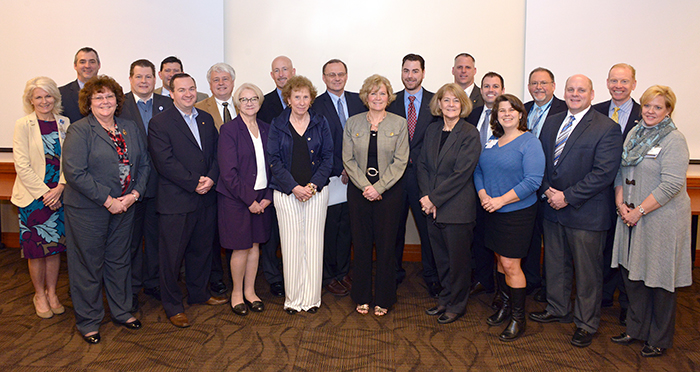 ---
Meeting attendees included:
First row (l to r ):
Rep. Marcia Hahn, Rep. Peter Schweyer, Mariella Miller, Rep. Julie Harhart, Sen. Lisa Boscola, Cynthia Lambert, Holly Edinger, Rep. Doyle Heffley, and Lisa Johnson.
Second row (l to r):
Jane George, Steve DeFrank, Phil Witkowski, Joe Kelly, Rep. Steve Samuelson, Robert Wax, Frank Hyland, Ray Midlam, Rep. Joe Emrick, Rep. Ryan MacKenzie, Joseph Guardiani, and Scott Bishop.

About St. Luke's
St. Luke's University Health Network (SLUHN) is a non-profit, regional, fully integrated, nationally recognized network providing services at six hospitals and more than 200 sites, primarily in Lehigh, Northampton, Carbon, Schuylkill, Bucks, Montgomery, Berks and Monroe counties in Pennsylvania and in Warren County, New Jersey.
---
Media Contact:
Mariella B. Miller
Senior Director, Corporate Communications
St. Luke's University Health Network
484-526-4134
Mariella.Miller@sluhn.org
For more information about St. Luke's services or to find a physician, call St. Luke's InfoLink toll-free at
1-866-STLUKES (785-8537) Monday through Friday from 8:30 am to 4:30 pm or email us anytime at
Info.Link@sluhn.org
.