News
St. Luke's Donates Ambulance to Northampton Community College
March 11, 2016
Bethlehem, PA (3/11/2016)
–
St. Luke's University Health Network
has donated an ambulance to Northampton Community College (NCC) for use in its emergency medicine services (EMS) degree program and community trainings.
"This donation enables us to provide our students with more real world scenarios," says
John T. Evans
, EMS program manager, NCC. He adds students will be better prepared for real life emergencies having practiced and refined their skills while working in the back of a moving ambulance. The ambulance is the first the program has ever owned. It will be re-lettered with the NCC name and will reside at the college's Fowler Center on Third Street in South Bethlehem.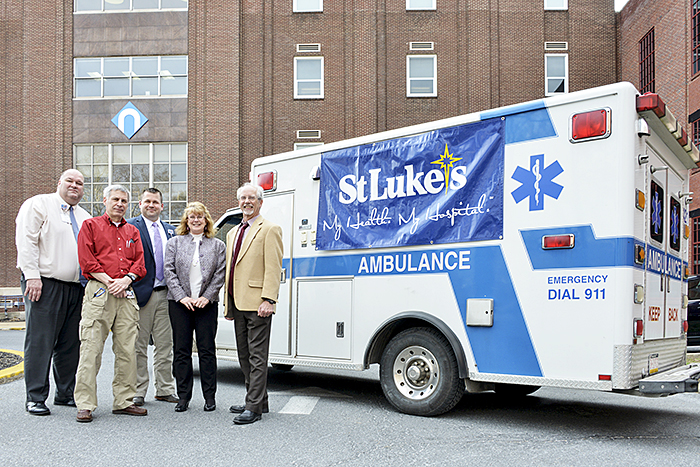 ---
From left to right:
Kermit Gorr, Executive Director of St. Luke's Emergency and Transportation Services
John Evans, EMS Program Manager - Northampton Community College
Adam Maziuk, Pre-hospital Services Coordinator – St. Luke's University Health Network
Eileen Truscott, Interim Director of Healthcare Education - Northampton Community College
Paul Pierpoint, Vice President of Community Education - Northampton Community College

The ambulance will be used not only for students enrolled in NCC's EMS degree program, but also for community training and certification provided free to the community. St. Luke's and NCC have a long partnership of educating the region's fire, EMS and ambulance crewmembers, both employed and volunteers, on pre-hospital emergency care,
Adam Maziuk
, coordinator of St. Luke's Network Pre-Hospital Liaison,
Pre-Hospital Services Department
, says.
Kermit Gorr,
executive director of
Ambulance and Transportation Services
for
St. Luke's University Health Network, added that prior to the donation, EMS providers would have to take an ambulance out of service when a crewmember was being trained. This will no longer be the case now that the school has its own ambulance.
"Logistically it helps the ambulance squads, hospitals and all of the community. We're investing in the future of our EMS providers," Gorr says. "That is one of those gifts that will pay off for years to come."
Currently, about 30 students are enrolled in NCC's emergency medical technician programs. They consist of a mix of students who plan to earn a living as emergency response employees, volunteers and college students enrolled in nursing or physician assistant programs, Evans says.
About St. Luke's
St. Luke's University Health Network (SLUHN) is a non-profit, regional, fully integrated, nationally recognized network providing services at six hospitals and more than 215 sites, primarily in Lehigh, Northampton, Carbon, Schuylkill, Bucks, Montgomery, Berks and Monroe counties in Pennsylvania and in Warren County, New Jersey.
---
Media Contact:
Mariella B. Miller
Senior Director, Corporate Communications
St. Luke's University Health Network
484-526-4134
Mariella.Miller@sluhn.org
For more information about St. Luke's services or to find a physician, call St. Luke's InfoLink toll-free at
1-866-STLUKES (785-8537) Monday through Friday from 8:30 am to 4:30 pm or email us anytime at
Info.Link@sluhn.org
.