News
St. Luke's Anderson Campus Celebrates Five Years of Growth
November 11, 2016
St. Luke's Anderson Campus Celebrates Five Years of Growth
Bethlehem, PA (11/11/2016) – St. Luke's Anderson Campus in Bethlehem Township has celebrated five years of exceptional service to the community since it officially opened its doors on Nov. 11, 2011.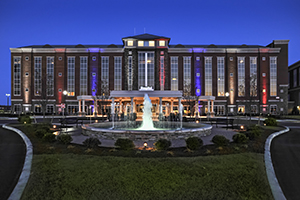 ---
St. Luke's Anderson Campus opened five years ago on Nov. 11, 2011
The $175-million construction project transformed 500 acres of farmland into a hospital campus that now treats and heals members of the community, and helps them to maintain their good health.
At the time it was built, the St. Luke's Anderson Campus was the first new, full-service, acute-care hospital built in Pennsylvania in 40 years. It features a 250,000-square foot, 108-bed hospital; a state-of-the-art cancer center; and a medical office building dedicated to bone and joint, heart and vascular, women's health and primary care medicine.
And much like the crops that were once located on this site, St. Luke's Anderson Campus has been poised to grow.
Overwhelming demand was the primary driver for early expansion. In 2013, the hospital expanded its Emergency Department by doubling the number of treatment rooms and tripling the staff. Seventeen new private rooms were added to the space, as well as a new CT scanner and diagnostic X-ray.
That same year, the St. Luke's Anderson Campus opened a newly-outfitted medical/surgical floor, increasing the number of private patient rooms from 72 to 108 and adding four ICU rooms. The fourth floor addition provides specialized care for oncology patients.
St. Luke's also invested in amenities such as the Anderson Campus Auxiliary Gardens, a two-mile walking path, a pond with a fountain, and a gazebo sitting area surrounded by beautiful landscaping. St. Luke's mission is to be excellent stewards of the land. Staying true to its mission, it honored the past by restoring a 19th century barn now used as conference space.
But the patient is still the heart of the Anderson Campus. State-of-the-art facilities, the latest technology, and great healthcare providers complement abundant amenities, including private suites with spectacular views, flat-screen TVs, free WiFi, daily newspaper delivery, iPads, room service and much more to ensure an outstanding patient experience.
Through its partnership with The Rodale Institute, in 2013 the Anderson Campus opened the third hospital-based organic farm in the United States. It provides patients and employees with locally grown organic produce, putting its commitment to the health of its community and the environment into practice. It also designated a 20,000 square foot parcel of land as its Employee Community Garden, where St. Luke's University Health Network (SLUHN) employees can grow their own produce.
The Anderson Campus was designed to accommodate the needs of the community—now and into the future. In 2017, it will open a new Ambulatory Surgery Center that will house additional operating rooms and practices that focus on specialty services, such as urology and women's health.
Though much has been accomplished in the St. Luke's Anderson Campus' first five years, even more growth is ahead. During the opening ceremony of the Anderson Campus in 2011, Richard Anderson, President and CEO of St. Luke's University Health Network, said that, "Dreams are the seedlings of reality." The St. Luke's Anderson Campus has been built on fertile ground and is well-equipped to continue to grow the future of health care in the Lehigh Valley.
About St. Luke's
Founded in 1872, St. Luke's University Health Network (SLUHN) is a non-profit, regional, fully integrated and nationally recognized network providing services at seven hospitals and more than 270 outpatient sites. The network's service area includes Lehigh, Northampton, Carbon, and Schuylkill, Bucks, Montgomery, Berks and Monroe counties in Pennsylvania and in Warren County in New Jersey. Dedicated to advancing health education, St. Luke's operates the nation's oldest School of Nursing and 22 graduate medical educational programs and is considered a major teaching hospital, the only one in the region. In partnership with Temple University, St. Luke's created the region's first Medical School. Repeatedly, including 2016, St. Luke's has earned Truven's Top 100 Major Teaching Hospital designation as well as Top 50 Cardiovascular program in addition to other honors for clinical excellence. St. Luke's is a multi-year recipient of the Most Wired award recognizing the breadth of St. Luke's information technology applications such as electronic medical records, telehealth, online scheduling and pricing information. St. Luke's is also recognized as one of the state's lowest cost providers in comparison to major teaching hospitals and other health systems.