News
St. Luke's Again Named One of the Nation's 100 Top Hospitals by Truven Health Analytics
March 03, 2016
Bethlehem, PA (3/03/2016)
–
St. Luke's University Health Network
was again this week honored among the nation's 100 Top Hospitals® by Truven Health AnalyticsTM, a leading provider of data-driven analytics and solutions to improve the cost and quality of healthcare nationwide.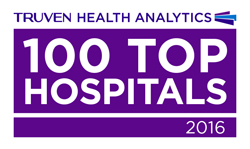 The
Allentown
and
Bethlehem
campuses were honored for the second year in a row in the Major Teaching Hospital category,
and,
St. Luke's Quakertown Campus
also was recognized in the Small Community Hospital category. St. Luke's is the only hospital in the region classified as a Major Teaching Hospital.
"The 2016 100 Top Hospitals award winners represent the highest national standards in hospital care and management. They set the benchmarks for peers around the country to follow," said
Jean Chenoweth
, senior vice president at Truven Health Analytics.
The study shows that if all hospitals in the U.S. performed at the level of this year's winners:
More than 104,000 lives could be saved.
Nearly 48,400 additional patients could be complication free.
$2 billion in inpatient costs could be saved.
The average patient stay would decrease by half a day.
The Truven Health 100 Top Hospitals® study identifies hospitals and leadership teams that provide the highest level of value to their communities, based on a national balanced scorecard measuring overall organizational performance across 11 key analytic measures including patient care, operational efficiency, and financial stability. The study has been conducted annually since 1993. This is the fourth time St. Luke's has been recognized with this honor.
No other regional hospital has ever been recognized by Truven.
"All of us are too well aware that the health care industry presents a challenging ever changing environment. We at St. Luke's, all of our employees, have demonstrated that we understand what it takes to be successful in this environment. Our track record speaks for itself,"
Richard A. Anderson
, St. Luke's President and CEO, said.
"As an organization we continue to grow and prosper in every way imaginable. Our seventh hospital will open this fall in Monroe County. We are adding to, not reducing, our staff. Innovations in the form of exclusive clinical trials and first-of-its-kind surgeries occur throughout our network on a daily basis. We are able to thrive in this challenging environment thanks to our employees' efforts, their passion and their dedication, while remaining the low cost provider," he said.
St. Luke's University Health Network (SLUHN) is a non-profit, regional, fully integrated, nationally recognized network providing services at six hospitals and more than 215 sites, primarily in Lehigh, Northampton, Carbon, Schuylkill, Bucks, Montgomery, Berks and Monroe counties in Pennsylvania and in Warren County, New Jersey.
Truven's researchers evaluated close to 3,000 short-term, acute-care, nonfederal hospitals.
"100 Top Hospitals researchers use risk-adjusted methodologies to analyze public information — Medicare cost reports, Medicare Provider Analysis and Review (MEDPAR) data, and core measures and patient satisfaction data from the CMS Hospital Compare reports. Hospitals do not apply for, and winners do not pay to market this honor," Truven representatives said.
The winning hospitals were announced in the February 28, 2016, edition of
Modern Healthcare
magazine.
More information on this study and other 100 Top Hospitals research is available at
100tophospitals.com
.
---
Media Contact:
Mariella B. Miller
Senior Director, Corporate Communications
St. Luke's University Health Network
484-526-4134
Mariella.Miller@sluhn.org
Brian Erni
Truven Health Analytics
631-584-2200
brian@jrodrerick.com
For more information about St. Luke's services or to find a physician, call St. Luke's InfoLink toll-free at
1-866-STLUKES (785-8537) Monday through Friday from 8:30 am to 4:30 pm or email us anytime at
Info.Link@sluhn.org
.