News
Secure Your Child's Car Seat on Oct. 28
October 27, 2016
Secure Your Child's Car Seat on Oct. 28
Bethlehem, PA (10/24/16)—
St. Luke's University Health Network
hosts its fourth annual Car Seat Clinic from noon to 3 p.m. Oct. 28 in the main parking deck of
St. Luke's Bethlehem Campus
at 801 Ostrum St.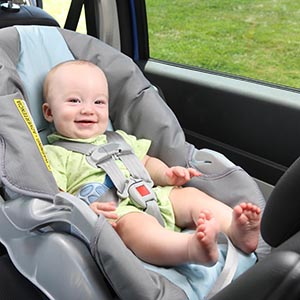 ---
Have your car seat checked at St. Luke's on Oct. 28
And it could not be easier to make riding in a car safer for your baby: Just make an appointment to have your car seat inspected and then follow the balloons to safer car seat use!
Certified technicians will demonstrate the proper use of a car seat and will check your car seat to make sure it is optimally placed and secured in your vehicle.
Parents should bring the car seat, instruction booklet, car manual and the child who uses the car seat.

For more information, call Andrea Sargent, RN, at 610-751-9216.
To schedule an appointment, call 1-866-STLUKES (1-866-785-8537).
About St. Luke's
St. Luke's University Health Network (SLUHN)
is a non-profit, regional, fully integrated and nationally recognized network providing services at seven hospitals and more than 270 outpatient sites. The network's service area includes Lehigh, Northampton, Carbon, and Schuylkill, Bucks, Montgomery, Berks and Monroe counties in Pennsylvania and in Warren County in New Jersey. Dedicated to advancing health education, St. Luke's operates the nation's oldest School of Nursing and 22 graduate medical educational programs and is considered a major teaching hospital, the only one in the region. In partnership with Temple University, St. Luke's created the region's first Medical School. Repeatedly, including 2016, St. Luke's has earned Truven's Top 100 Major Teaching Hospital designation as well as Top 50 Cardiovascular program in addition to other honors for clinical excellence. St. Luke's is a multi-year recipient of the Most Wired award recognizing the breadth of St. Luke's information technology applications such as electronic medical records, telehealth, online scheduling and pricing information. St. Luke's is also recognized as one of the state's lowest cost providers in comparison to major teaching hospitals and other health systems.
---
Media Contact:
Mariella B. Miller
Senior Director, Corporate Communications
St. Luke's University Health Network
484-526-4134
Mariella.Miller@sluhn.org
For more information about St. Luke's services or to find a physician, call St. Luke's InfoLink toll-free at
1-866-STLUKES (785-8537) Monday through Friday from 8:30 am to 4:30 pm or email us anytime at
Info.Link@sluhn.org
.