News
Regional Breast Services—Warren Campus Opens at St. Luke's
October 26, 2016
Regional Breast Services—Warren Campus Opens at St. Luke's
Phillipsburg, NJ (10/26/2016)
– Individualized Breast Care is the foundation of the expanded Regional Breast Services now offered at
St. Luke's Warren Campus
, a comprehensive facility that puts the hospital at the forefront of women's health care.
Regional Breast Services—Warren Campus expands its menu of women's imaging services to minimize the stress and anxiety of getting a mammogram, to provide a better experience and to create a better outcome.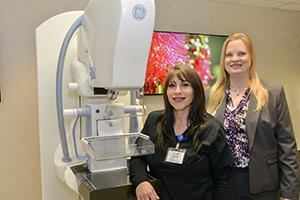 Mammography technician Michele Aggrippino
was among the first to personally experience the
3D technology with Sensory Suite at
St. Luke's Regional Breast Services –Warren Campus.
Board certified breast health nurse navigator
Susan Folk will support patients who require
further diagnostic breast imaging or breast biopsy.
To that end, St. Luke's introduces Nurse Navigators to the care process. These clinicians support a patient's journey by embracing her care needs and keeping her care coordinated no matter what the need.
"We are delighted to be expanding individualized breast services at Warren Campus,"
Joseph Russo, MD
, Section Chief of Women's Imaging, said. "The proven diagnostic model at St. Luke's Regional Breast Center of Excellence located in Center Valley, PA has demonstrated unparalleled success. Over the next year, we will adapt our Warren Campus services to mirror this success for women in New Jersey. Our overriding goal is to maximize quality and minimize the wait time between services thus reducing patient anxiety."
The technology itself – the recently installed low-dose SenoClaire®3D mammography technology and SensorySuite® designed by GE Healthcare—offers women the choice of being screened seaside, by a garden, or a waterfall, while enjoying soothing sounds and a pleasing scent. The technology uses a low-dose, short X-ray sweep around the compressed breast designed to separate the tissue layers and to reduce the overlapping of structures, which is a limiting factor in standard 2D mammography.
To further ease a woman's mind, St. Luke's onsite radiologists read the diagnostic images in real time, and can quickly find the answers to questions that arise during screening mammograms. Because the follow-up exams are scheduled within 24-48 hours instead of weeks, women get their answers sooner.
"As a Regional Breast Services resource, we can offer women an array of wellness services and diagnostic care that is fast, convenient and personalized to the needs of each individual patient. Women receive immediate results of their diagnostic mammograms, which is important. Additionally, the new sensory suite is an environment geared to total patient comfort. That's something we're very proud of,"
Scott Wolfe
, president of St. Luke's Warren Campus, said.
Patients requiring an appointment with a cancer specialist may be seen by St. Luke's Network Chairman of Oncology and Surgical Oncologist,
Lee Riley, MD
, PhD, FACS or Medical Oncologist
John E. Smith, Jr., MD
. Together, Dr. Riley and Dr. Smith will evaluate patients who are newly diagnosed with breast cancer and determine the best course of treatment.
For information or to make an appointment, call 484-526-1000 or 1-800-801-7745.
About St. Luke's
Founded in 1872, St. Luke's University Health Network (SLUHN) is a non-profit, regional, fully integrated and nationally recognized network providing services at seven hospitals and more than 270 outpatient sites. The network's service area includes Lehigh, Northampton, Carbon, and Schuylkill, Bucks, Montgomery, Berks and Monroe counties in Pennsylvania and in Warren County in New Jersey. Dedicated to advancing health education, St. Luke's operates the nation's oldest School of Nursing and 22 graduate medical educational programs and is considered a major teaching hospital, the only one in the region. In partnership with Temple University, St. Luke's created the region's first Medical School. Repeatedly, including 2016, St. Luke's has earned Truven's Top 100 Major Teaching Hospital designation as well as Top 50 Cardiovascular program in addition to other honors for clinical excellence. St. Luke's is a multi-year recipient of the Most Wired award recognizing the breadth of St. Luke's information technology applications such as electronic medical records, telehealth, online scheduling and pricing information. St. Luke's is also recognized as one of the state's lowest cost providers in comparison to major teaching hospitals and other health systems.
---
Media Contact:
Mariella B. Miller
Senior Director, Corporate Communications
St. Luke's University Health Network
484-526-4134
Mariella.Miller@sluhn.org
For more information about St. Luke's services or to find a physician, call St. Luke's InfoLink toll-free at
1-866-STLUKES (785-8537) Monday through Friday from 8:30 am to 4:30 pm or email us anytime at
Info.Link@sluhn.org
.