News
Pocono Township Chooses St. Luke's for EMS Coverage
October 06, 2016
Pocono Township Chooses St. Luke's for EMS Coverage
BARTONSVILLE, PA (10/6/2016) –
The Pocono Township Board of Commissioners unanimously approved a resolution on Oct. 3 that selected
St. Luke's University Health Network
as its primary ambulance responder.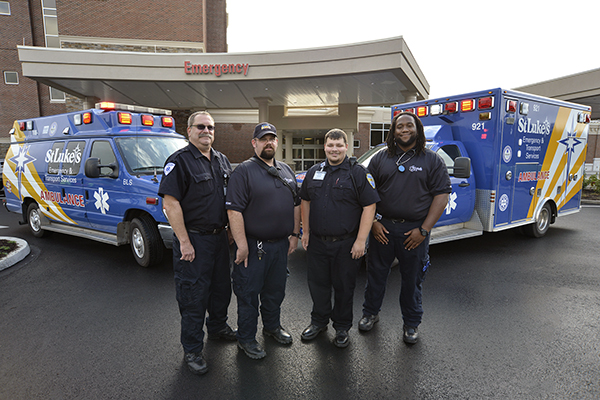 St. Luke's Monroe Campus's Emergency and Transportation Services Team
---
St. Luke's will provide services to the township from its newly renovated location in Tannersville. The St. Luke's Emergency and Transportation Services (ETS) ambulance station will serve as the Monroe operations hub for emergency, and non-emergency ambulance transport services. Additionally, this location will be utilized as a center for public safety continuing education and training. Located along 611, just a few miles from the now-open St. Luke's Monroe Campus, the St. Luke's Emergency and Tranportation Services team will provide Advanced Life Support Ambulance services to the township which boasts a population of greater than 10,000 and requests approximately 1,800 EMS calls per year.
Additionally, St. Luke's ETS team will support municipal/public safety employees of Pocono Township by providing the following services:
• Cardiopulmonary Resuscitation (CPR), First Aid and Automated External Defibrillator (AED) courses
• Naloxone (Narcan) training
• Police first responder kits
• Inspection and restocking of municipal first aid kits and AEDs
• First scene rehabilitation during a fire/rescue incident
• Participation in any Pocono Township community events
"With the new hospital, St. Luke's is raising the bar for quality care in Monroe County," said Don Seiple, president of St. Luke's Monroe Campus. "Our paramedics and emergency medical technicians know the residents of not only Pocono Township but also the neighboring communities. With this partnership, St. Luke's can continue to expand its legacy of providing quality care in the communities we proudly serve."
The agreement went into effect at 6 p.m. Tuesday, October 4. For more information about ambulance subscriptions in Pocono Township, please contact St. Luke's Emergency & Transportation Services at 570-629-2620.

About St. Luke's
Founded in 1872, St. Luke's University Health Network (SLUHN) is a non-profit, regional, fully integrated and nationally recognized network providing services at seven hospitals and more than 270 outpatient sites. The network's service area includes Lehigh, Northampton, Carbon, and Schuylkill, Bucks, Montgomery, Berks and Monroe counties in Pennsylvania and in Warren County in New Jersey. Dedicated to advancing health education, St. Luke's operates the nation's oldest School of Nursing and 22 graduate medical educational programs and is considered a major teaching hospital, the only one in the region. In partnership with Temple University, St. Luke's created the region's first Medical School. Repeatedly, including 2016, St. Luke's has earned Truven's Top 100 Major Teaching Hospital designation as well as Top 50 Cardiovascular program in addition to other honors for clinical excellence. St. Luke's is a multi-year recipient of the Most Wired award recognizing the breadth of St. Luke's information technology applications such as electronic medical records, telehealth, online scheduling and pricing information. St. Luke's is also recognized as one of the state's lowest cost providers in comparison to major teaching hospitals and other health systems.