News
Oz-Themed Geocaching Event at St. Luke's Celebrates Courage
November 07, 2016
Oz-Themed Geocaching Event at St. Luke's Celebrates Courage
Bethlehem, PA (11/7/2016) –
St. Luke's University Health Network
, Wildlands Conservancy and Zoellner Arts Center went looking for courage recently and found it in the hearts and laughter of children.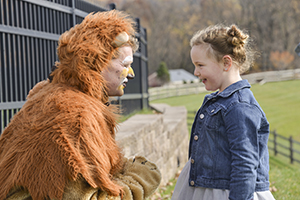 ---
The Cowardly Lion helps a little girl along
her geocaching adventure on Nov. 6 at
St. Luke's Anderson Campus. St. Luke's,
Wildlands Conservancy, and Zoellner Arts Center
partnered to gift the unique experience to
children and families who live with
chronic or traumatic illnesses.
Wildlands and Zoellner invited families to St. Luke's Anderson Campus on Nov. 6 to geocache—to go on an Oz-themed scavenger hunt using GPS technology—to coincide with a collection of activities leading up to Zoellner's production of the "Journey to Oz" on Nov. 20.
Festivities centering around the Scarecrow, the Tin Man, the Wicked Witch, plus Dorothy and Toto have been and will be held at destinations throughout the Lehigh Valley leading up to the Nov. 20 production. When the time came to anchor the Cowardly Lion to an adventure, organizers were excited to partner with St. Luke's University Health Network to gift this experience to children from eight families who live with chronic illnesses.
"We decided to use the Lion's theme of courage to provide a very special experience for children and families with difficult health circumstances," Megan Sciarrino, Wildlands' director of annual fund and communications, said, "Which, in turn, led us to St. Luke's."
St. Luke's identified eight families who have displayed bravery in dealing with major health issues to participate in the event.
"To see these children get through a day sometimes is just an amazing display of courage. They dodge road blocks all the time whether they're dealing with diabetes or the results of traumatic injury. It's a treat to have them here and to honor their tenacity and heroism,"
Dr. Jennifer Janco
,
St. Luke's Chief of Pediatrics
, said.
Just as the Lion earned recognition for his courage, these families, especially the children, deserve recognition for the courage they displayed in dealing with harsh realities of life that include recent serious, chronic and/or traumatic illness.
Participants thought one lucky family would receive tickets to the production through a drawing at the final cache but there was more than one winner among the geocachers. All the children and their families won tickets to see the show on Nov. 20 at Zoellner Arts Center.
"At a glance, these organizations may seem like nontraditional partners but we found that working together to connect health, outdoor life and the performing arts doesn't seem to be so odd at all. And when it connects to children in need, that's something we can always come together for," says Andy Cassano, administrative director of Zoellner Arts Center.
All eight families also received copies of L. Frank Baum's "The Wizard of Oz" made possible through the St. Luke's department of community health and preventive medicine ongoing literacy efforts in our community.
About St. Luke's
Founded in 1872, St. Luke's University Health Network (SLUHN) is a non-profit, regional, fully integrated and nationally recognized network providing services at seven hospitals and more than 270 outpatient sites. The network's service area includes Lehigh, Northampton, Carbon, and Schuylkill, Bucks, Montgomery, Berks and Monroe counties in Pennsylvania and in Warren County in New Jersey. Dedicated to advancing health education, St. Luke's operates the nation's oldest School of Nursing and 22 graduate medical educational programs and is considered a major teaching hospital, the only one in the region. In partnership with Temple University, St. Luke's created the region's first Medical School. Repeatedly, including 2016, St. Luke's has earned Truven's Top 100 Major Teaching Hospital designation as well as Top 50 Cardiovascular program in addition to other honors for clinical excellence. St. Luke's is a multi-year recipient of the Most Wired award recognizing the breadth of St. Luke's information technology applications such as electronic medical records, telehealth, online scheduling and pricing information. St. Luke's is also recognized as one of the state's lowest cost providers in comparison to major teaching hospitals and other health systems.
Media Contact:
Mariella B. Miller
Senior Director, Corporate Communications
St. Luke's University Health Network
484-526-4134
Mariella.Miller@sluhn.org
For more information about St. Luke's services or to find a physician, call St. Luke's InfoLink toll-free at
1-866-STLUKES (785-8537) Monday through Friday from 8:30 am to 4:30 pm or email us anytime at
Info.Link@sluhn.org
.