News
Jill D'Alessandro Named VP of Patient Care at St. Luke's Monroe Hospital
March 11, 2016
Bethlehem, PA (3/11/2016)
–
St. Luke's University Health Network
has named
Jill D'Alessandro
vice president of patient care services of
St. Luke's Monroe Hospital
, which is scheduled to open in Fall 2016.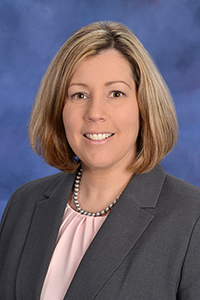 Jill D'Alessandro
D'Alessandro will join recently appointed President
Donald Seiple
in leading the new campus, the seventh hospital of St. Luke's University Health Network.
"Our employees are very excited about our new hospital and as a result, many well qualified candidates applied for this position," Seiple says. "Jill was selected because of her track record of delivering high patient and employee satisfaction and her commitment to continuously improving patient care. I can't think of anyone I'd rather join me in bringing the high quality patient care for which St. Luke's is known to the residents of the Monroe County region."
A graduate of East Stroudsburg University, D'Alessandro has worked at St. Luke's University Hospital in Bethlehem since 2004, when she enrolled in St. Luke's School of Nursing to pursue her passion of helping others through a career in nursing. She began as a patient care assistant and after graduating, as a staff nurse, clinical coordinator and finally, patient care manager.
"I'm honored. Being selected to lead patient care services of a new hospital is an opportunity very few people are privileged to experience," D'Alessandro says. "I am especially excited because it is located in Monroe County, where I have always found the community to be warm and welcoming." D'Alessandro attended East Stroudsburg University, where she obtained a degree in movement studies and exercise science. Also, she worked for five years as head athletic trainer for the Stroudsburg School District.
"I'm eager to work with the new staff that we will recruit and the physicians who already serve the region, but most importantly, I look forward to bringing our patients the comprehensive and advanced patient care services that a large network like St. Luke's Health Network can provide," she says.
About St. Luke's Monroe Campus
The Network's seventh hospital will mirror the look and feel of the St. Luke's Anderson Campus, which is located near Easton along Route 33, between Routes 22 and 78. The four-story building will have 108 private patient rooms including 12 beds for critical care patients, a large and efficient emergency room, helipad, operating rooms, a cardiac catheterization lab and the most modern diagnostic technology.
About St. Luke's
St. Luke's University Health Network (SLUHN) is a non-profit, regional, fully integrated, nationally recognized network providing services at six hospitals and more than 215 sites, primarily in Lehigh, Northampton, Carbon, Schuylkill, Bucks, Montgomery, Berks and Monroe counties in Pennsylvania and in Warren County, New Jersey.
---
Media Contact:
Mariella B. Miller
Senior Director, Corporate Communications
St. Luke's University Health Network
484-526-4134
Mariella.Miller@sluhn.org
For more information about St. Luke's services or to find a physician, call St. Luke's InfoLink toll-free at
1-866-STLUKES (785-8537) Monday through Friday from 8:30 am to 4:30 pm or email us anytime at
Info.Link@sluhn.org
.