News
Carrie Fleckenstein Named Senior Director for St. Luke's Senior Care
July 18, 2016
Carrie Fleckenstein Named Senior Director for St. Luke's Senior Care
Bethlehem, PA (7/18/2016)
–
St. Luke's University Health Network
has promoted
Carrie Fleckenstein
of Coopersburg to the position of Senior Network Director for Senior Care Services. In her new role, she will be working to enhance and grow senior care services to serve this growing demographic Network-wide.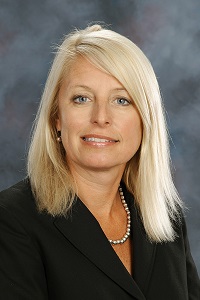 Carrie Fleckenstein
"The elements of strategically planning for our older adult population as well as the caregivers are very complex," says
Virginia M Wagner
, Network Administrator Senior Care/ Behavioral Health. "The opportunities span all service lines and St. Luke's Physician Group practices. Carrie will be working with me and
Dr. Alaa Mira
, Chief of Geriatrics in exploring a variety of exciting initiatives to grow our market including our Fellowship Program, Senior Surgery Program, NICHE, Centers for Positive Aging, and Older Adult Behavioral Health Unit to name a few.
"We will also be expanding our programs and services to the caregivers, with the goal of making it easy to access our services and be the resource of choice for them and their families," Wagner said. Fleckenstein joined St. Luke's in 2012 as a Physician Relations Representative covering the Bethlehem and Quakertown campuses and the Heart & Vascular service line. She has professional experience in a wide range of industries including pharmaceutical sales and real estate.
"I am really excited about this new position," Fleckenstein says. "I look forward to working with both former and new colleagues in my new role."
Fleckenstein graduated with a Bachelor of Arts in Telecommunications degree from Westminster College in New Wilmington, Lawrence County, PA in 1987. She moved to the Lehigh Valley from Pittsburgh in 2005 and resides in Coopersburg with her husband Brent and children Kali, Brady, Katrina, and Caiden.
About St. Luke's
St. Luke's University Health Network (SLUHN)
is a non-profit, regional, fully integrated, nationally recognized network providing services at six hospitals and more than 200 sites, primarily in Lehigh, Northampton, Carbon, Schuylkill, Bucks, Montgomery, Berks and Monroe counties in Pennsylvania and in Warren County, New Jersey.
---
Media Contact:
Mariella B. Miller
Senior Director, Corporate Communications
St. Luke's University Health Network
484-526-4134
Mariella.Miller@sluhn.org
For more information about St. Luke's services or to find a physician, call St. Luke's InfoLink toll-free at
1-866-STLUKES (785-8537) Monday through Friday from 8:30 am to 4:30 pm or email us anytime at
Info.Link@sluhn.org
.