News
Area Legislators Get Down to Business at St. Luke's Center
March 08, 2016
Bethlehem, PA (3/8/2016)
– Five Congressmen joined voices with the Greater Lehigh Valley Chamber of Commerce on March 8 to talk about the state of Lehigh Valley business and to talk about politics in general as part of the recording of Chamber's weekly Business Matters program.
St. Luke's University Health Network
was the event's presenting sponsor as the panel discussion was held in the glass-filled dining room of St. Luke's Center in Hanover Township, Lehigh County.
Louis J. Barletta – (R) PA District 11; Matthew Cartwright – (D) PA District 17; Charles Dent – (R) PA District 15; Michael Fitzpatrick – (R) PA District 8, and Leonard J. Lance – (R) NJ District 7 answered rapidly fired questions presented by host and Chamber President and CEO Tony Iannelli.
Conversations touched on everything from Presidential primaries, conventions and elections to the economy, and Supreme Court nominee practices as well as gun control.
Business Matters
is broadcast at 7:30 p.m. Mondays on WFMZ Channel 69.
The show was recorded before a live studio audience at St. Luke's Center, where the health network recently consolidated its administrative offices. The move was an opportunity to reuse and repurpose 250,000 square feet of an existing facility, cutting significant costs and sharply increasing efficiencies for the system.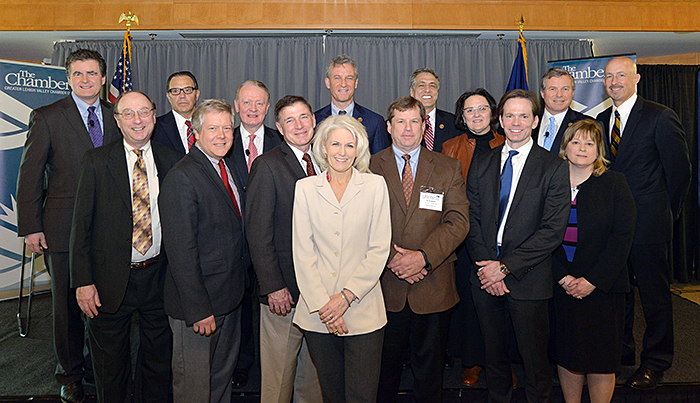 ---
Front row (L to R): Dr. Jeffrey Jahre, Ken Szydlow, Frank Ford,
Jane George, Scott Wolfe, Bill Moyer, Rochelle Schaller.
Back row (L to R): Rep. Mike Fitzpatrick, Rick Anderson, Rep. Leonard Lance,
Rep. Matthew Cartwright, Rep. Lou Barletta, Carol Kuplen, Rep. Charles Dent, Robert Wax.
About St. Luke's
St. Luke's University Health Network (SLUHN) is a non-profit, regional, fully integrated, nationally recognized network providing services at six hospitals and more than 200 sites, primarily in Lehigh, Northampton, Carbon, Schuylkill, Bucks, Montgomery, Berks and Monroe counties in Pennsylvania and in Warren County, New Jersey. The Network recently was honored with its second consecutive 100 Top Hospitals™ Award from Truven Health Analytics® in the Major Teaching Hospital Category. St. Luke's Quakertown Campus was also recognized as a 100 Top Hospital in the Small Community Hospital category.
---
Media Contact:
Mariella B. Miller
Senior Director, Corporate Communications
St. Luke's University Health Network
484-526-4134
Mariella.Miller@sluhn.org
For more information about St. Luke's services or to find a physician, call St. Luke's InfoLink toll-free at
1-866-STLUKES (785-8537) Monday through Friday from 8:30 am to 4:30 pm or email us anytime at
Info.Link@sluhn.org
.