News
St. Luke's Named Exclusive Provider for and Sponsor of PIAA District XI
September 05, 2014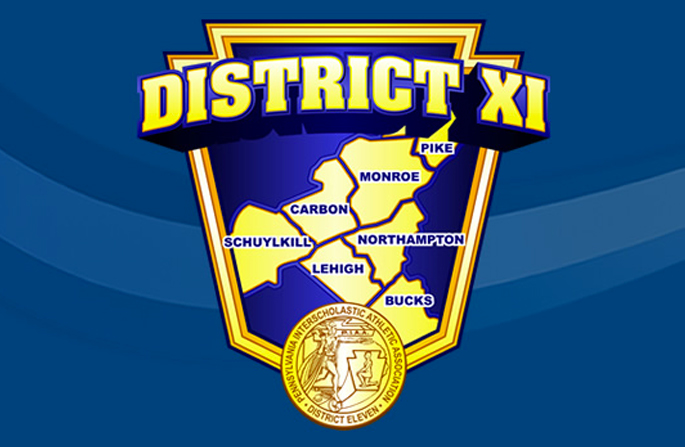 St. Luke's University Health Network and the Pennsylvania Interscholastic Athletic Association's (PIAA) District XI are teaming up to provide all District XI schools and teams with the region's most comprehensive, technically advanced and responsive care and training for athletes.
"St. Luke's is already the official medical provider for the Lehigh Valley SteelHawks and the Parkettes National Gymnastics Training Center," says John Hauth, manager of Sports Medicine Relationships, St. Luke's University Health Network. "We also provide on-site, emergency and on-going care for athletes at a host of schools in and around the Lehigh Valley, the Poconos and the Schuylkill County region. We now have the opportunity to do that for the entire District XI as needed. This is an opportunity and a responsibility that we accept with great commitment and enthusiasm."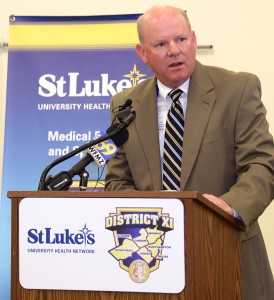 St. Luke's provides a full spectrum of sports-related medical services including orthopaedic surgery, sports medicine, athletic training, physical therapy, primary care sports medicine, a concussion program, sports performance facilities and fitness centers.
"In addition to some co-branding and co-marketing efforts, St. Luke's will be providing on-site athletic training services, on-call and on-site physician services, medical and athletic training supplies and expertise and care where and when needed," says Hauth. "St. Luke's is singularly well positioned and equipped to handle the emergent and on-going care for athletes. We have the most comprehensive services and the most integrated system in the region to do this."
District 11 is one of the PIAA's 12 districts and comprises mostly high schools within the Lehigh Valley, Poconos and Schuylkill County region and a few surrounding counties. Member schools are classified by enrollment into four categories: A, AA, AAA, AAAA. District XI is known to be one of the more competitive of the 12 districts within the PIAA. It owns many state championship and state runner-up trophies. Its member schools include:
Eastern Pennsylvania Conference
Allentown Central Catholic
Bethlehem Catholic
Easton
SLUHN / District XI
East Stroudsburg North
East Stroudsburg South
Emmaus
Freedom
Liberty
Louis E. Dieruff
Nazareth
Northampton
Parkland
Pleasant Valley
Pocono Mountain East
Pocono Mountain West
Stroudsburg
Whitehall
William Allen
Colonial League
Bangor
Catasauqua
Moravian Academy
Northern Lehigh
Northwestern Lehigh
Notre Dame – Green Pond
Notre Dame – East Stroudsburg
Palisades
Palmerton
Pen Argyl
Salisbury
Saucon Valley
Southern Lehigh
Wilson
Schuylkill League
Blue Mountain
Jim Thorpe
Mahanoy Area
Marian Catholic
Minersville
Nativity BVM
North Schuylkill
Panther Valley
Pine Grove
Pottsville
Schuylkill Haven
Shenandoah Valley
Tamaqua
Tri-Valley
SLUHN / District XI
Weatherly
Williams Valley
No League
Lehigh Valley Christian
Lincoln Leadership Academy
Pius X – Roseto
Salem Christian School
"PIAA District XI is excited to enter in to a partnership with St. Luke's University Health Network," says Robert Hartman, PIAA District XI Chairman and Athletic Director for Whitehall High School. "The educational mission and health and fitness resources of St. Luke's are important as we form a partnership between a dynamic educational institution and an organization of junior high and high schools. We look forward to the growth of this partnership. "
According to Hauth, St. Luke's and District XI are establishing two $1,000 scholarships, awarded annually to senior District XI athletes. "Every bit as important as caring for our athletes, is raising the awareness of athletic injuries; educating parents, coaches and athletes about injury prevention; and doing everything we can, through this partnership, to keep our athletes safe."