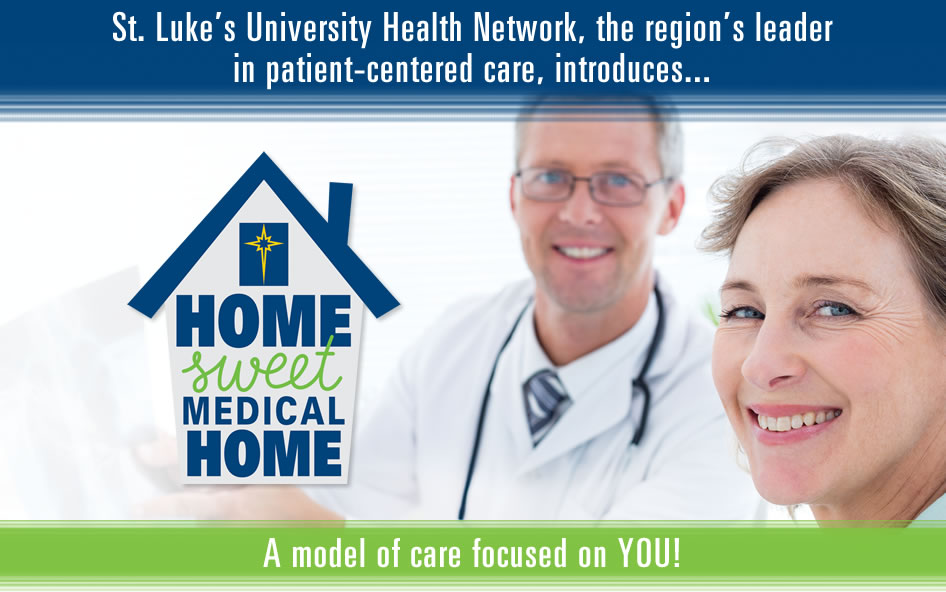 St. Luke's University Health Network has more physician practices
that are recognized Medical Homes by the National Committee
for Quality Assurance (NCQA) than any other area hospital.
---
What is a Medical Home?
Medical Home, a term that will become very familiar within the rapidly changing health care environment, is a model of health care that is first and foremost, centered on the patient.
The care, which spans the patient's life, is led by a physician and includes a team of health care professionals as needed over the years. Specialists, therapists and others are part of the patient's Medical Neighborhood and their involvement is orchestrated by care coordinators.
The care delivered by the health care team is evidence-based. That means the Medical Home model calls upon scientifically sound treatments and protocol — evidence — that has been statistically proven to result in better outcomes for every patient, every time. Your physician will use that information to tailor a course of treatment specifically for you.
More than 60 of St. Luke's University Health Network physician practices have received Level III recognition by the National Committee for Quality Assurance which defines itself as an organization that, "has helped to build consensus around important health care quality issues by working with large employers, policymakers, doctors, patients and health plans to decide what's important, how to measure it, and how to promote improvement." That number will continue to grow.
---
What does this new approach to patient care mean for you?
Care coordinators, part of your care team, focus on maintaining your wellness.
If specialists, therapists and others are needed, your care team coordinates them as necessary to
create a "Medical Neighborhood."
You have the ability to schedule same-day appointments and have 24-hour access to care.
Quality standards of treatment and care ensure best outcomes.
State-of-the-art electronic medical records that follow you throughout your care — even at urgent
care facilities — mean thorough and safe care with every visit.
Come home to your "Home Sweet Medical Home"
at St. Luke's University Health Network
Call 1-866-StLukes