Community Health Needs Assessment (CHNA)
Quakertown Implementation Plan Updates
Campus specific implementation plan updates are reported on an annual basis.
To view a full list of campus results, click here.
2016-2017
The mission of St. Luke's University Health Network (SLUHN) is an unwavering commitment to excellence as we care for the sick and injured; educate physicians, nurses and other health care providers; and improve access to care in the communities we serve, regardless of a patient's ability to pay for health care. Moreover, the Community Health and Preventive Medicine (CHPM) Department of SLUHN continues to strive to achieve its mission of partnering with the community to increase health awareness, improve the health status of the community and encourage appropriate access to health services.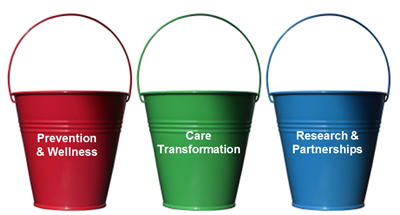 As we address each health priority from our 2016 CHNA, we use a three-prong approach ensuring that all priorities are advanced using the three buckets related to Prevention and Wellness, Care Transformation, and Research and Partnerships. This ensures a more comprehensive approach where traditional community health programming/initiatives are intertwined with clinical service lines, while research and partnerships are further developed and fostered.
Please click on each of the five health priorities determined from the 2016 CHNA to read about our implementation plan updates:
2013-2016
In April of 2013, St. Luke's Quakertown Hospital's Board of Directors approved the Community Health Benefit Plan created based on the findings of an extensive Community Health Needs Assessment.
The four priority health areas identified were Healthy Lifestyles, Mental Health, Access to Oral Health Services, and Elder Health.
The specific goals of St. Luke's Hospital – Quakertown Campus implementation plan for the three years (2013-2016) are summarized:
Promote and encourage opportunities for physical activity and healthy choices to prevent and to reduce overweight and obesity among community residents and to reduce incidence of associated chronic disease.
Increase access to a seamless, integrated system of support and care that promotes behavioral and mental wellness.
Increase access to quality oral health care by eliminating barriers that contribute to oral health disparities.
Adopt a broader, more integrated health care perspective in order to prevent and reduce morbidity and mortality among older adults.
Please click on each of the priority areas to view programmatic reports of completed initiatives based on the identified community health priorities.
Healthy Lifestyle
Mental Health
Access to Oral Health
Elder Health
Reducing Health Disparities/Select Community Programs
Community Events