News
Record Fundraising Year for Allentown Campus Dinner by Starlight
November 16, 2023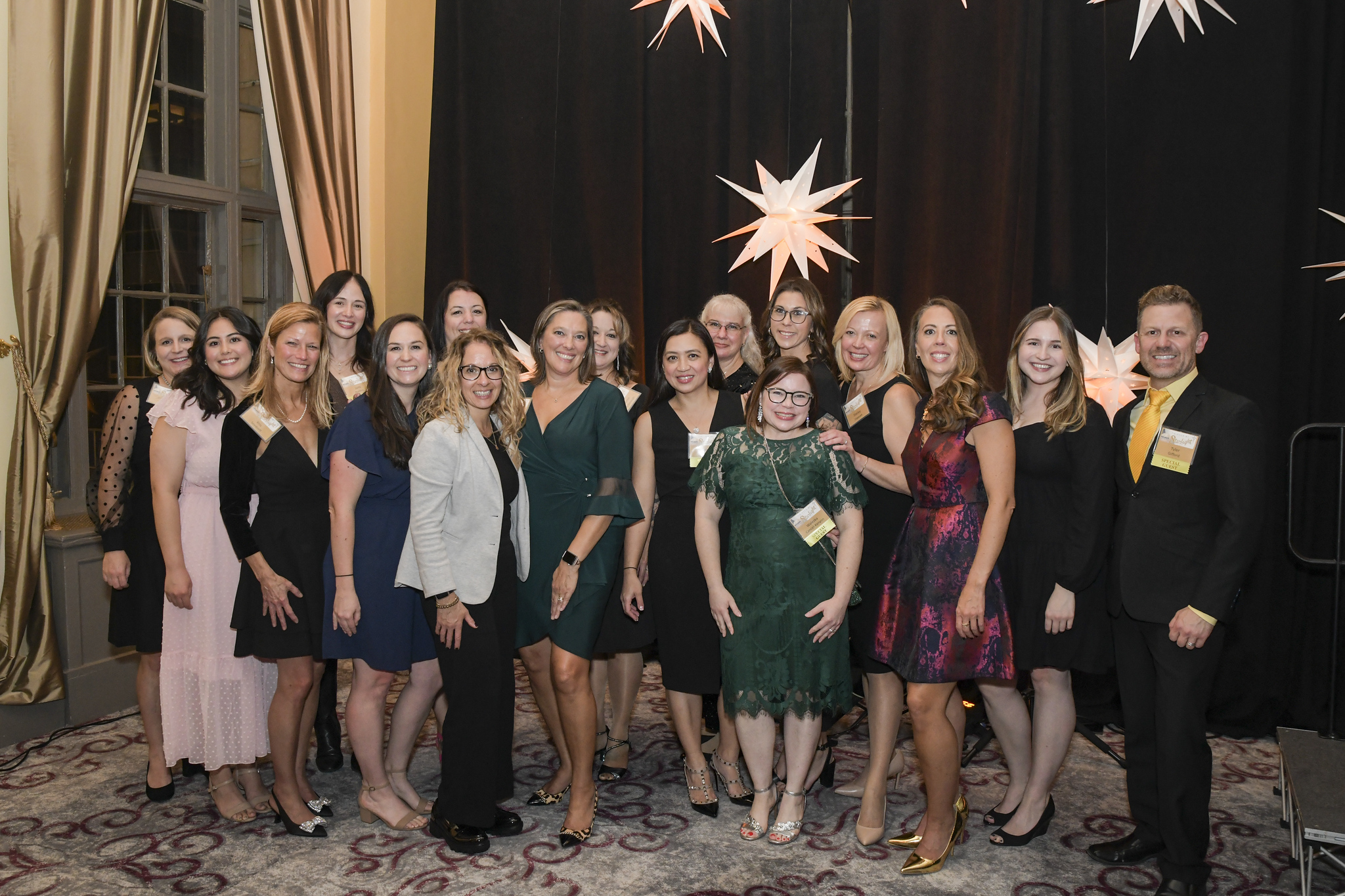 Group photo of the Allentown Women and Babies team.
Earlier in November, more than 200 community leaders and friends of St. Luke's Allentown Campus gathered at The Americus Hotel in downtown Allentown, for the Network's 22nd Annual Dinner by Starlight event. It was a record year, with nearly $350,000 raised to outfit a second OB operating room within St. Luke's Allentown's new Women and Babies Pavilion, expected to open February 2024.
This beloved fundraising event provides a special opportunity to recognize members of the Allentown community who make a difference through their gifts of time, talent, and treasure. Lauren Sokolski, Regional Director of Marketing & Public Relations for St. Luke's, generated excitement as the evening's emcee and recognized the St. Luke's Allentown Women & Babies Team as this year's Honorary Star.
"The best part of what we do is watching these babies be delivered and their families expanding," said Kathy Edmond, St. Luke's Allentown Labor and Delivery nurse. "My team works incredibly hard each and every day, and it is so wonderful to recognize them for their dedication to our patients and our community," said Betsy Schmeltzle, St. Luke's Allentown Patient Care Manager, Labor and Delivery.
The event also celebrated two Shining Stars Jenn Gora, Chief Communications Officer for GOLD Credit Union, who was recognized for her dedication to the Allentown Campus through her role as member of the Campus' Board of Governors and Development Committee, generous donor, and as a grateful patient through her personal experience with the birth of her son, Tyler, 21 years ago.
Stacy Wereley was recognized as a Shining Star through her connection as a grateful patient at the St. Luke's Allentown Campus as well. All 3 of Stacy's children were delivered at the Campus, but it wasn't until complications arose during the delivery of her youngest son, Wesley, that she became even more grateful to the team of physicians and nurses who ensured a safe and healthy outcome for both she and her son.
St. Luke's is privileged to shine a bright light on the talent and dedication of all the "stars" recognized, while also advancing the care provided to families in our community. The new Women & Babies Pavilion will enable up to 3,000 deliveries per year – double our current capacity – and will include a level III neonatal intensive care unit (NICU). This will allow babies born prematurely, or with critical needs, to remain close to their families in Allentown.
This significant investment in the Allentown community will ensure that all moms and babies in need can access the highest quality services from a world-class leader in health care–now in a brand-new, state-of-the-art facility.
Thank you to the following Dinner by Starlight sponsors, who recognize the value of investing in the health of our Allentown community:
Donations to support the St. Luke's Allentown Women & Babies Pavilion will be accepted through December 31, 2023, at www.sluhn.org/dinnerbystarlight, where you will find "additional donation" at the bottom of the page. Please contact Kelly Chando, Director of Development, at kelly.chando@sluhn.org with any questions.