News
Pennsburg Carpenter Bounces Back after Revision Knee Surgery to Build His Hew Home
January 18, 2023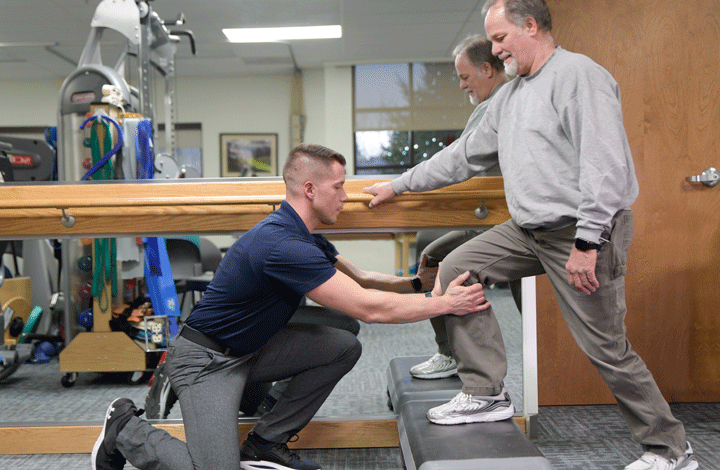 Bud Cameron works with physical therapist Bobby Nester of Physical Therapy at St. Luke's in Pennsburg to strengthen his knee after revision knee surgery.
Few people have the skills, desire and energy to build their own home from the ground up. But Arthur "Bud" Cameron does. The 63-year-old carpenter is eager to start working on his new Cape-Cod, near Pennsburg, as soon as he can.
This will be the second home Bud has built for himself, doing nearly all the work: framing, electricity, plumbing, woodwork and more. He hopes to move into it by the end of 2023 if all goes as planned.
But that might not have been possible if not for orthopedic surgeon Gregory Gilson, DO, of St. Luke's Orthopedic Care, and physical therapist Robert (Bobby) Nester, PT, DPT at Physical Therapy at St. Luke's - Pennsburg.
Last year, a cut on Bud's right hand became infected, which traveled to his right knee. Because the knee joint was artificial—it had been replaced 12 years ago—the prosthesis had no blood flow to it. The bacteria attacked the joint and became lodged there. Even after several courses of antibiotics and thorough debridements, or cleaning out of the menacing infection, it remained in the joint.
For months, the pain and immobility of the infected knee kept Bud from working his regular job—he usually spends most of his day on his knees installing wood trim-- and enjoying life.
"I like to stay active, so this was a problem," he said. "But it didn't stop me from planning my house."
Last fall as Bud's treatment options and hopes were waning, he was referred to Dr. Gregory Gilson, an orthopedic surgeon who specializes in knee replacement and revision surgery. Dr. Gilson told Bud that removing his infected knee replacement was the best solution for his problem.
He explained that about 22,000 patients in the United States annually will need a joint revision, mainly due to prosthesis instability, loosening, infection or (bone) fracture around the implants. He performs a handful of these surgeries each month.
Bud was impressed immediately with Dr. Gilson.
"I felt so comfortable with him as he explained the details of the procedure and likelihood for success," he said. "I wanted to have it done as soon as I could."
He came to his next appointment with Dr. Gilson carrying his overnight bag so he could head right to surgery the next day.
"Let's do this now!" he said, trusting the surgeon and his skills.
During a three-hour operation on October 3 at St. Luke's Allentown Campus, Dr. Gilson thoroughly cleaned out the bacteria from Bud's knee. He removed the joint and replaced it with a permanent prosthesis that was held in with a special cement that releases antibiotics directly into the site of the infection. He then prescribed IV antibiotics followed by oral antibiotics, with the help of his infectious disease colleagues, to increase the likelihood of completely eradicating the infection.
"We hit the infection from all angles," said Dr. Gilson.
And it worked. Bud was up walking the same day as the surgery.
"I was back on my feet in three weeks," he said.
Bud soon started physical therapy at Physical Therapy at St Luke's - Pennsburg and completed it ahead of schedule.
"Bud is highly motivated to get better," said Nester, his physical therapist, who worked with him on knee strength and flexibility. "He's doing very well. He's a model patient."
Adds Bud, "I'm progressing beyond what I had expected."
He's now on the road to a full recovery.
With the pain and disability from the infection behind him, he's looking forward to breaking ground on his home early next year and moving into it by the year's end.
He'll be sure to invite Dr. Gilson and Nester to visit when it's completed, he says. After all, they were there to take care of him when a dangerous infection threatened to cancel his construction plans.
"They're awesome," he said. "I'd recommend Dr. Gilson and Bobby any day."