News
St. Luke's Announces Establishment of New Children's Hospital
June 20, 2023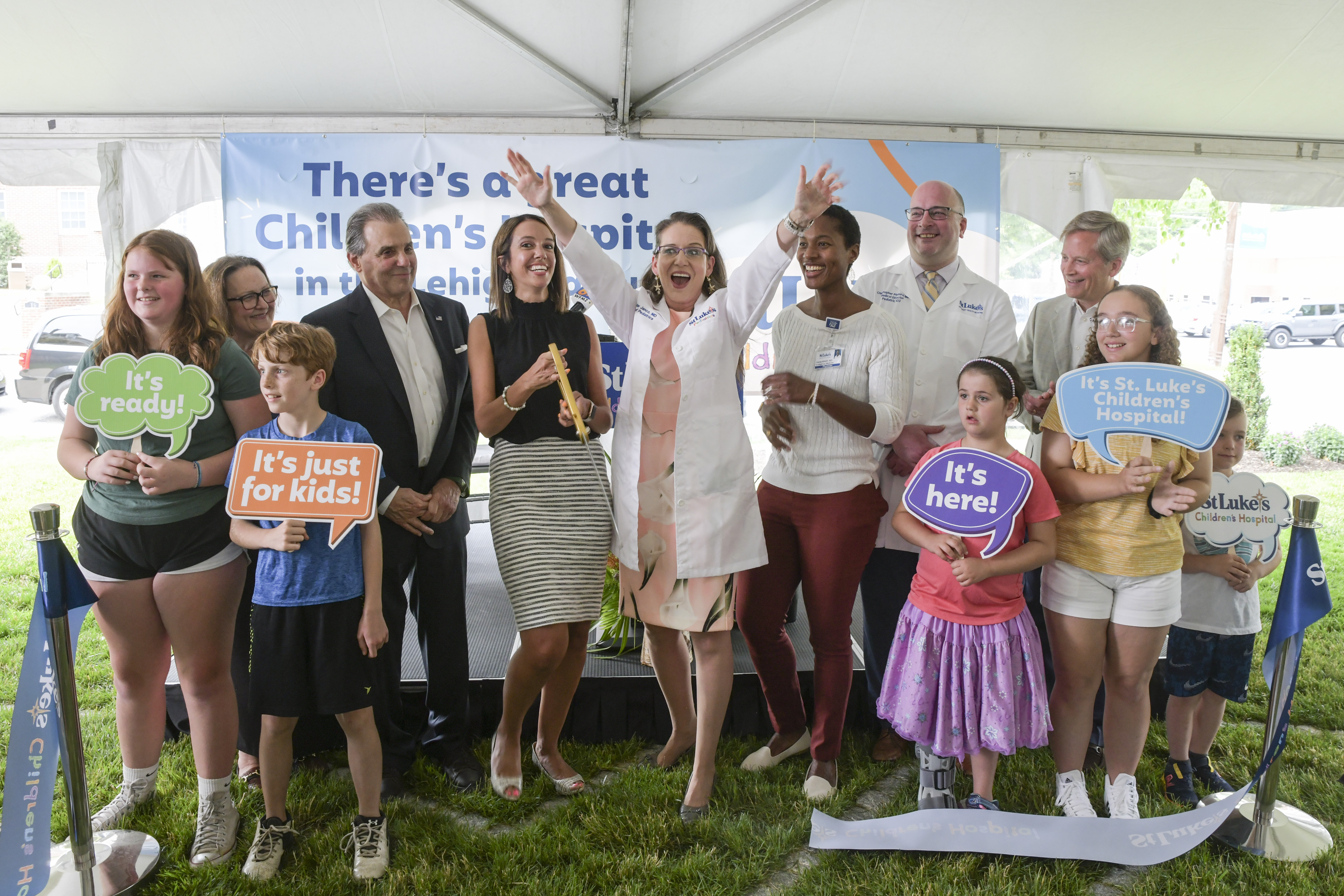 With outstretched arms, St. Luke's Pediatrics Chair Dr. Jennifer Janco on Tuesday celebrates the ribbon cutting for the new St. Luke's Children's Hospital.
St. Luke's University Health Network is proud to announce the opening of St. Luke's Children's Hospital based at the Network's Bethlehem Campus in Fountain Hill.
"St. Luke's is the first established hospital in the Lehigh Valley and has been caring for children for the 150 years since its founding in 1872," St. Luke's President & CEO Richard A. Anderson said. "This new children's hospital designation recognizes the incredible depth of pediatric expertise developed across our Network over its long and storied history, including an array of specialty services added in recent years."

This announcement is the culmination of a coordinated effort to reorganize pediatric care under the concept of a children's hospital.

St. Luke's became a member of the Children's Hospital Association in 2022. In May 2022, St. Luke's Pediatric Specialty Center, the region's first and only free-standing facility dedicated entirely to children, opened, allowing families to coordinate multiple specialty appointments in the same day at one convenient location. Shortly thereafter, St. Luke's 17-bed pediatric inpatient unit was renovated and relocated to include 24/7 hospitalist coverage, support from pediatric trained respiratory therapists and specialty trained pediatric nurses, pharmacists and pediatric surgeons.

In 2020, St. Luke's Bethlehem Campus added a $5 million, 8-bed Pediatric Intensive Care Unit (PICU), which provides advanced care to critically ill children. Prior to that, in 2017, St. Luke's opened the Baby & Me Support Center, the region's only comprehensive service offering prenatal education, lactation support, post-partum depression counseling and support groups in one location.

St. Luke's robust pediatric services complement the Network's award-winning obstetrics group – named Best Place to Have a Baby – and state-of-the-art birth centers. More Lehigh Valley babies have been born at St. Luke's than at any other health network in the region.

"St. Luke's is committed to ensuring that parents enjoy access to St. Luke's personalized and high-quality care, from pregnancy through all stages of their children's development," said Jennifer Janco, MD, Chair of Pediatrics. "Whether for planned routine check-ups or unexpected illnesses and injuries, St. Luke's is prepared to deliver on the promise to care for your family."

Dr. Janco noted that St. Luke's continues to invest in its pediatric programs through the addition of experienced, compassionate providers. The current team of 35-plus pediatric specialists includes the region's only pediatric nephrologist and only developmental pediatricians, as well as the largest team of fellowship-trained pediatric orthopedic surgeons in the area. The most recent additions to the specialty team include a Network Medical Director of Pediatric Emergency Medicine and a Child Life Specialist.

St. Luke's also offers the region's only pediatric dialysis center and the first and only pediatric specialty labs, designed to make children more comfortable and parents less stressed.

"The establishment of St. Luke's Children's Hospital represents a decade of intensive planning and investment in pediatrics," said Jessika Haynos, Service Line Administrator, St. Luke's Pediatrics.