News
Mike and Jean Grabarits Recognized for Gift to Children's Hospital
October 31, 2023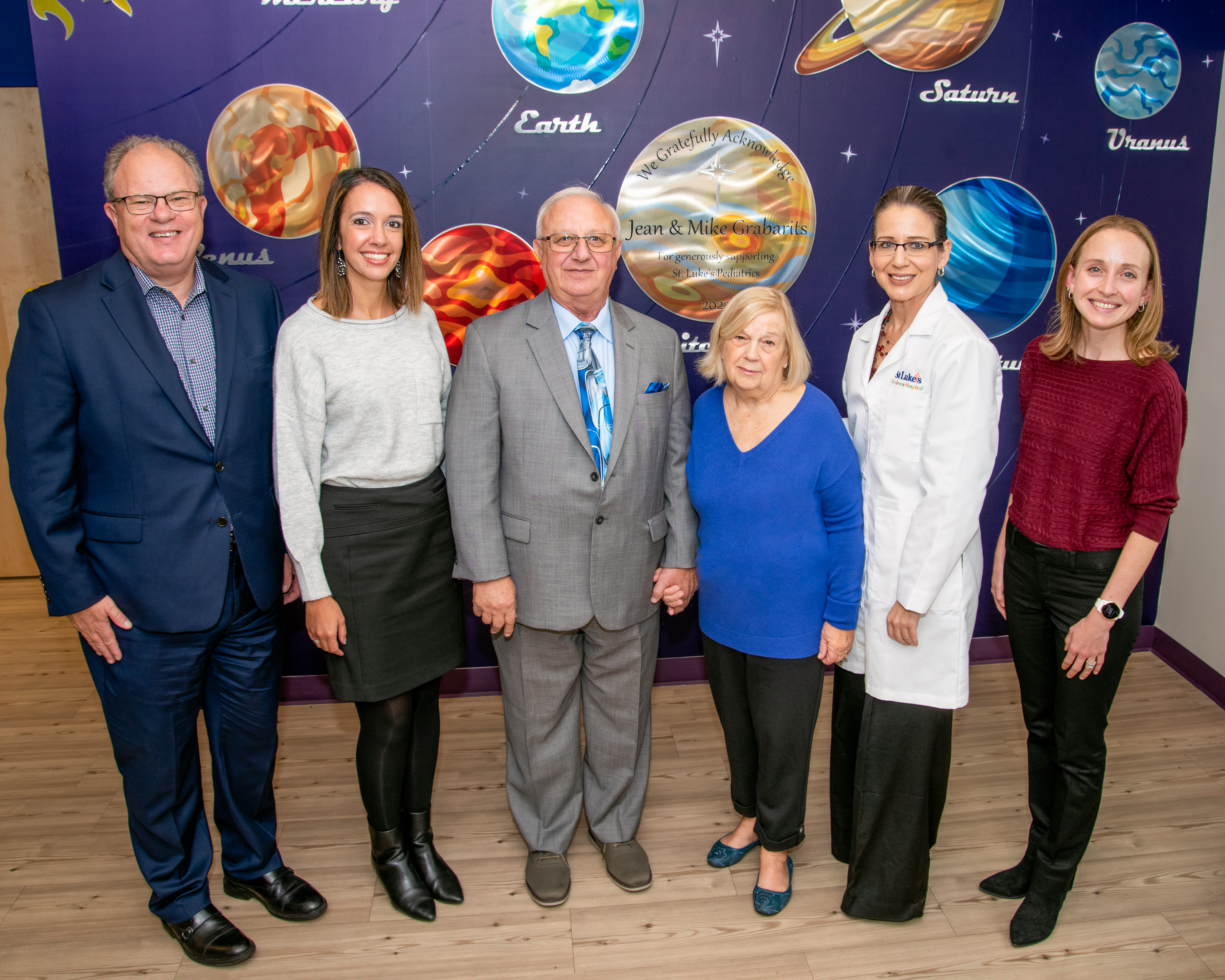 From left, Pat Bower, Vice President of Development and External Affairs; Jessika Haynos, Pediatrics Service Line Administrator; Mike and Jean Grabarits; Dr. Jennifer Janco, Chair of Pediatrics; Gretchen Duffy, Certified Child Life Specialist.
Mike and Jean Grabarits were recently recognized for their generous gift to pediatric services at St. Luke's Children's Hospital in Bethlehem.
"Jean and I are pleased to support St. Luke's Children Hospital in its ongoing effort to improve the health and well-being of local children. We are inspired by the wonderful care St. Luke's provides and the recent announcements of the new Children's Hospital and children's emergency room," says Mike Grabarits, former president and chief academic advisor of Step By Step Learning®, a literacy professional development company that trains teachers to be more effective in closing the academic gaps when teaching reading, writing, spelling and comprehension.

Mike is a self-confessed "serial entrepreneur" who in 1985 became interested in learning why children were not learning to read to grade level. From that, he and Jean developed several companies that changed the reading trajectory of many underprivileged children nationwide, including Step By Step Learning®.

This past month, The Isaacman Family St. Luke's Children's ER was dedicated, following the official opening of the St. Luke's Children's Hospital in June. The current team of 40-plus pediatric specialists includes the region's only pediatric nephrologist, only developmental pediatricians, and the largest team of fellowship-trained pediatric orthopedic surgeons in the area. In addition, children have access to on-site expertise in child development, psychology and counseling.

The Grabarits' naming is recognized in the St. Luke's Pediatric Specialty Center, the region's first and only free-standing facility dedicated entirely to children, allowing families to coordinate multiple specialty appointments in the same day at one convenient location in Center Valley.

"This gift from Mike and Jean is so meaningful and appreciated by St. Luke's," says Dr. Jennifer Janco, Chair of Pediatrics. "This will certainly enhance the services that we can provide to our youngest patients and enable us to continue building upon our growing pediatric footprint in the greater Lehigh Valley."

The Grabarits' are also committed to the Lehigh Valley through their support and involvement in several non-profits, including PBS39 and the Minsi Trails Boy Scouts of America.

While Mike is stepping back a bit from his long-term entrepreneurial pursuits, he remains passionate about their continued efforts for childhood learning and care. "I believe you need to invest in your community and St Luke's is a great institution that is caring for our residents that need specialized medical care. Our intention with our gift is to make a significant impact in the lives of children served by St. Luke's," he shares.

The Isaacman Family St. Luke's Children's ER and the St. Luke's Children's Hospital were the culmination of several years' effort to assemble key building blocks. After the opening of the Pediatric Specialty Center in 2022, the St. Luke's 17-bed pediatric inpatient unit at the Bethlehem Campus was renovated and relocated to include 24/7 hospitalist coverage, support from pediatric trained respiratory therapists and specialty trained pediatric nurses, pharmacists and pediatric surgeons.

In 2020, St. Luke's Bethlehem Campus added a $5 million, 8-bed Pediatric Intensive Care Unit (PICU), which provides advanced care to critically ill children.