News
Expectant Parents Marry in a Hurry at Anderson Campus
November 06, 2023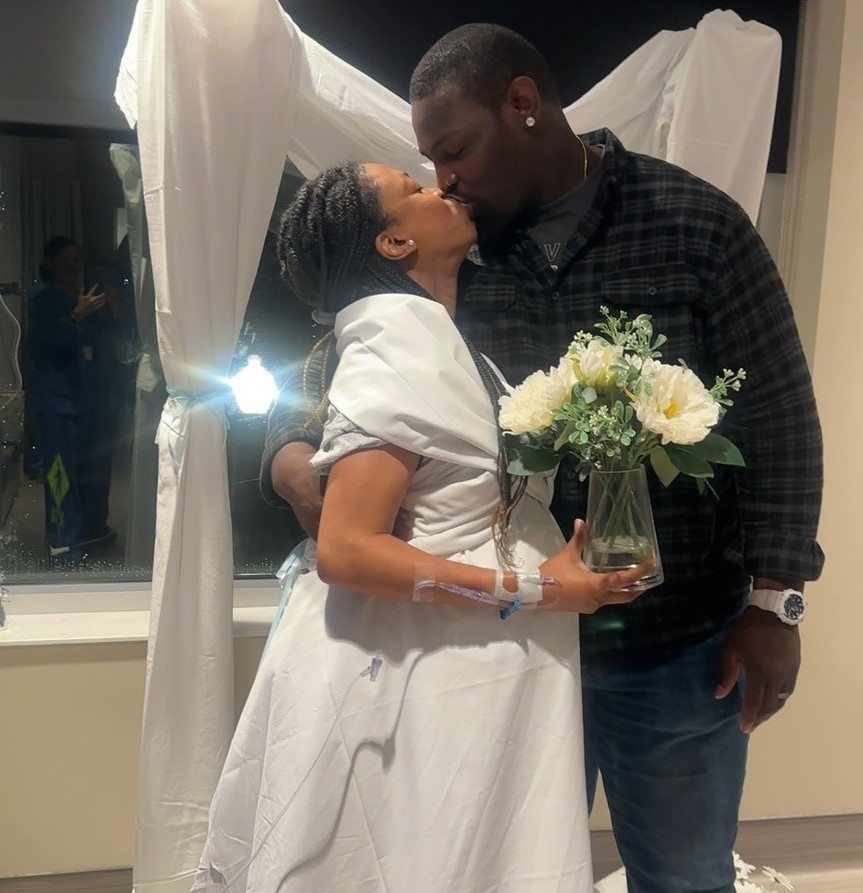 Since opening in 2020, more than 10,000 babies have been born at the Women & Babies Pavilion at St. Luke's Anderson Campus, but only one wedding has taken place there. This hurried, memorable celebration happened in mid-August under unusual, though special, circumstances.
On the afternoon of August 15, Eric Perry II drove his fiancée Jamie Lee Thomas, 38 weeks and 5 days pregnant and having early labor contractions, to the hospital in Bethlehem Township. Because of her discomfort, gestational age and occasional dips of her baby's heart rate with contractions, she was monitored closely overnight to ensure mom and baby's well-being.
A monitor was applied to Thomas's belly to continuously and closely assess her baby's heartbeat. The couple was told that the 30-year-old, first-time mother's labor might need to be augmented if the dips continued, and they recommended she remain at the hospital for close monitoring.
The couple had promised each other and their families that they would get married before their son was born. His original due date was August 24, and they had planned their wedding for August 18 near their home in Allentown.
"We wanted to have the baby within wedlock, to do right by God, my family and my son," said Perry II, age 27.
But Mother Nature and the baby forced them to change their plans early on August 16 as they anticipated the birth of their son.
With creative and caring help from the staff on the unit, preparations for the wedding began quickly that evening, as Thomas was being monitored.
"I prayed hard to God that my son would be born after the wedding," added Perry II. The couple hadn't yet chosen a name for their baby at that point.
With an unknown amount of time to hold their nuptials, before the baby would be born, a wedding gown was fashioned for the bride by unit nurse Brynn DelVecchio, RN, out of two hospital bed sheets, safety pins and ribbons
"I love weddings and other celebrations of love," said DelVecchio. "I wanted to help."
Meanwhile, as contractions continued, the baby showed signs of wanting to arrive before his due date.
Perry II rushed home to retrieve the wedding bands for them to exchange during their nuptials, and thankfully his home was nearby.
Thomas contacted a former coworker at St. Luke's Monroe campus, Jennifer Misero, BSN, a certified marriage officiant, who rushed down to the hospital so she could perform the ceremony.
Staff made cut-out hearts and scattered them on the floor of the largest delivery room on the unit which was transformed into a chapel. White flowers were gathered from around the hospital to make the bride's bouquet.
To ensure both her and her baby were monitored closely and remained safe, Thomas had an IV in place, and the staff monitored her baby utilizing a state-of-the-art remote fetal heart monitor, which allowed her to proceed into the makeshift chapel. Thomas walked down the hallway on the unit just before 1 a.m. on Aug. 16 while soft piano music and the sound of her baby's heartbeat from the monitor serenaded the couple and wedding attendees.
Thomas was greeted by her groom, dressed in his best street clothes, smiling nervously from ear to ear. They stood before an improvised "altar" of a white sheet draped over two IV poles while Thomas's brother and his girlfriend bore witness to the ceremony from Texas via Facetime.
Misero led them through their vows, which were punctuated with tears of joy and giggles. She pronounced them husband and wife much to the couple's relief with applause from the patient care staff.
Thomas' labor was then augmented with Baby Boy Perry making his arrival about 24 hours later. He was born at 1:12 a.m. on Aug. 17 weighing a healthy 7 lbs. 15 oz at 20 inches long. The couple, delighted that the timing of their two life events could take place as they hoped, still struggled to find a name for their newborn son.
But, as they were planning to leave the hospital as a family of three, days later, Perry II was inspired by their good fortune, and their son's healthy delivery, to name him Nathaniel, which means "Gift of God."
Their memorable experience and superb care on the Labor and Delivery Unit, too was a gift from the staff, who had helped them plan and hold their wedding as well as deliver their firstborn.
"This wedding was better than what I could have planned myself," said Thomas, who became a new bride and mother in just over 24 hours. "The staff went above and beyond for us to create our dream wedding just in the nick of time."
"We loved every part of this experience and are so grateful to the St. Luke's team, whom we will never forget."