News
Understanding Osteoarthritis and its Effects on Hips and Knees
September 14, 2022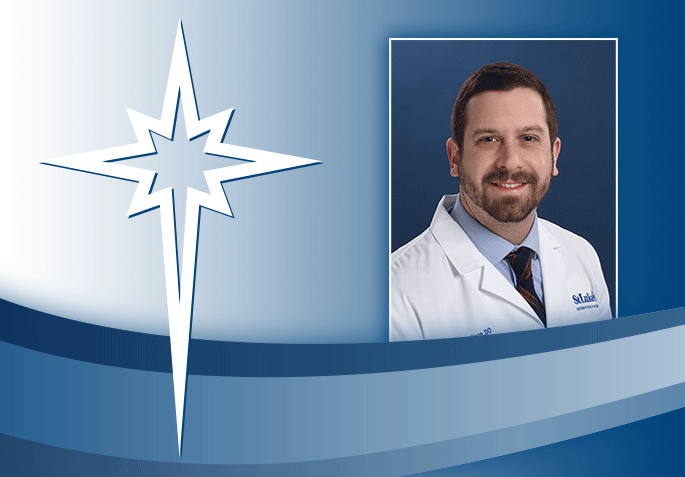 Osteoarthritis is that sneaky condition that breaks down cartilage and eventually the bone, causing pain, stiffness, and a change in lifestyle most people never thought would happen to them.
It starts out as what you attribute to wear and tear, but eventually walking up or down the steps becomes increasingly difficult on your knees.
You wake up in bed at night in pain at your hip as your lower body shifts to match your upper body's position.
When is it time to consider joint replacement?
"When we talk about osteoarthritis, it is a progressive degenerative joint disease which is essentially irreversible," explained Gregory Gilson, DO, an orthopedic surgeon with St. Luke's Orthopedic Care who specializes in joint replacement and revision surgeries for joint replacement.
"We try to manage it conservatively," he said of St. Luke's approach to choose surgery only as a last resort. "The mainstay with arthritis is preserving motion, so physical therapy and anti-inflammatory medication - either over-the-counter or prescription - are our first recommendations."
Dr. Gilson said that when oral anti-inflammatory medications don't provide relief, injections of corticosteroids may provide better relief for the knee but are temporary and are often administered with the caveat that activity needs to be restricted while the pain and discomfort subside. Injections for the hip are a bit more controversial due to specific side effects in that area.
Other types of injections include gel injections, the so-called "chicken shots" for visco supplementation. These typically provide the most benefit in those with lesser degrees of arthritis.
"Once the arthritis begins affecting your daily activities and your quality of life, things like waking you up at night or being unable to perform your usual daily tasks due to the pain and dysfunction, that's when it's time to consider joint replacement," Dr. Gilson said.
"Joint replacement is for people who have failed to achieve lasting relief and return to normal daily activities through all conservative measures," he said.
The purpose of the replacements is to get people back to their normal as quickly and safely as possible, which typically requires post-surgery physical therapy.
"One of the talks I have with my patients is that I can't give them the knee they had when they were 20, but I can provide pain control and the opportunity to improve their activity level for a much more improved quality of life," Dr. Gilson said.
People who participated in high impact activities like running before joint replacement may find better post-surgery results by switching to lower impact activities such as swimming, stationary cycling, rowing, and the use of elliptical machines.
When might a replacement for the replacement be needed?
Reduction in high impact activities such as running is recommended in order to increase the longevity of the joint replacement, but sometimes because of a number of other factors, parts wear out, fractures occur around the replacement parts, and instability, or infection occur.
In cases such as this, a replacement for the replacement – called a revision – can be recommended. Taking out the previous implants is a more technically demanding surgery due to potential bone loss or ligamentous instability.
Dr. Gilson said that he is among a subset of joint replacement surgeons who tailor their practice to revision surgery despite its complications and complexities.
Revision joint surgeries require special skill sets. Dr. Gilson's fellowship training at The Sinai Hospital of Baltimore and the University of Maryland Medical System saw him experience about 35 percent of the surgeries being complex revisions.
"It's one of the most rewarding feelings to be training and working at those tertiary care centers where you are able to acquire the skill set to take care of patients who had been turned away from other institutions due to the complexity of their joint replacement failures," Dr. Gilson said.