News
SLUHN Ranked among the Top Systems Nationally for Inclusivity and Equity
December 19, 2022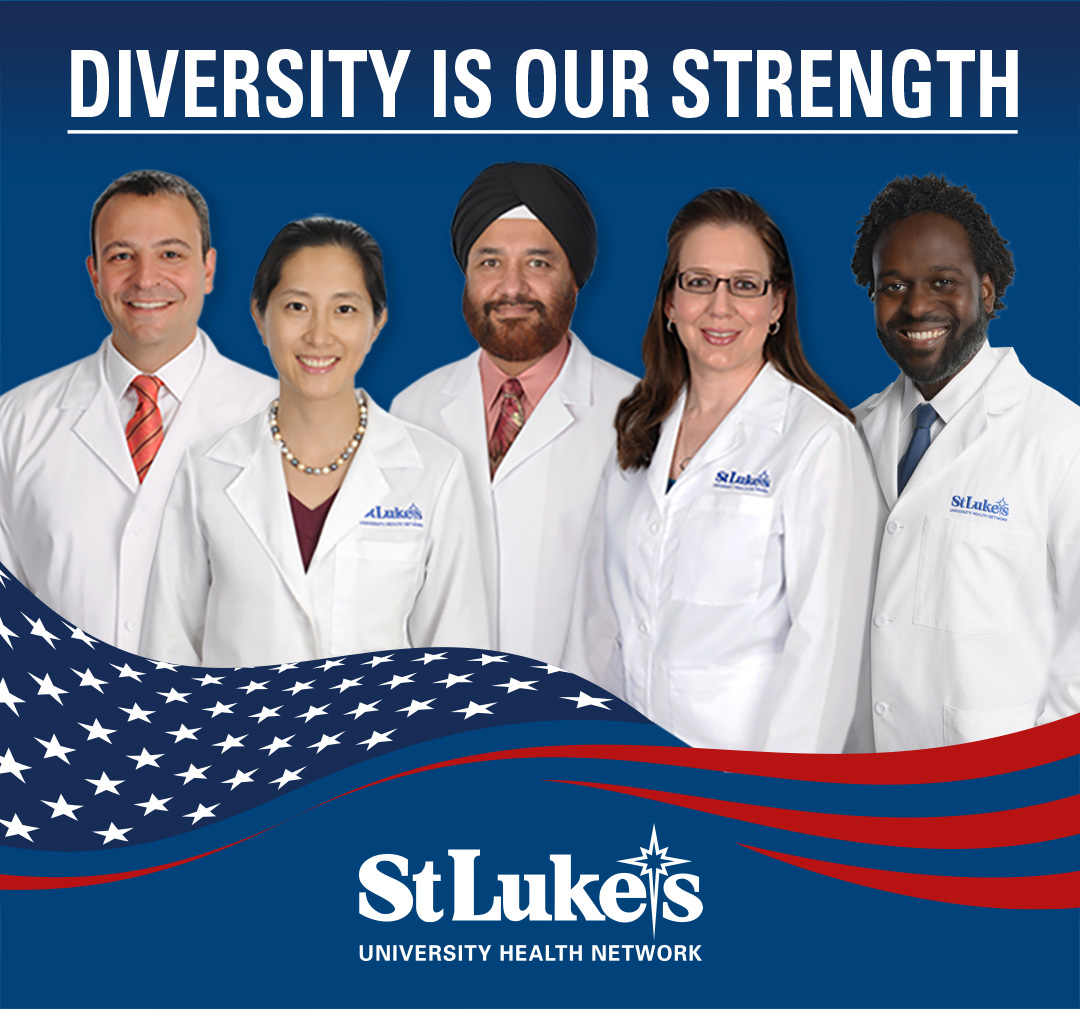 From left to right: Israel Zighelboim, MD, FACOG, FACS, Chairman, Department of Obstetrics and Gynecology, Interim Cancer Center Director / Chairman of Oncology; Grace Fan, MD, Radiation Oncologist; Arjinder P. Sethi, MD, St. Luke's Cardiology Associates; Jennifer Janco, MD, Chair of Pediatrics; Ikemefuna Akusoba, MD, FACS, FASMBS, Metabolic and Bariatric Surgeon, Director of Community Engagement and Student Advocacy.
The Lown Institute, a nonpartisan think tank, has found St. Luke's University Health Network to be among the most socially responsible health systems in the country, scoring high on racial inclusivity, health equity and community benefit.
The 2022 Lown Hospital Index examined more than 3,600 hospitals that make up 307 major hospital systems nationwide. Overall, St. Luke's was ranked #3 for social responsibility among systems nationally – and #1 in the state among 27 Pennsylvania systems.

Individual St. Luke's hospitals earned 'A' grades in health equity, value, patient outcomes, community benefit and more.
"This is an award for and because of St. Luke's 18,000 employees," said St. Luke's President & CEO Rick Anderson. "It is a reflection of our Network's unique culture of compassion, respect for one another and our patients and our commitment to excellence. At St. Luke's, politics are put aside, and there are no political agendas. Our singular focus is the care of our patients. We treat everyone at St. Luke's fairly and equally, and we always try to do the right thing."
Eight St. Luke's campuses received an 'A' Grade in social responsibility: Anderson, Allentown, Bethlehem, Easton, Miners, Monroe, and Quakertown in Pennsylvania, and Warren in New Jersey. A ninth campus, Lehighton, received a 'B.'
The Lown Hospital Index evaluates equity, value and outcomes data for 54 metrics.
Equity metrics include pay equity and community benefit obtained from federal data. Also included is inclusivity, which is the degree to which a hospital's patient population reflects the demographics of its community.
Value metrics include avoidance of health care overuse and cost efficiency based on Medicare claims data.
Outcome metrics include mortality, readmissions, patient satisfaction and patient safety indicators.
"America needs socially responsible hospitals," said Vikas Saini, MD, president of the Lown Institute. "The hospitals topping our Index have proven they have what it takes to be great community partners."
Earlier this year, the Massachusetts-based Lown Institute recognized St. Luke's as one of only two health care systems in Pennsylvania – and the only one in the Lehigh Valley – that spends more on charity and community investment than it receives in tax advantages. Nationally, St. Luke's was ranked 16th for its charity and community investment surpluses.
Learn more about the Lown Hospitals Index for Social Responsibility by visiting www.LownHospitalsIndex.org.