News
Real Estate Professionals Raise Funds for Newborns
July 28, 2022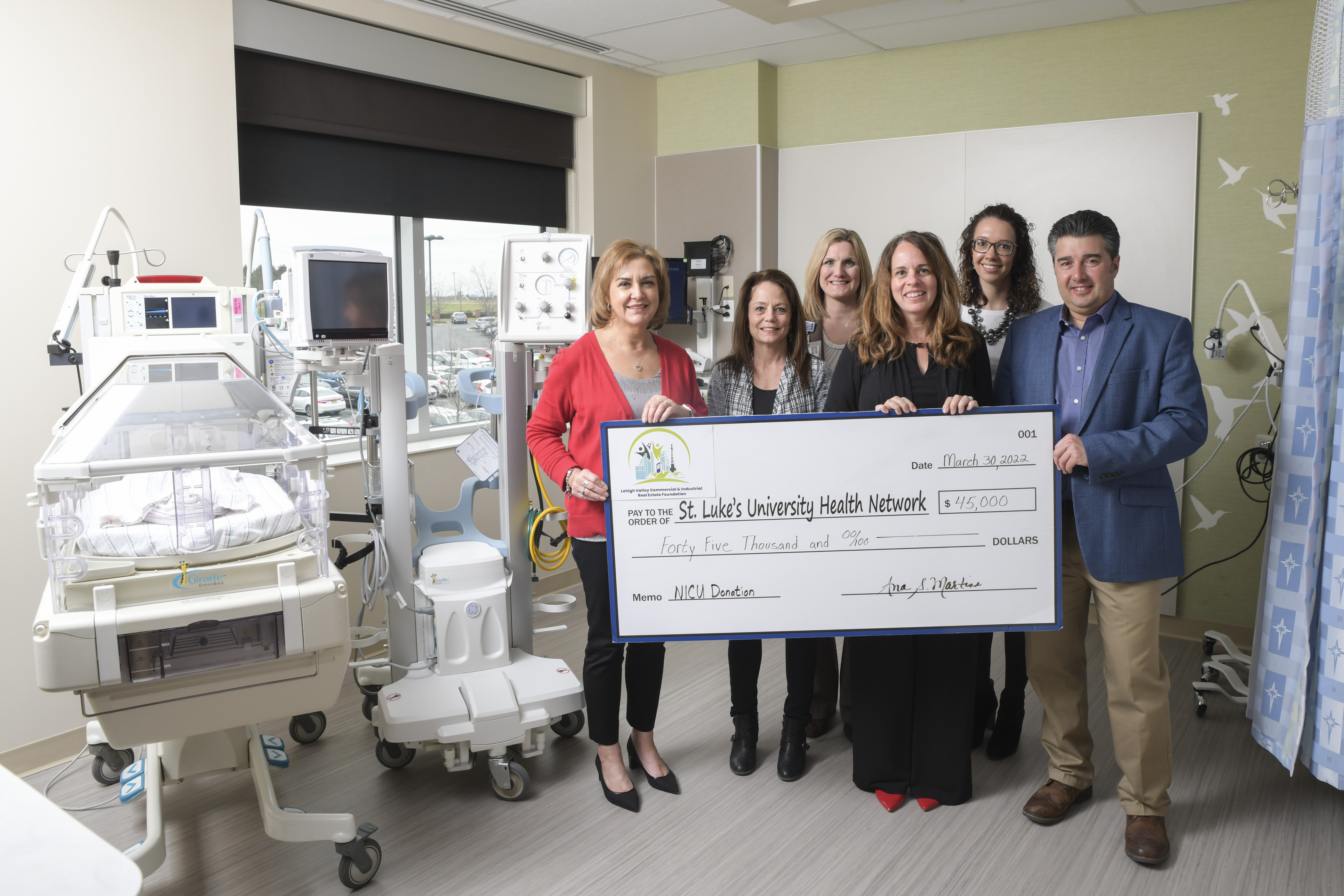 Photo caption: Check presentation from LVCIRE to NICU. Front row, from left: Ana Martins, 2021 Breakfast Committee Chair; Dawn Hosier, NICU Patient Care Manager; Kim Costello, DO, director of Neonatology; Costas Hrousis, 2021 Breakfast Committee Vice Chair. Back row, from left: Stephanie Schweder-Kratzer, Director of Development; Jessika Haynos, Pediatrics Service Line Administrator.
St. Luke's Neonatal Intensive Care Unit (NICU) received a large, generous donation from the Lehigh Valley Commercial & Industrial Real Estate Foundation (LVCIRE) to protect the tiniest and most vulnerable newborns during their earliest hours of life.
With a $45,000 gift from LVCIRE, St. Luke's Anderson Campus purchased a GE Giraffe Shuttle. The shuttle is a state of the art, mobile transport station which maintains a heated environment, supplies oxygen, and monitors vital signs as it attaches to the incubator or radiant warmer so the fragile infants can be moved from the birthing room to the NICU at the St. Luke's Anderson Campus without any disruption in critical care.
The funds were raised at the Foundation's 28th Annual Awards Breakfast that took place at ArtsQuest.
According to a thankful Dr. Kim Costello, DO, MMM, CPE, FAAP, Director of Neonatology for St. Luke's, "Our neonatology team at St Luke's is beyond grateful for the very generous donation from LVCIRE, which will enable us to provide the highest quality of care available for our tiniest babies by transferring them within a safe and stable environment."
Ana Martins, PE, chairperson of the breakfast, said the Foundation chose area hospital NICUs as beneficiaries this year "so we could honor our local healthcare heroes, keep the donations local and help area families and babies."
Martins, senior project manager for Van Cleef Engineering Associates, says over 400 members of the Lehigh Valley Commercial and Industrial Real Estate Community, their guests and sponsors supported the breakfast last year, and plans are underway for the 2022 event, that has been scheduled for October 21, 2022. You can find more information at www.lvcirefoundation.com.