News
Donation Sustains Celebration of Football Scholar-Athletes
April 04, 2022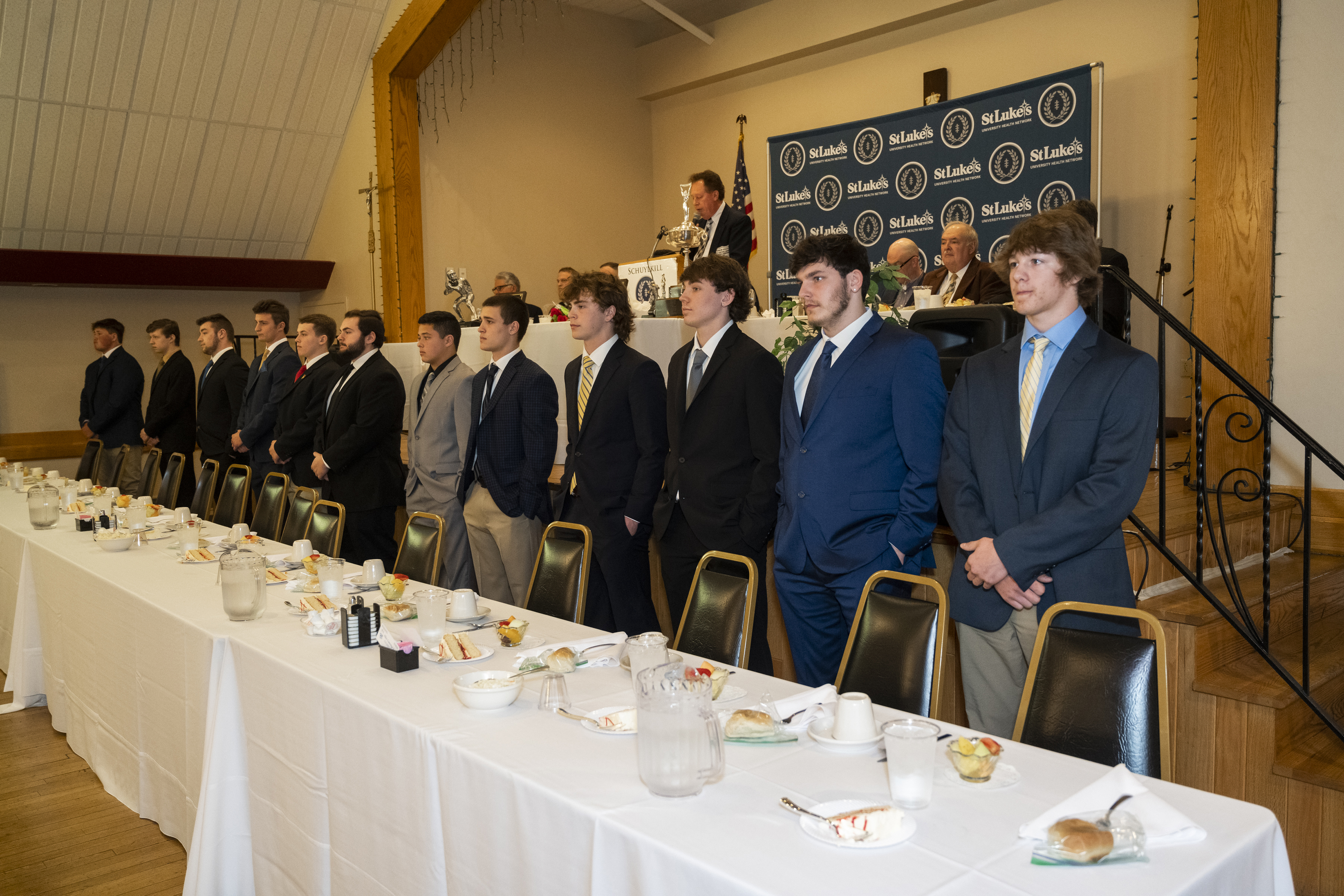 Fourteen high school scholar-athletes were honored at the 61st annual awards banquet of the National Football Foundation (NFF) and Collegiate Hall of Fame—Schuylkill/Pottsville Chapter 25, on March 20 at Hillcrest Hall in Minersville.
St. Luke's was pleased to be the major sponsor of this event for the first time, presenting a $10,000 check to help prolong the long-time tradition. During the banquet, one football scholar-athlete from each of the chapter's high schools was presented this honor, receiving a $100 scholarship stipend, a blue NFF blazer, NFF Chapter 25 honor scroll and award certificate from the Schuylkill County Commissioners.
Larry Palko, Ed.D., vice president of the Schuylkill Chapter, says, "St. Luke's multi-year support is vital to this year's banquet and to re-energizing our organization, which has experienced hard financial times due to declining membership." The network made the largest donation to this year's banquet, making it a Scholar Athlete Distinguished Donor.
In addition to funding the dinner, St. Luke's generous donation covered the costs of the blue blazers, scroll and certificate that each winner was presented at the after-dinner ceremony, along with the printed event program, adds Dr. Palko. "Without St. Luke's there would have been no banquet this year."
The organization, one of 120 affiliate members of the National Football Foundation, based in Irving, Texas, honors student-athletes who are chosen by their high schools for demonstrating outstanding football skills, academic excellence, leadership and community service, says Dr. Palko. Since 1962, nearly 1,000 players from high schools in the Schuylkill/Pottsville Chapter's area have been selected for this honor.
Aaron Boggs, program manager for St. Luke's Sports Medicine Relationships, called it "an honor for St. Luke's to help recognize these exemplary football players, who are also scholars and leaders, and to keep this 61-year tradition alive, which goes beyond athletics." He and primary care sports medicine physician Daniel Cohen, MD, represented St. Luke's at the banquet.
2022 Student-Athlete Honorees and Their Schools
Ross Bobbin: Blue Mountain
Caden Burke: Mahanoy Area
Jacob Fenstermaker: Marian Catholic
Luke Tobin: Minersville Area
Stephan Spolski: Nativity BVM
Jacob Hall: North Schuylkill
Richard Zabroski: Panther Valley
Colin Ibarra: Pine Grove Area
Raeff Dicello: Pottsville Area
Kevin Fitzpatrick: Schuylkill Haven Area
Owen Kosar: Shenandoah Valley
Jacob Wasserleben: Tamaqua Area
Mason Boltz: Tri-Valley
Jackson Yoder: Williams Valley