News
St. Luke's Welcomes Pediatric General Surgeon to Growing Pediatric Program
June 25, 2020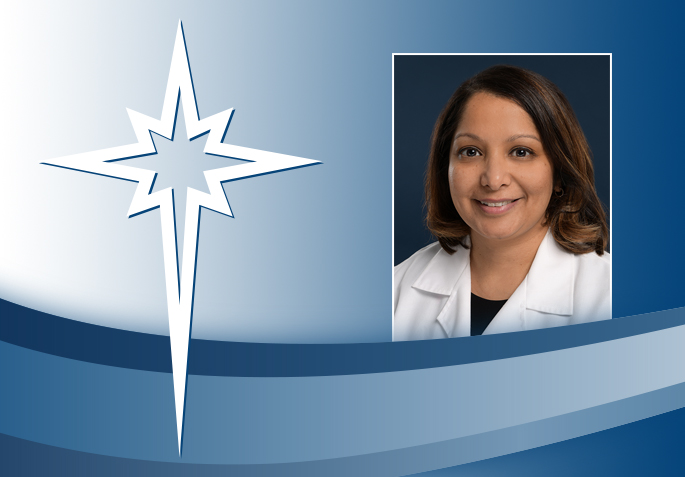 St. Luke's University Health Network is pleased to welcome Shaheen Timmapuri, MD, to its team of pediatric specialists.  Dr. Timmapuri treats a variety of disorders in children including congenital anomalies (birth defects), hernias, appendicitis, skin lesions, cysts, lung masses and pyloric stenosis (thickening of the stomach muscle which blocks food from reaching the small intestine in newborns).
Dr. Timmapuri works closely with pediatricians, primary care physicians and teams from St. Luke's 12 other pediatric specialties, providing comprehensive care for children with complex health issues from infancy through adolescence.  She also collaborates with obstetricians and radiologists when abnormalities are detected during pregnancy, planning corrective surgery and educating parents before delivery.  This alleviates some anxiety for expectant parents and ensures a coordinated, specialized delivery plan is in place.
After earning her undergraduate degree at The Pennsylvania State University, Dr. Timmapuri completed medical school at New Jersey Medical School, followed by a six-year residency at Thomas Jefferson University Hospital and a two-year pediatric surgery fellowship at St. Christopher's Children Hospital.  Dr. Timmapuri recently completed her MBA at The Wharton School at The University of Pennsylvania.
Following in her mother's footsteps, Dr. Timmapuri wanted to be a physician for as long as she can remember.  "I truly love science and helping people and medicine is the perfect marriage of those concepts," says Dr. Timmapuri.  "I especially love helping children.  They have so much potential – they are our future."
Dr. Timmapuri is part of a growing specialized pediatric surgical team at St. Luke's which includes pediatric anesthesiologists, nurses and technicians.  Pediatricians, who provide full-service care to children, make evaluations on elective and non-emergent conditions, referring those families to Dr. Timmapuri.  She is also available 24/7 for emergency cases.
"We are so pleased to have such a well-respected, highly-trained pediatric surgeon join our Network," says Jennifer Janco, MD, Chair of Pediatrics at St. Luke's. "In addition to the availability of high quality pediatric surgical care, having a general pediatric surgeon at St. Luke's provides our patients and families the convenience of having evaluations and procedures completed close to home."
St. Luke's recently opened a Pediatric Intensive Care Unit (PICU) at St. Luke's University Hospital - Bethlehem.  The new eight-bed unit is part of an $11 million expansion St. Luke's has dedicated to improving pediatric health care within the region, and providing advanced care to critically ill children close to home.  Children are often cared for in the PICU following major surgery. 
###
Media Contact:
Sam Kennedy, Corporate Communications Director, 484-526-4134, samuel.kennedy@sluhn.org
About IBM Watson Health
IBM Watson Health is a data, analytics, and technology partner for the health industry. Supported by the innovation of IBM and intelligence of Watson, we are committed to helping build smarter health ecosystems. Through the combination of our deep industry expertise in health, data and analytics, actionable insights, and reputation for security and trust, Watson Health is working together with its clients and partners to help them achieve simpler processes, better care insights, faster breakthroughs, and improved experiences for people around the world. Learn more at www.ibm.com/watson/health.
About St. Luke's
Founded in 1872, St. Luke's University Health Network (SLUHN) is a fully integrated, regional, non-profit network of more than 15,000 employees providing services at 11 hospitals and 300 outpatient sites. With annual net revenue greater than $2 billion, the Network's service area includes 11 counties: Lehigh, Northampton, Berks, Bucks, Carbon, Montgomery, Monroe, Schuylkill and Luzerne counties in Pennsylvania and Warren and Hunterdon counties in New Jersey. Dedicated to advancing medical education, St. Luke's is the preeminent teaching hospital in central-eastern Pennsylvania. In partnership with Temple University, St. Luke's created the Lehigh Valley's first and only regional medical school campus. It also operates the nation's longest continuously operating School of Nursing, established in 1884, and 34 fully accredited graduate medical educational programs with 263 residents and fellows. St. Luke's is the only Lehigh Valley-based health care system with Medicare's five- and four-star ratings (the highest) for quality, efficiency and patient satisfaction. St. Luke's is both a Leapfrog Group and Healthgrades Top Hospital and a Newsweek World's Best Hospital. In 2019, three of IBM Watson Health's 100 Top Hospitals were St. Luke's hospitals. St. Luke's University Hospital has earned the 100 Top Major Teaching Hospital designation from IBM Watson Health seven times total and five years in a row. St. Luke's has also been cited by IBM Watson Health as a 50 Top Cardiovascular Program. Utilizing the Epic electronic medical record (EMR) system for both inpatient and outpatient services, the Network is a multi-year recipient of the Most Wired award recognizing the breadth of the SLUHN's information technology applications such as telehealth, online scheduling and online pricing information. St. Luke's is also recognized as one of the state's lowest cost providers.