News
St. Luke's Miners Awards Scholarships to Mentorship Program Students
June 18, 2020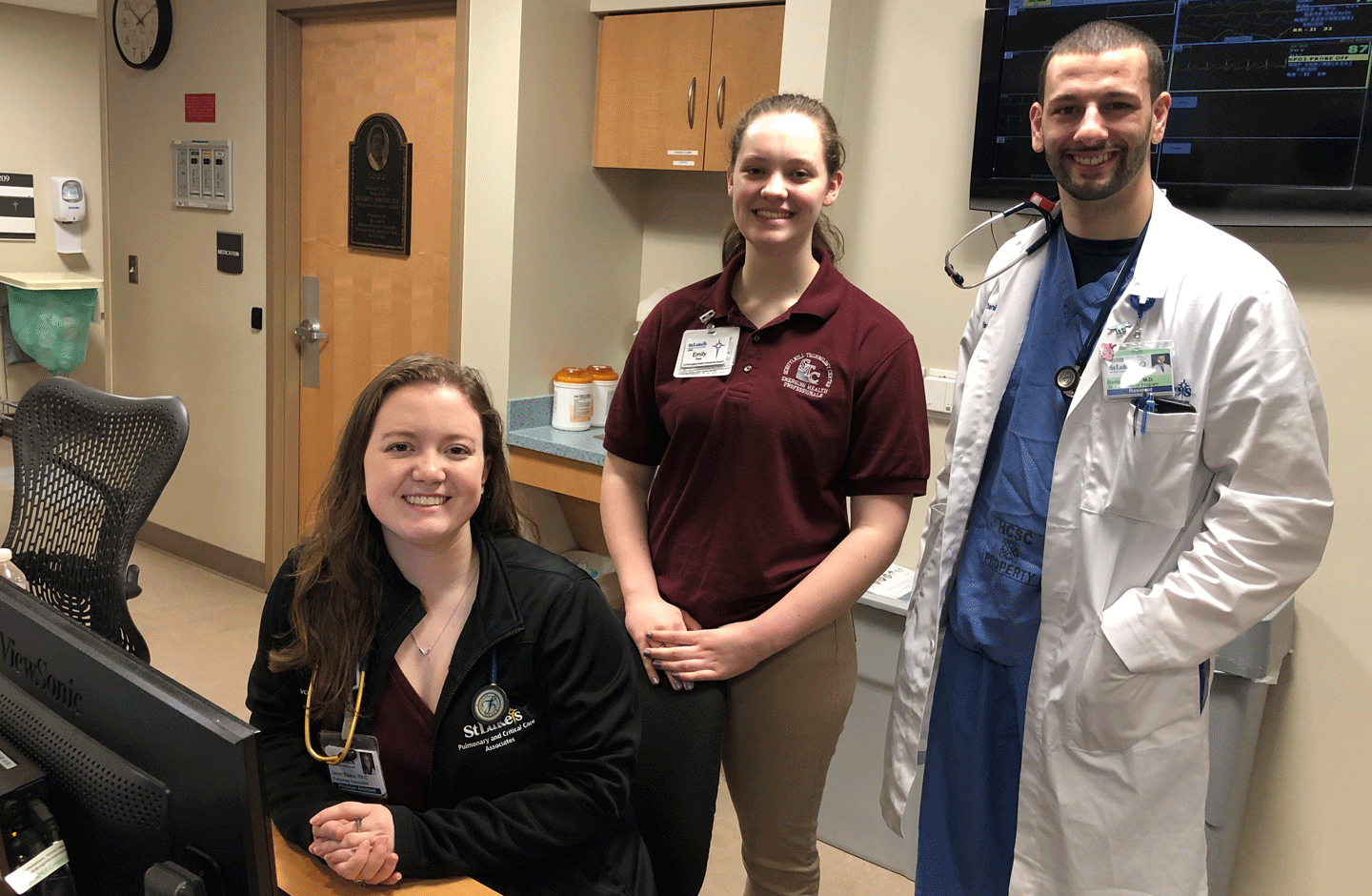 Included in the photo taken February 2020 are: Devon Bizarre PA-C, Emily Pappa (Shenandoah Valley High School), Dan Plavin, MD.
St. Luke's Miners Campus recently awarded $1,000 scholarships to five students from their Mentorship Program.
Scholarship winners and their mentors are:
Emily Papa, Shenandoah Valley High School – mentored by Kira Johnson, RN
Crystal Morales, Shenandoah Valley High School – mentored by Christina Green, RN
Cara Lake, Marian Catholic High School – mentored by Rosemarie Lister, MPH
Sam Quick, Mahanoy Area High School – mentored by Micah Gursky
Hailey Harvilla, Panther Valley High School – mentored by Anne Machalik, RN
St. Luke's Miners Campus launched a mentorship program this year in which five local high schools selected students interested in pursuing a career in the health field to be paired with a mentor from the hospital. The mentors are encouraged to develop a relationship with the students and talk with them about education and career paths.
This year, the mentorship program was also tied into the St. Luke's Miners Campus scholarship program. Upon completion of the mentorship, five students of 15 in the program were awarded a $1,000 scholarship based on participation, engagement, feedback from the mentors and a brief essay.
"Congratulations to all our mentorship program students, especially to our five scholarship winners," says Micah Gursky, director of business development and government relations, St. Luke's Miners Campus. "Our mentors enjoyed each student who participated in the program and are so pleased to have created valuable experiences and lasting mentorship relationships."
"It's our privilege to host and mentor these remarkable students from our local high schools," says Wendy Lazo, president, St. Luke's Miners Campus. "This program provides an opportunity for students to gain a 'behind the scenes' appreciation of what occurs in health care. We want to establish long-standing relationships with our mentees, provide support to them through their educational journey and hopefully, employ them one day."
Emily Papa, from Shenandoah Valley High School, mentored by nurse Kira Johnson, is planning on using her St. Luke's scholarship to attain a Bachelor of Science in Nursing from Penn State Schuylkill. "Receiving the St. Luke's scholarship is an incredible honor and the mentorship program was an unforgettable experience," says Emily. "I always felt comfortable and welcome among the nurses and staff, so it was a great environment in which to learn."
Emily says that the mentorship program not only gave her valuable insight into her career path, but also provided her with lifelong connections that she's sure will help her along the way. "One day, I hope to work with the wonderful people I've met at St. Luke's," continues Emily. "The mentorship and scholarship programs have helped me get one step closer to my dream of becoming a registered nurse."
###
Media Contact:
Sam Kennedy, Corporate Communications Director, 484-526-4134, samuel.kennedy@sluhn.org
About St. Luke's
Founded in 1872, St. Luke's University Health Network (SLUHN) is a fully integrated, regional, non-profit network of more than 15,000 employees providing services at 11 hospitals and 300 outpatient sites. With annual net revenue greater than $2 billion, the Network's service area includes 11 counties: Lehigh, Northampton, Berks, Bucks, Carbon, Montgomery, Monroe, Schuylkill and Luzerne counties in Pennsylvania and Warren and Hunterdon counties in New Jersey. Dedicated to advancing medical education, St. Luke's is the preeminent teaching hospital in central-eastern Pennsylvania. In partnership with Temple University, St. Luke's created the Lehigh Valley's first and only regional medical school campus. It also operates the nation's longest continuously operating School of Nursing, established in 1884, and 34 fully accredited graduate medical educational programs with 263 residents and fellows. St. Luke's is the only Lehigh Valley-based health care system with Medicare's five- and four-star ratings (the highest) for quality, efficiency and patient satisfaction. St. Luke's is both a Leapfrog Group and Healthgrades Top Hospital and a Newsweek World's Best Hospital. In 2019, three of IBM Watson Health's 100 Top Hospitals were St. Luke's hospitals. St. Luke's University Hospital has earned the 100 Top Major Teaching Hospital designation from IBM Watson Health seven times total and five years in a row. St. Luke's has also been cited by IBM Watson Health as a 50 Top Cardiovascular Program. Utilizing the Epic electronic medical record (EMR) system for both inpatient and outpatient services, the Network is a multi-year recipient of the Most Wired award recognizing the breadth of the SLUHN's information technology applications such as telehealth, online scheduling and online pricing information. St. Luke's is also recognized as one of the state's lowest cost providers.