News
Parkinson's Can't Silence Passionate Musicians' Playing
March 13, 2020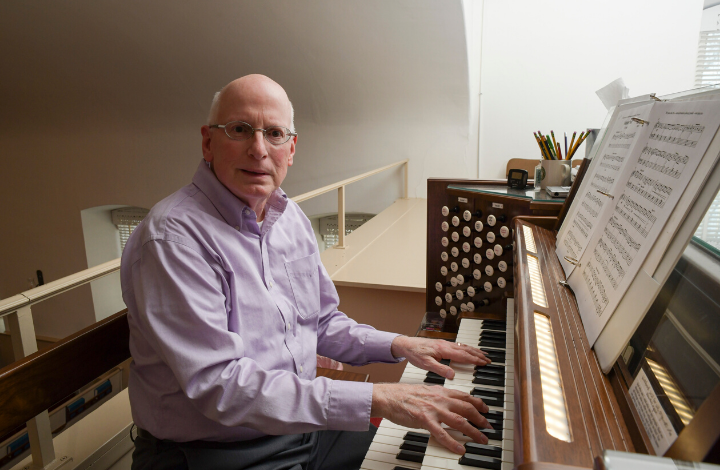 Richard Miller, organist and choir director at the Old Chapel at Central Moravian Church in Bethlehem, has lived with Parkinson's Disease (PD) since 2011. He first felt its symptoms when his left shoulder and arm stiffened and shook as he tried to signal a modulation of pitch or tempo while conducting the church choir. Medications have helped him control the tremors and rigidity but only to a point.
In America, some 1 million people are living with PD, a degenerative brain disorder that hampers movement, says Aaron Lasker, MD, St. Luke's neurologist and medical director of its Movement Disorders Program. Ten million suffer this condition world-wide.
Cary Rufe, 74, first noticed his hands fumbling over the frets and strings of his Martin guitar as he played bluegrass tunes. His Parkinson's diagnosis shook this one-time semi-professional musician from Catasauqua, and the medication to calm his tremors made him doze off. He knew he needed a different treatment if he was going to be able to keep playing his army of stringed instruments.
About 70 percent of Parkinson's patients suffer hand tremors, while some have trouble walking or talking and singing, or a combination of symptoms, Dr. Lasker explains. Medications to treat it don't slow its progression; they only treat the symptoms. The most common drug is called Sinemet, though research continues to develop new medications and electric, implanted devices for this disorder.
Despite a year-old diagnosis of Parkinson's, Andy Levas continues to strum and pick his guitar and sing his cowboy-jazz favorites and jazz standards, free of hand or arm tremors. So far, only his gait has been slowed to a shuffle, producing a feeling like his feet are tethered to the floor. But his walking is improved by his daily doses of Sinemet.
For musicians, who rely on dexterity, fine motor skills and endurance, Parkinson's threatens their livelihood and quality of life as it reduces ease of movement. It worsens as its sufferer ages, often resulting in disability and sometimes earlier death for some due to complications.
At age 65, Miller has seen his symptoms increase and return sooner than ever as the medicine's effect ebbs, threatening to allow the tremors and muscle tightness to creep back in an inopportune moment playing or conducting during a worship service.
Bluegrass picker Rufe says, "My playing went into a ditch for four years because of the medications I was taking," adding that the disease also turned his walking to a shuffle and threw off his balance.
Last July, St. Luke's neurosurgeon Roy Hwang, MD, implanted wire leads and a device, called a deep brain stimulator, or DBS, into Rufe's brain. This pacemaker-like system sends electrical pulses that control tremors and enhance his movement.
"It changed my life," he says. "My playing is 90 percent better with the DBS," he says. He hopes to soon be back in a band, now almost totally untroubled by the tremors.
Miller is recovering from the surgical insertion of a DBS at the end of February. While surgery wasn't the preferred treatment for him, he felt it was critical to improving control over his symptoms and enabling him to extend his music career.
"I'm hopeful it will help do what the meds were no longer doing."
Levas, who turns 74 in March, says he's eager to form a guitar trio with two long-time jazz jamming partners. His memory of the once-weekly gig with 94-year-old jazz guitarist Bucky Pizzarelli, veteran of the Tonight Show Orchestra and the Benny Goodman Orchestra, keeps him optimistic and planning ahead.
Levas' biggest struggle with PD has been climbing stairs or mounting a jazz club stage, feeling his legs are tethered to the floor.
"Some people say walking with PD is like moving through molasses," says Dr. Lasker.
Levas hopes his disease doesn't progress any further. He does his part to keep his muscles strong and supple by lifting weights, doing daily calisthenics and practicing his songs and scales whenever he has time.
"I've been playing guitar since I was 12 years old," he explains. "I hope I've got a lot more playing ahead of me."