News
What Exactly is a Pediatrician?
December 09, 2019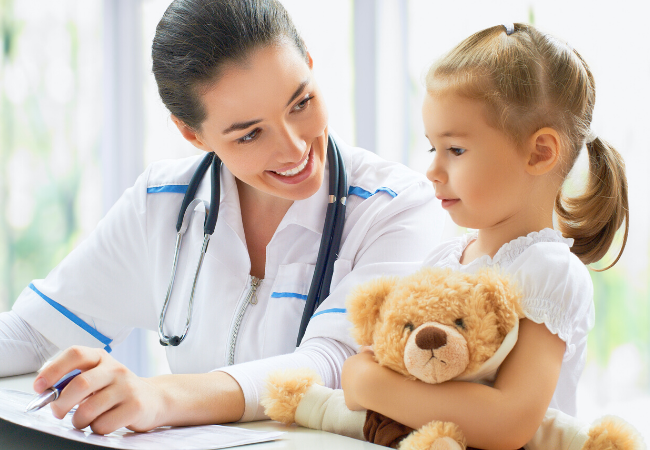 Pediatricians are physicians who treat children from birth through adolescence and into early adulthood. They regularly monitor growth and development and prevent illness through vaccinations and providing general health advice. Additionally, pediatricians treat a wide range of illnesses and injuries. Here are some benefits to consider when selecting a health care provider for your child:
Specialized Training
Pediatricians have advanced, specialized training in children's health. In addition, their practices are limited to newborns, children and adolescents, so they have a great deal of experience in recognizing and treating childhood illnesses. Pediatricians treat young patients in a manner that is comfortable for the child and comforting for parents. They are trained to be sensitive to the special health-care needs of children from birth through adolescence and into early adulthood.
Continuity of Care
Pediatricians serve as the team leader of professionals who will collectively take care of your child's health. Regular visits with the same doctor and staff build a relationship beneficial to both you and your child. Over time, your pediatrician will develop a comprehensive understanding of your child's health, leading to easier and more timely recognition of developmental issues or the onset of chronic conditions. The stronger the relationship, the more easily the pediatrician can recommend the best care for your child.
Time Savings
Even healthy kids get sick and rarely at a convenient time. When you have an established relationship with a pediatrician, sometimes those minor ailments can be addressed quickly, without an office visit. Depending on the severity of the issue, a condition may be managed remotely. A pediatrician's familiarity with your child's history can lead to a more effective and efficient decision for the best treatment.
Prevention
Visits to the pediatrician are about more than shots and school physicals. Regular visits allow your pediatrician to monitor your child's growth and development – both physical and behavioral -- and monitor for any serious health conditions that may arise. The more a pediatrician is aware of your child's overall health, the more likely the doctor will be able to identify health problems before they happen.
Having an established relationship with a pediatrician helps children reach their full potential! Find a St. Luke's pediatrician near you.