News
St. Luke's Unveils Mobile Simulation Lab
July 18, 2019
St. Luke's Simulation Center has customized a 2020 Freightliner M2 truck to serve as a mobile training unit.
The 34-foot-long truck, called the Simulation in Motion Medical Education Lab, will bring training sessions to network campuses and sites, allowing staff to practice hands-on skills with state-of-the-art technology in a realistic and safe environment, according to Megan Augustine, Med, director of St. Luke's Simulation Center.
The centerpiece of the blue-and-yellow truck, emblazoned with the St. Luke's star, is a life-size human simulator that can cough, bleed, sweat, cry and speak a few words on its own.
"The simulator can do almost everything a human can do but get up on its own and walk out of a room, but don't be surprised if you see that happen in a couple years," Augustine said.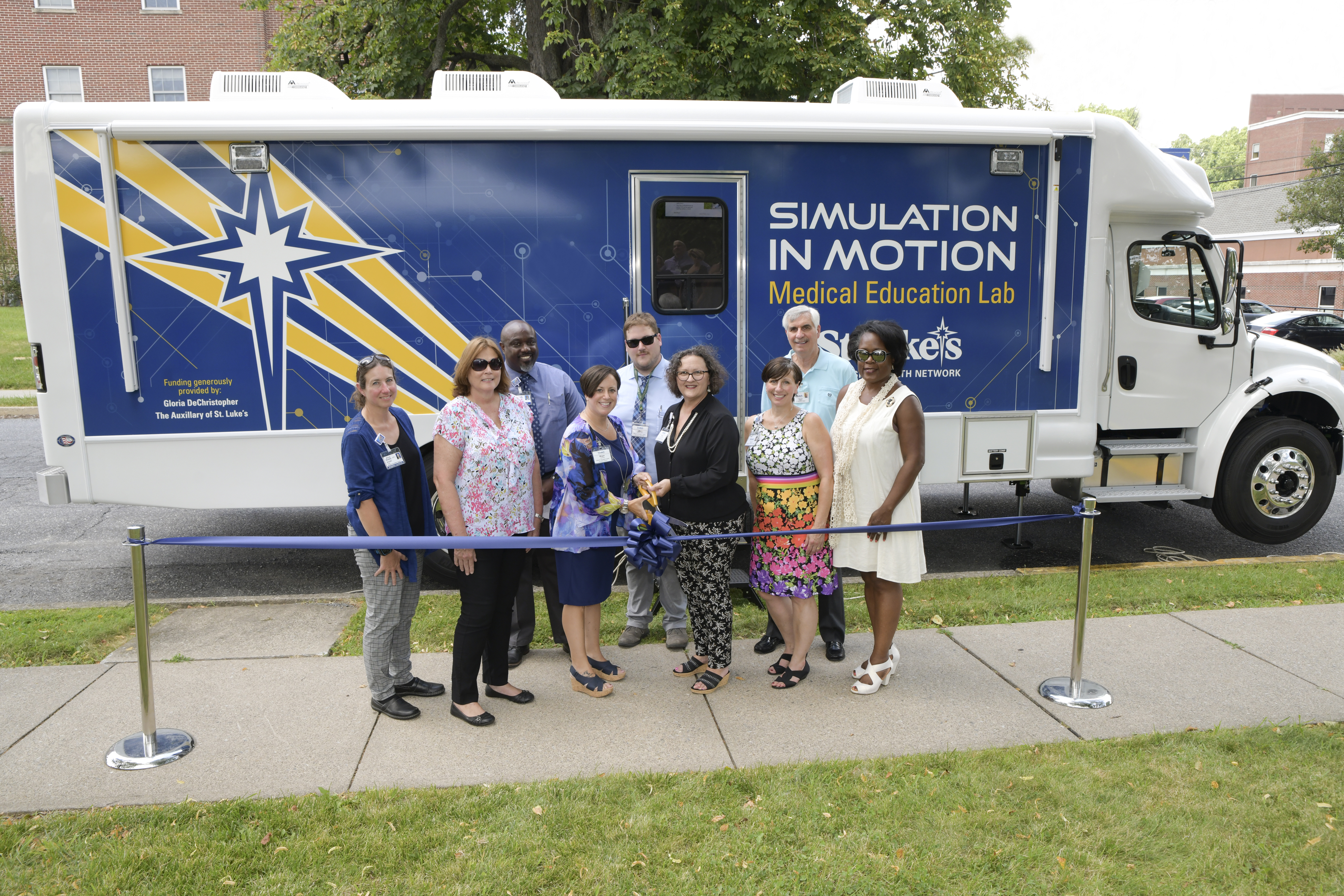 The simulator can be programmed to display a host of medical conditions, including fevers, seizures, high blood pressure, low pulse rates and rapid heartbeats. "He can come into the truck with chest pain one day and a completely different set of symptoms another day," she said.
As part of the training, staff can simulate drawing blood, administering oxygen and IV fluids and use a defibrillator, Augustine said. "It's not just for new skills. It's for brushing up on old skills," she said. "It's all about improving skills in a safe environment."
St. Luke's has a Simulation Center with locations at several Network sites where physicians, nurses, medical and nursing students and other clinical staff can work on skills with a simulator, devices such as IV arms and injection pads as well as standardized patients – people hired to portray patients. Non-clinical staff can practice interacting with patients in various scenarios linked to their duties.
That center has been a success for St. Luke's, going from training 3,792 staff members in 2014, the year it opened, and to more than 12,000 in 2018, Augustine said. But, she said, it was difficult to bring training to the network's rural campuses. "We have the equipment, the supplies and staff, but we didn't have the space," she said. "We can do that on the truck."
The mobile simulation truck features a simulated room where the simulator, dressed in grey slacks and a hoodie, is prone on a stretcher. It has a skills station where staff can practice before working on the simulator. The room is equipped with two 42-inch monitors that display vital signs, benches for storing medical supplies, an AED, and oxygen and IV lines.
The truck also has a control room with computers where Simulation Center staff, wearing a headset and mic, can control the simulator and even lend a voice to it. The truck has a camera and mic for recording sessions for subsequent review and debriefing. It also has a cab with seating for two and can run on a generator or electrical hookup.
In the event of a natural disaster or emergency, Augustine said, the truck can be converted into a live treatment center.
Augustine said the Simulation Center will start scheduling sessions in August.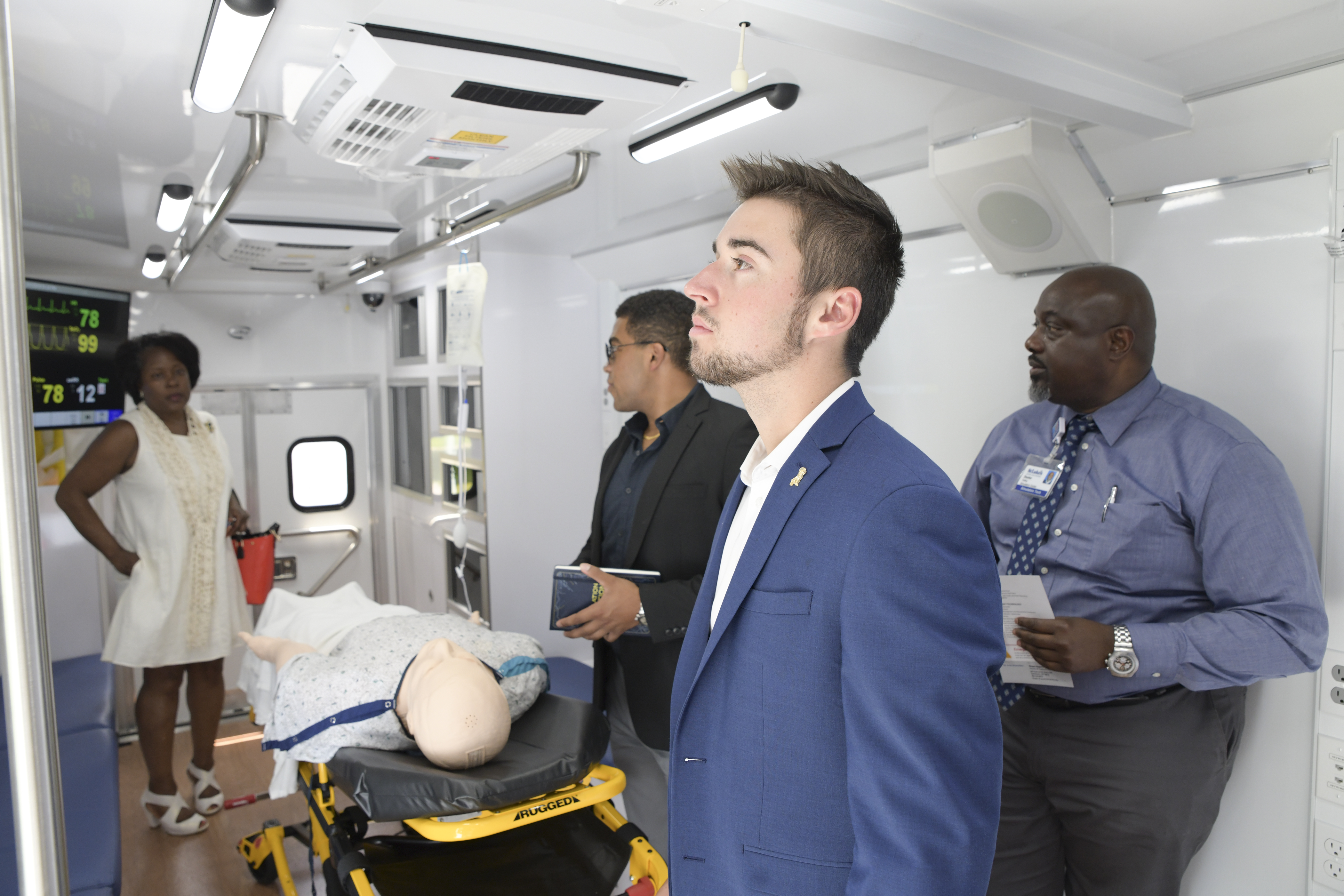 About St. Luke's
Founded in 1872, St. Luke's University Health Network (SLUHN) is a fully integrated, regional, non-profit network of more than 15,000 employees providing services at 10 hospitals and 300 outpatient sites. With annual net revenue greater than $2 billion, the Network's service area includes 10 counties: Lehigh, Northampton, Berks, Bucks, Carbon, Montgomery, Monroe and Schuylkill counties in Pennsylvania and Warren and Hunterdon counties in New Jersey. Dedicated to advancing medical education, St. Luke's is the preeminent teaching hospital in central-eastern Pennsylvania. In partnership with Temple University, St. Luke's created the Lehigh Valley's first and only regional medical school campus. It also operates the nation's longest continuously operating School of Nursing, established in 1884, and 34 fully accredited graduate medical educational programs with 263 residents and fellows. St. Luke's is the only Lehigh Valley-based health care system with Medicare's five- and four-star ratings (the highest) for quality, efficiency and patient satisfaction. St. Luke's is both a Leapfrog Group and Healthgrades Top Hospital and a Newsweek World's Best Hospital. In 2019, three of IBM Watson Health's 100 Top Hospitals were St. Luke's hospitals. St. Luke's University Hospital has earned the 100 Top Major Teaching Hospital designation from IBM Watson Health seven times total and five years in a row. St. Luke's has also been cited by IBM Watson Health as a 50 Top Cardiovascular Program. Utilizing the Epic electronic medical record (EMR) system for both inpatient and outpatient services, the Network is a multi-year recipient of the Most Wired award recognizing the breadth of the SLUHN's information technology applications such as telehealth, online scheduling and online pricing information. St. Luke's is also recognized as one of the state's lowest cost providers.