News
St Lukes Orthopedic Immediate Care The Best Possible Outcome for Every Patient Every Time
February 01, 2019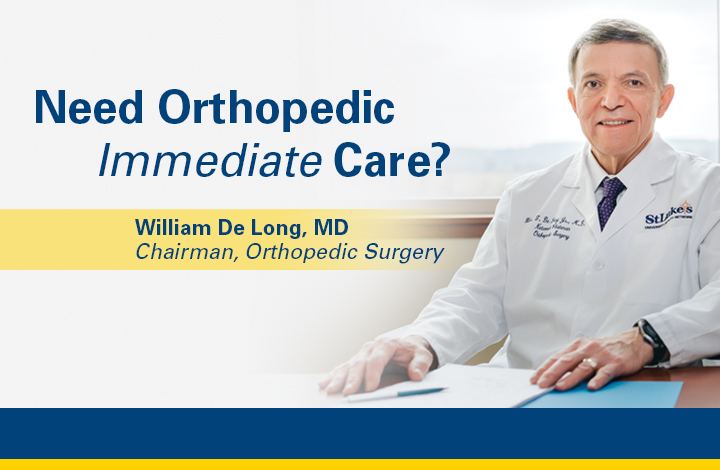 William G. De Long, MD, is Chairman of Orthopedic Surgery, Sports Medicine & Rheumatology for St. Luke's University Health Network. In addition to overseeing the clinical and administrative activity for musculoskeletal services and maintaining a full patient load in both the office and the OR, Dr. De Long sees patients with urgent needs as part of St. Luke's Orthopedic Immediate Care.
As far back as medical school, Dr. De Long was interested in orthopedics became he realized what an impact musculoskeletal issues could have on a person's daily life. He was and still is motivated to help those patients feel better quickly and get back to their regular activities. Often, that means making sure a patient has access to the latest surgical and non-surgical treatments as quickly as possible.
"Many musculoskeletal injuries have an improved outcome when they are evaluated and treated early, which is why we provide expanded patient access," says Dr. De Long. "Our Orthopedic Immediate Care service provides urgent, immediate access for patients with musculoskeletal problems. Patients can see a highly skilled specialist seven days a week, including early morning and evening hours."
Dr. De Long treats a full range of orthopedic injuries and diseases, including problems of the knee and shoulder as well as adult joint reconstruction and complex orthopedic trauma like pelvic fractures and crush injuries. He specializes in performing anterior hip replacement surgery and knee replacement surgery, which ultimately lowers the need for narcotic pain medication post operation.
In order to stay healthy and injury-free, Dr. De Long encourages his patients to maintain an overall healthy lifestyle, which includes eating a well-balanced diet, engaging in regular exercise to build strength and endurance and always getting sufficient sleep. He cautions them to pay attention to how their bodies feel and react, and to never ignore red flags that could indicate injury.
"My colleagues and I are blessed with the ability to help patients recover, return to their families and jobs and get back to their daily lives," says Dr. De Long. "To do these things, we take a holistic view of our patients' care. We get them the care they need quickly, but then take the time to know who they are and how they live. We believe in providing the best possible outcome for every patient, every time."