News
St. Luke's Lists Top Baby Names for 2019
December 27, 2019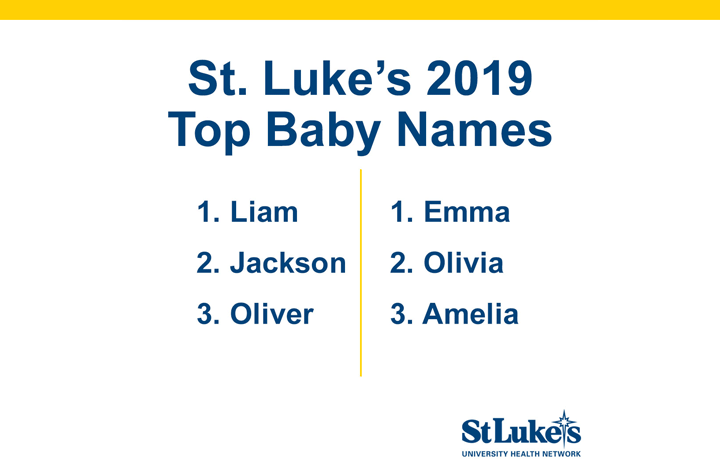 Prepares to preview new birthing facility in Bethlehem Township
When St. Luke's Hospital opened in Fountain Hill in the late 1800s, the most popular baby names in the nation for girls were Mary, Anne and Emma, according to ssa.gov (Social Security Administration). For boys, this government website lists John, William and James.
Surely, in this case, the past is partially prologue. Of the nearly 4,000 newborns making their debuts at the two St. Luke's campuses in Allentown and Bethlehem this year, the top name choice for baby girls was Emma, and for boys it was Liam, a derivative of William. Here's the top 10 names (and ties) for each gender:
Boys
Liam
Jackson
Oliver
Ethan
Benjamin, Leo, Mason (tie)
Noah
Jacob
Lucas
Logan
Luke
Girls
Emma
Olivia
Amelia
Mia
Ava, Charlotte (tie)
Harper
Luna
Isabella
Sophia, Riley (tie)
Stella, Gabriella, Penelope (tie)
Now, nearly 150 years after the opening of St. Luke's Bethlehem Campus, the often-awarded network for places to receive obstetrical care and have a baby is putting finishing touches on its third birthing place, the Women & Babies Pavilion, which opens in just a few weeks at St. Luke's Anderson in Bethlehem Township.
What will be the name of the firstborn boy and girl arriving at the beautiful, spacious and welcoming birthing facility, the newest in the Lehigh Valley? Will we see more Liams and Emmas, or some of the other top names for 2019? The odds are good they will be from the list above. But we'll have to wait until January for these reveals.
Ask parents how they chose the moniker for their child, and you're likely to get a variety of responses: family tradition or relative homage; imitation or emulation of current popular person in the arts, sports or another limelight; or the product of creative individuality. Some choose a name before the delivery, while others wait for a special kind of inspiration afterwards.
As the British royal family grows, so does the source of popular baby names from across the Pond: Archie, Charlotte, William, George. Personalities in sports and entertainment seem to factor into the current pop culture influences. Consider actors Emma Watson or Emma Roberts, Liam Hemsworth or Liam Payne. You're certain to find similar links to all names in this year's top names.
Speaking of highly creative names, do you remember Dweezil and Moon Unit Zappa, offspring of musician Frank Zappa? Memorable one-offs and likely for good reasons.
Dale Carnegie said, "Remember that a person's name is to that person the sweetest and most important sound in any language."
Liam and Emma have a sing-song lilt that seems to just spring off the tongue. Dweezil and Moon Unit, on the other hand, must be an acquired taste.
Media Contact:
Sam Kennedy, Corporate Communications Director, 484-526-4134, samuel.kennedy@sluhn.org
About St. Luke's
Founded in 1872, St. Luke's University Health Network (SLUHN) is a fully integrated, regional, non-profit network of more than 15,000 employees providing services at 11 hospitals and 300 outpatient sites. With annual net revenue greater than $2 billion, the Network's service area includes 11 counties: Lehigh, Northampton, Berks, Bucks, Carbon, Montgomery, Monroe, Schuylkill and Luzerne counties in Pennsylvania and Warren and Hunterdon counties in New Jersey. Dedicated to advancing medical education, St. Luke's is the preeminent teaching hospital in central-eastern Pennsylvania. In partnership with Temple University, St. Luke's created the Lehigh Valley's first and only regional medical school campus. It also operates the nation's longest continuously operating School of Nursing, established in 1884, and 34 fully accredited graduate medical educational programs with 263 residents and fellows. St. Luke's is the only Lehigh Valley-based health care system with Medicare's five- and four-star ratings (the highest) for quality, efficiency and patient satisfaction. St. Luke's is both a Leapfrog Group and Healthgrades Top Hospital and a Newsweek World's Best Hospital. In 2019, three of IBM Watson Health's 100 Top Hospitals were St. Luke's hospitals. St. Luke's University Hospital has earned the 100 Top Major Teaching Hospital designation from IBM Watson Health seven times total and five years in a row. St. Luke's has also been cited by IBM Watson Health as a 50 Top Cardiovascular Program. Utilizing the Epic electronic medical record (EMR) system for both inpatient and outpatient services, the Network is a multi-year recipient of the Most Wired award recognizing the breadth of the SLUHN's information technology applications such as telehealth, online scheduling and online pricing information. St. Luke's is also recognized as one of the state's lowest cost providers.