News
St. Luke's Athletic Trainer Also an Olympic Hopeful
November 20, 2019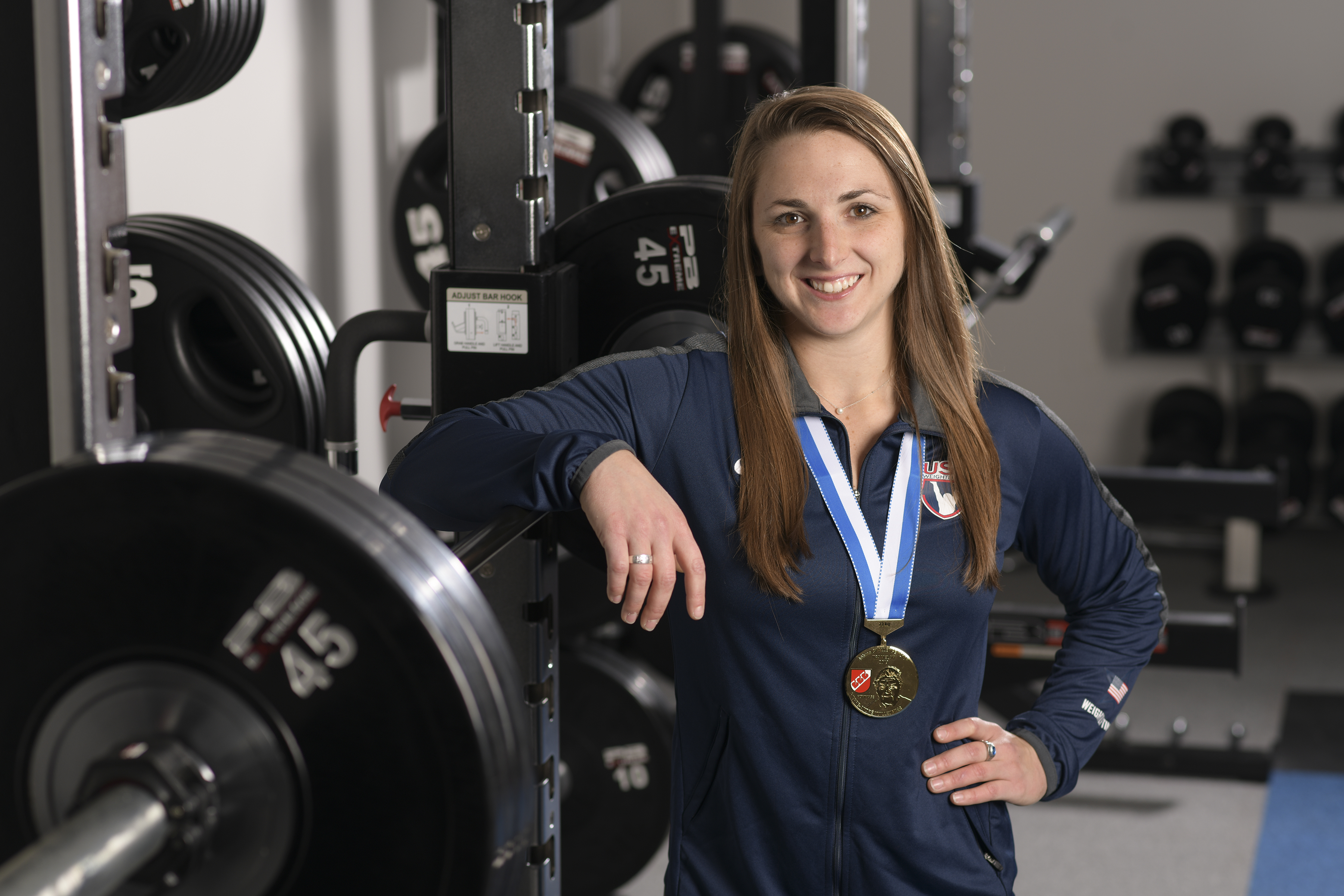 Time is closing in on the 2020 Olympic Games in Tokyo, Japan, and St. Luke's athletic trainer Jillian Seamon, MS, LAT, ATC, CSCS, knows it.
Jillian, an athletic trainer working with the Parkettes National Gymnastics Center, will transition to the new St. Luke's Fitness & Sports Performance Center on Union Boulevard when it opens on Nov. 23.
And while serving as an athletic trainer for Team USA at the Tokyo Olympic Games surely would be a dream, Jillian, 29, has her sights set on something even higher: competing as an athlete.
A native of Hazleton where she was inducted into her high school's athletic Hall of Fame last year, Jillian opened some eyes by winning an international weightlifting competition in October, the first time she's competed internationally.
She won gold medals in the snatch (93 kilograms), the clean-and-jerk (114 kilos) and total (207 kilos) for the 71-kilogram weight class at the 49th Challenge 201 in Tramelan, Switzerland, an approved Olympic Qualification event by the International Weightlifting Federation.
"I did really well," said Jillian, who was a standout in basketball and track and field at Hazleton High School before concentrating on the javelin while pursuing her undergraduate degree at the University of Delaware. While at Delaware, she broke a 30-year-old school record in the javelin and was named Female Athlete of the Year her senior season.
"I got introduced to the weight room when I was in college, and I could see the effects it had on me getting stronger, improving my performance and my ability to stay healthy," Jillian said.
While pursuing her graduate degree, she began reading more on strength training, eventually taking part in CrossFit before giving competitive weightlifting a try, taking sixth in her first national meet, the American Open in December of 2016. By May of 2017, she took fourth at the USA Weightlifting National Championships and began pursuing weightlifting while serving as the athletic trainer at Arcadia University, working with field hockey, swimming and men's lacrosse.
At St. Luke's, she uses the same hard work and dedication she employs as an elite competitive athlete to treat her cases.
"As an athletic trainer, my philosophy is to implement programs for injury prevention and rehabilitation," she said. "Even when athletes are young, the idea is to strengthen their bodies so they can handle the loads placed on them in competition. We do that with strength training, pre-hab and rehab; it's all one continuum."
That drive to help others is fueled by her personal drive to make the most out of and give her best every single moment.
"Every day my alarm clock goes off at whatever ungodly hour, I refuse to hit the snooze button," Jillian said. "I don't want to look back on my life and question whether I was the best I could be, not just for myself, but for others. I think of all those people who love and support me and believe I can do these really amazing things. That inspires me to train my best every day, and to do my best every day to help others."
A big payoff for Jillian came after winning the three gold medals in Switzerland.
"To see little girls come and ask me for autographs and to take pictures with me, to be able to inspire them is an unbelievable feeling," she said.
Next up in weightlifting for Jillian is the national championship competition at the American Open Dec. 5-8 in Salt Lake City, Utah. And if her Olympic dream doesn't play out for 2020, the 2024 Olympic Games are in Paris, France.
But for now, you can see her at the new St. Luke's Fitness & Sports Performance Center.