News
St. Luke's Orthopedic Immediate Care: When You Need Help the Most
February 01, 2019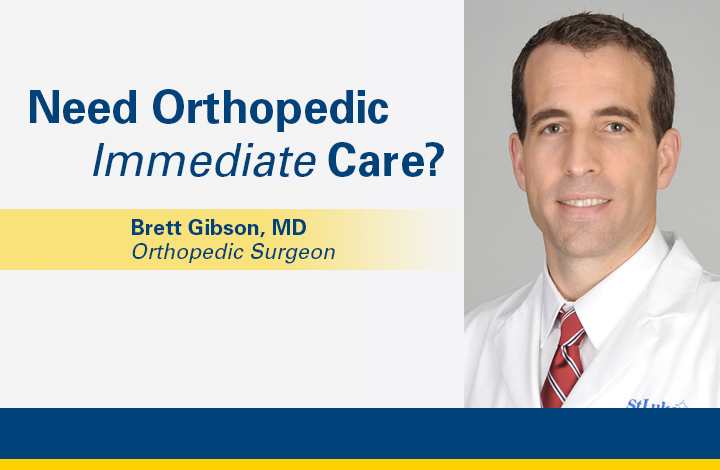 Healing, strengthening and educating his patients through regular, ongoing treatments is an important part of Brett Gibson, MD's practice. But there are times when it's necessary for patients to get immediate orthopedic care, and Dr. Gibson, a St. Luke's orthopedic surgeon, is part of a team of physical therapists and orthopedic doctors with extended weekday and weekend hours who provide quick access to orthopedic care in the event of an injury.
Dr. Gibson explains that delayed treatment can often cause worsening of an injury, excessive buildup of scar tissue, deterioration of injured structures and fractured bones healing in improper alignment. "For example, a rotator cuff tear that is left alone for too long can lead to permanent scarring and weakness that makes repair difficult or impossible," continues Dr. Gibson. "Playing sports with a torn ACL can result in further damage to the knee, such as a meniscus tear, which can significantly increase your risk of arthritis later in life."
Dr. Gibson treats a wide variety of orthopedic injuries and conditions in patients of all ages and activity levels. The most common problems he treats are rotator cuff tears, ACL and meniscus tears, arthritis of the hip and knee, and fractures. "Most orthopedic problems involve a significant component of pain, which can lead to lost production at work or in daily life," explains Dr. Gibson. "Immediate orthopedic care allows us to start managing that pain while educating patients about their conditions, both of which go a long way towards alleviating anxiety and healing their injuries."
Dr. Gibson is board-certified in orthopedic surgery with a subspecialty in orthopedic sports medicine. He completed medical school and orthopedic surgery residency at the University of Pennsylvania, followed by fellowship training in sports medicine and shoulder surgery at the University of Colorado. He also serves as team physician for a number of high school, college and athletic teams throughout the Lehigh Valley.
Dr. Gibson stresses to his patients that a solid strength and conditioning program is critical to preventing many of the injuries that occur when athletes or active adults are fatigued. Strong muscles help absorb some of the daily stress we put on our joints, and a healthy body weight also minimizes the impact of weight-bearing activities on our joints.
But in the event of an injury, Dr. Gibson wants his patients to feel confident, knowing that they have easy, immediate access to him or a member of his team, when they need help the most.