News
MMA Fighter Happy to Have St. Luke's Orthopedic Care in His Corner
March 18, 2019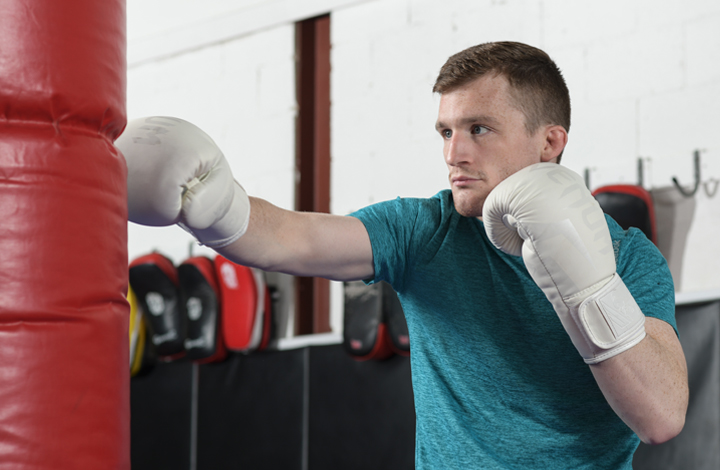 In MMA circles, they call him "The Reaper," and Jack Hartenstine of Coopersburg is ready to oblige.
In one of the most physically brutal and grueling of sports, the 25-year-old Southern Lehigh graduate knows he needs to be in tip-top condition physically.
But when a shoulder injury threatened his ability to compete – twice – he turned to orthopedic surgeon Gregory Carolan, MD with St. Luke's Orthopedic Care. While other surgeons advised Hartenstine to hang up his gloves for good, Dr. Carolan had something else in mind – making the fighter whole again, so he could return to the ring.
Jack, a 5-foot-6 bantamweight, first suffered a tear in the labrum of his right shoulder while training as a 15-year-old. A high school wrestler, he got the MMA bug from his then-wrestling coach, Juan Garcia. When Garcia left the Southern Lehigh program, Jack did as well, opting to train with Garcia in Quakertown and Philadelphia to compete in mixed martial arts, where he compiled an 8-1 record as an amateur, and is now 1-1 as a pro.
During sparring with a 6-foot partner, Jack threw a punch with his right arm and something wasn't quite right.
"I was in a lot of pain after that," Jack said. "I babied it for a few weeks and continued to train. Then against another guy, I got caught in a position that wasn't so good and I heard a loud pop, and it cracked and made noises. I knew it wasn't good."
Jack had suffered a dislocation of his right shoulder, which caused the labral tear. He saw several doctors who all suggested that the shoulder should be fixed, and that he should give up MMA.
And then he saw Dr. Carolan.
"Dr. Carolan was great," Hartenstine said. "It's unimaginable how different he was compared to the other doctors I saw. He was very personable and straight to the point. He was more focused on getting me back to where I wanted to be instead of settling for something less. He wanted me to get back to being 100 percent."
Dr. Carolan said the labral injury is very common when someone dislocates a shoulder.
"The labrum is like a gasket that goes around the shoulder socket," Dr. Carolan explained. "When it tears, the gasket gets torn off the socket. To repair it, we use an arthroscope to attach sutures to the socket, and then around the labrum and socket, tying it down."
Jack utilized Physical Therapy at St. Luke's in Center Valley because it was close to home and Southern Lehigh High School. And he's recommended Dr. Carolan to many of the fighters he trains with.
For eight years, that shoulder held up. Then, almost three years ago, shortly before turning professional, Jack tore it again, this time while doing conditioning exercises. It had dislocated several times but always worked its way back into place, but this time, Jack, who also works as a quoting specialist a for an insurance broker, knew what it was. He again reached out to Dr. Carolan and St. Luke's.
Dr. Carolan said that during the second dislocation, the labrum also tore off a small piece of bone, something he said is common in shoulder dislocations.
"Jack's a great kid," Dr. Carolan said. "To have these injuries spaced out eight years apart is very rare, but he got back to the same activity that caused him the injury the first time."
"His main issue was that the shoulder was unstable and dislocating. It's painful, but more of a sensation of the head of the bone slipping in and out of the socket, which is not very good for someone in a combat sport. Some of the moves in combat sports are an attempt to dislocate your opponent's shoulder."
Dr. Carolan said the second repair was very straight forward, and once again Jack turned to Physical Therapy at St. Luke's in Center Valley to get him back in the octagon.
"The first time with physical therapy took me a little longer to get back to normal," Jack said. "That took four months or so. The second time, I'd say it was like six weeks, probably because of my physical development and just being smarter about it. It's felt great ever since. It's like brand new!"
Jack is back to training in Quakertown and Philadelphia in anticipation of his next pro fight. "The Reaper" is now a reacher with his power hand once again thanks to Dr. Carolan's expert care.