News
Communicating with Your Pediatrician
October 31, 2019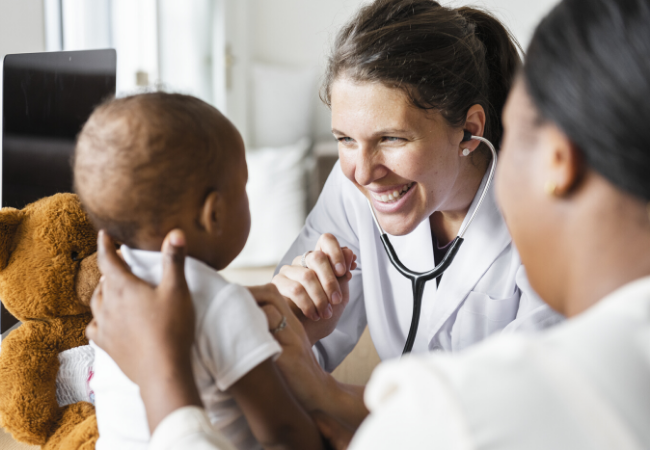 Having an established relationship with your pediatrician helps your children reach their full potential. Regular visits with the same doctor and staff build a relationship beneficial to both you and your child. Over time, your pediatrician will develop a comprehensive understanding of your child's health, leading to easier and more timely recognition of developmental issues or the onset of chronic conditions. Your pediatrician will be treating your child from infancy through adolescence, so open communication is essential to building a great relationship.
Remember, communication is a two-way street. Share what your expectations are from a visit at the start of the appointment. If you have specific concerns ("I just want to make sure my child isn't dehydrated") let the doctor know. "It's important for me to know what parents expect from the visit and what they expect from me," explains Elyse Jones, MD, pediatrician at St. Luke's Allentown Pediatrics. "I want to be sure to address all of a parent's questions and concerns, so setting that agenda at the onset of the appointment helps ensure that happens." Dr. Jones also says creating a list of questions prior to a visit can also be helpful.
Whether you are on the phone or at the doctor's office, be specific. Provide details about symptoms and any treatments you've tried. "My son vomited three times since midnight and has a fever of 101" allows your pediatrician to assess your child's condition much more easily than "I think my son has the flu."
Although it's not always possible, it's best if a parent or guardian accompanies a child to the office, instead of another relative or friend, especially for well visits. Well visits cover a lot of ground including medical history, nutrition, diet, sleep, development and, if appropriate, how well a medical condition is being controlled. "It's important that the person attending the appointment is someone who is part of the child's daily life and can provide details about the child's lifestyle," says Dr. Jones. "Of course we can view notes from the child's chart, but it's helpful to get information from a parent, including what's happening at home and school, and if there are any major stressors affecting the family."
During the appointment, be attentive. Turn off your cell phone and do your best to avoid other distractions. "We know it can be challenging to arrange additional childcare, so we are used to having an office full of siblings," say Dr. Jones. But, if possible, arrange childcare for your other children so you can devote all of your attention to the issue at hand. Also, try to stay focused on the current health situation, especially during a sick visit. If you have other concerns that are not acute, schedule a separate appointment, letting the staff know the nature of your issue, or wait to discuss those matters at your next well visit.
A pediatrician should be your trusted partner in navigating and optimizing your child's health and wellbeing. So when communicating -- in person, by phone or online -- the more information you share, the more easily your pediatrician can recommend the best care for your child.
Elyse K. Jones, M.D. is a pediatrician at St. Luke's Allentown Pediatrics, 501 Cetronia Road, Suite115, Allentown. Dr. Jones, a Wyomissing native, received her medical degree from Penn State University and completed her pediatric residency at the University of South Carolina School of Medicine and the Penn State Milton S. Hershey Children's Hospital. Dr. Jones is currently accepting new patients: 484-426-2468