News
A New Hip Has This Doylestown Dentist and Backyard Farmer Smiling Again
March 12, 2019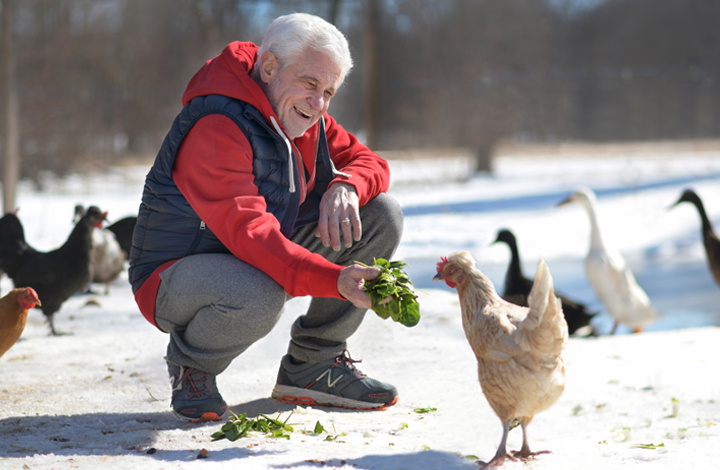 At 71 years old, Richard Bash, DDS, refuses to quit.
"I think I'm going to be working until they sweep me off the floor," he said. It almost came to that five years ago – before he discovered St. Luke's extraordinary orthopedic care.
Dr. Bash specializes in emergency dentistry and is on call 24/7 every other weekend. He works six to seven days a week at his practice in Doylestown, for which he has been named Best Dentist multiple times in the Doylestown Intelligencer's Best of BucksMont Reader's Poll.
But a deteriorating hip condition and enduring its pain for three years, along with a lung issue treated with prednisone completely took over his quality of life.
"I was in so much pain…," Dr. Bash said. "My right leg would drag behind me when I walked."
He turned to a Doylestown orthopedic group, which offered cortisone injections. The first two provided temporary relief, but then he looked at his X-ray and saw there was no cartilage in his right hip, basically putting him bone-on-bone.
Dr. Bash, a Vietnam veteran who has been a dentist since 1983, met with one renowned Philadelphia area orthopedic group which turned him down for hip replacement surgery because they thought his case, with the complication of lung problems, might negatively affect their success rate.
He ended up getting a third cortisone injection, which didn't work at all. The continuing pain was so severe that he started using a wheel chair in his office to go from patient to patient. And then he developed an elbow problem, which completely exasperated him.
"There was a St. Luke's office right around the corner from where my wife and I live in Quakertown," Dr. Bash said, "so I went over there and met Dr. Wei-Shen Lin, an orthopedic surgeon with St. Luke's Orthopedic Care, to take care of my elbow."
Dr. Lin drained Dr. Bash's elbow, and then a lightbulb went off for Dr. Bash. He asked Dr. Lin if he operated on hips. Three weeks later, after X-rays confirmed that Dr. Bash experienced avascular necrosis – AVN, the death of bone due to interruption of blood supply – and clearances from a pulmonologist and cardiologist, Dr. Lin performed a right hip replacement.
"I had my surgery on a Tuesday and was back to work that Friday," Dr. Bash said.
When Physical Therapy from St. Luke's made a house visit that Saturday, Dr. Bash was out working on his 10-acre property, tending to the more than 120 chickens, ducks, pigeons and dogs he and his wife keep.
"Recovery times vary," Dr. Lin said. "Everyone is different, but Dr. Bash had immediate pain relief from the pain he had prior to surgery, so the post-surgical pain was more tolerable for him and he was able to walk on it right away."
Dr. Lin gives patients a list of precautions and movements to avoid while the surgical repair heals, but he agreed that the improvement Dr. Bash exhibited was remarkable.
"When he first came to see me, he was very disheveled and didn't look like he was taking care of himself because he was in so much pain from his hip," Dr. Lin said. "When he came back for the follow-ups, he seemed to be happier, a huge personality change, and if you look at him today, he's well groomed, almost like a totally different person because the chronic pain is no longer there."
It's an all too familiar story that Dr. Bash had seen in his own patients with gum and tooth issues.
"When people come in all debilitated and not smiling because their teeth are so bad, they still think they're fine even though every time they talk their hand is covering their mouth, or they have a mustache covering their mouth," Dr. Bash said.
"The next time I see them after they've been taken care of properly, the mustache is gone, the shabby clothes are gone. They're different people.
"It's nice to help people. I thought I did miracles for people. The surgery Dr. Lin did was certainly a miracle for me. When Dr. Lin did that for me, it was life-changing."