News
William Allen High School Receives National Safe Sports School Award
January 30, 2018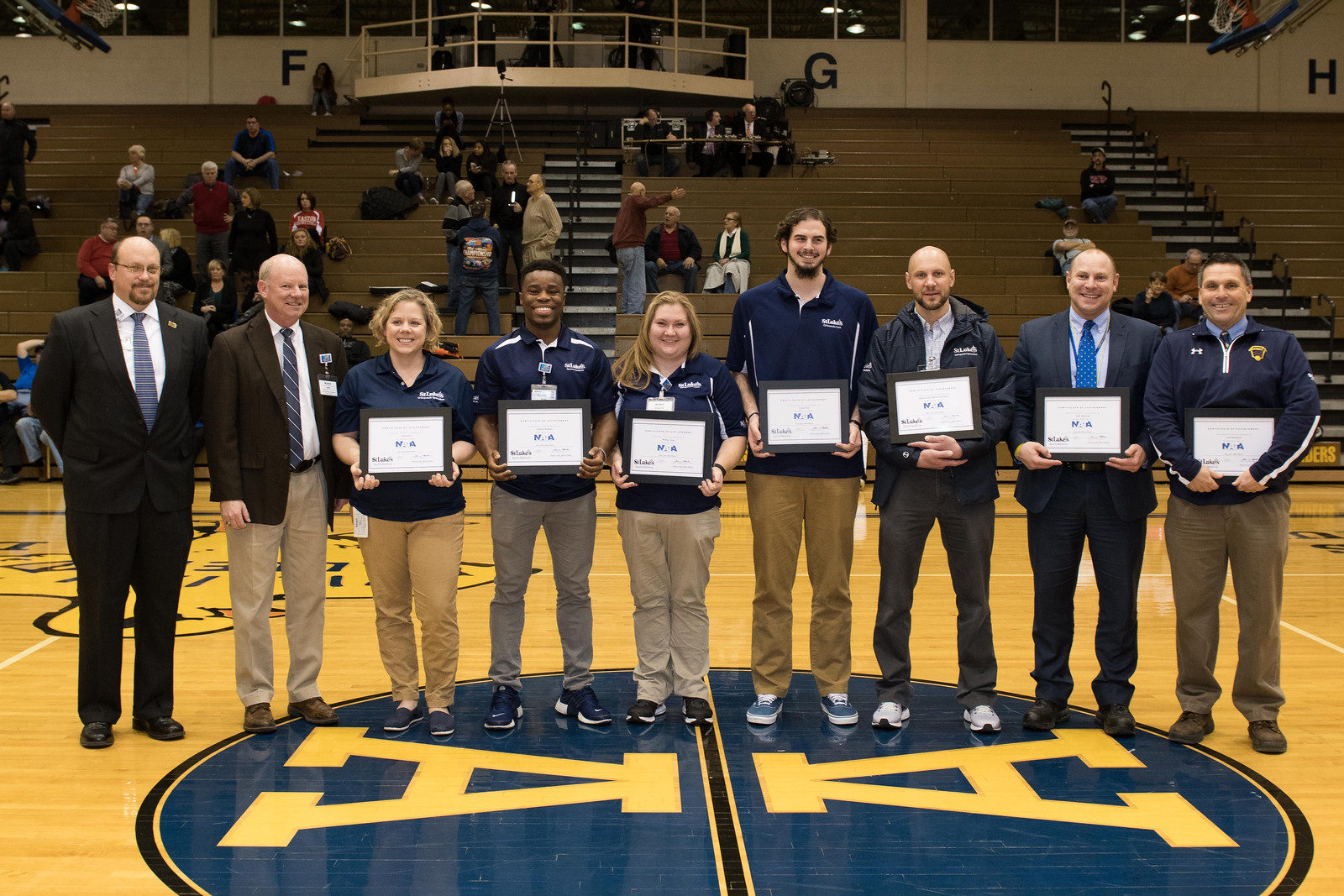 Allentown, PA – William Allen High School is the recipient of the National Athletic Trainers' Association Safe Sports School award for its athletic program. The award champions safety and recognizes secondary schools that provide safe environments for student athletes. It also reinforces the importance of providing the best level of care, injury prevention and treatment.
"William Allen High School is honored to receive this 1st Team recognition from NATA, and we remain committed to keeping our student athletes safe during team practices and games so they can accomplish their own goals of great competition, winning records, fair sportsmanship and good health," says Scott Cooperman, Athletic Director, William Allen High School. "For the past two years, St. Luke's University Health Network has provided our athletics program at William Allen High School with the highest level of care for our student-athletes for which the NATA has so proudly recognized William Allen High School as a Safe Sports School."
"We remain committed to the health and welfare of young athletes in competitive sports," says NATA President Scott Sailor, EdD, ATC. "This award recognizes the contributions and commitment of schools across the country that are implementing safe sports policies and best practices to ensure athletes can do what they love best and have the appropriate care in place to prevent, manage and treat injuries should they occur."
"This award recognizes the combined efforts of William Allen High School and St. Luke's University Health Network to achieve the National Athletic Training Association's Safe Sport School Award," says John Hauth, PhD, Senior Director of Sports Medicine Relationships, St. Luke's University Health Network. "Secondary schools from around the country are taking the crucial steps to ensure the safety and well- being of student athletes. These steps include injury prevention programs, physical exams, behavioral health, emergency preparedness, and medical care. St. Luke's would like to recognize the individuals that have given their time and effort to make this award possible."
In order to achieve Safe Sport School status, as William Allen High School did, athletic programs must do the following:
Create a positive athletic health care administrative system
Provide or coordinate pre-participation physical examinations
Promote safe and appropriate practice and competition facilities
Plan for selection, fit function and proper maintenance of athletic equipment
Provide a permanent, appropriately equipped area to evaluate and treat injured athletes
Develop injury and illness prevention strategies, including protocols for environmental conditions
Provide or facilitate injury intervention
Create and rehearse a venue-specific Emergency Action Plan
Provide or facilitate psychosocial consultation and nutritional counseling/education
Be sure athletes and parents are educated about the potential benefits and risks in sports as well as their responsibilities
For more information please visit: www.athletictrainers.org.
Media Contact:
Sam Kennedy, Corporate Communications Director, 484-526-4134, samuel.kennedy@sluhn.org
About St. Luke's
Founded in 1872, St. Luke's University Health Network (SLUHN) is a fully integrated, regional, non-profit network providing services at nine hospitals and more than 300 outpatient sites. With annual net revenue of $1.7 billion, the network's service area includes 10 counties: Lehigh, Northampton, Carbon, Schuylkill, Bucks, Montgomery, Berks and Monroe counties in Pennsylvania and Warren and Hunterdon counties in New Jersey. Dedicated to advancing medical education, St. Luke's is a major teaching hospital – the only one in the Greater Lehigh Valley. In partnership with Temple University, St. Luke's created the region's first and only regional medical school campus. It also operates the nation's longest continuously operating School of Nursing, established in 1884, and 23 fully accredited graduate medical educational programs with 189 residents. Repeatedly, including 2017, St. Luke's earned Truven's 100 Top Major Teaching Hospital and 50 Top Cardiovascular Program designations, in addition to other honors for clinical excellence. St. Luke's, utilizing the EPIC electronic medical record (EMR) system, is a multi-year recipient of the Most Wired award recognizing the breadth of St. Luke's information technology applications such as telehealth, online scheduling and online pricing information. St. Luke's is also recognized as one of the state's lowest cost providers.