News
Spinal Cord Injuries and Concussion Require SMART Training
August 06, 2018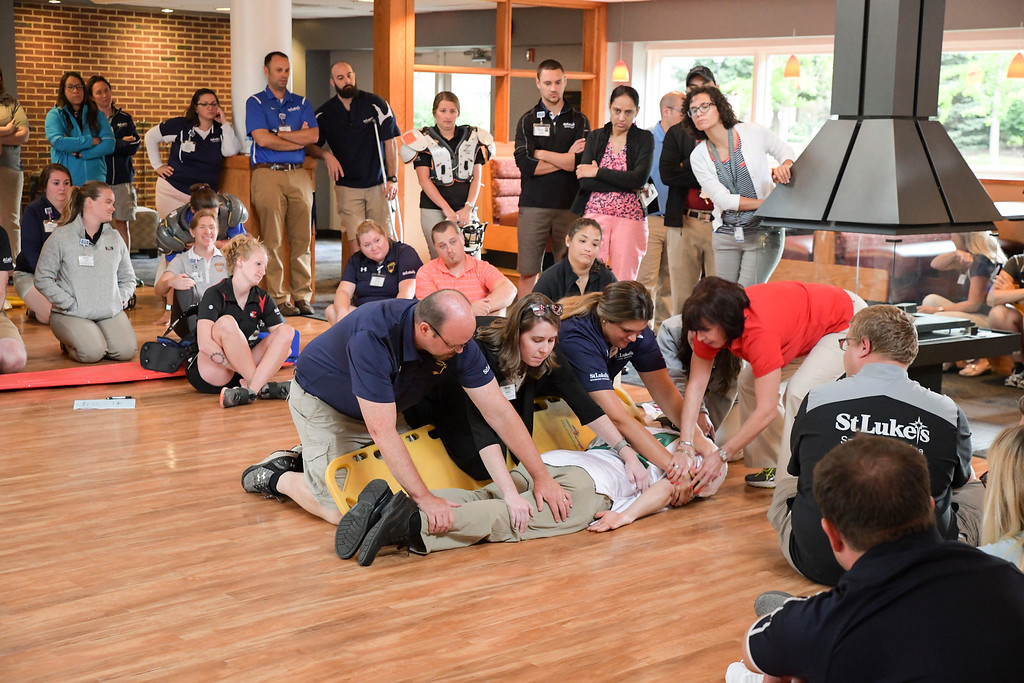 Proper care of sports injuries – especially suspected acute spinal cord injuries and concussions – requires continued training. That's why St. Luke's University Health Network certified athletic trainers and sports medicine physicians attended a S.M.A.R.T (Sidelines Management Assessment Response Techniques) Workshop at Prosser Auditorium in the Haupert Union Building of Moravian College on August 1.
"Our team of athletic trainers and physicians were presented the latest research to make sure we are equipped with the most up-to-date information to properly care for the population we serve," said Stephenie Stark, Senior Athletic Trainer.
The athletic trainers and sports medicine physicians practiced in caring for simulated on-field acute spinal cord injuries (SCI) or concussions scenarios that could occur during practice or competitions. Steve Cole (The College of William & Mary) and Sue Shapiro (Barry University) utilized techniques based on recommendations from the latest National Athletic Trainers' Association Position Statement and other evidence-based studies to present on the acute management of SCI and concussions.
The S.M.A.R.T. Workshop covered challenges specific to treating athletes in equipment-intensive sports like football, hockey and lacrosse, where shoulder pads and helmets cause barriers for basic or advanced life support. These situations require a review and practice of the skills necessary to access the airway or chest.
In addition, equipment laden athlete with a suspected SCI requires an additional layer of teamwork. The coordinated effort of no less than four trained professionals working together is required.
The workshop also covered the need for each athletic program to develop a venue-specific Emergency Action Plan (EAP) with their local EMS and to take a "Time Out" before each event to assess the options and equipment available at these events.
"All our Certified Athletic Trainers and sports medicine physicians really enjoyed having the time to work together in an effort to ensure both efficient care and the highest quality care for our patients.," Stark said.
Media Contact:
Sam Kennedy, Corporate Communications Director, 484-526-4134, samuel.kennedy@sluhn.org
About St. Luke's
Founded in 1872, St. Luke's University Health Network (SLUHN) is a fully integrated, regional, non-profit network of 14,000 employees providing services at 10 hospitals and over 300 outpatient sites. With annual net revenue of $1.9 billion, the Network's service area includes 10 counties: Lehigh, Northampton, Berks, Bucks, Carbon, Montgomery, Monroe and Schuylkill counties in Pennsylvania and Warren and Hunterdon counties in New Jersey. Dedicated to advancing medical education, St. Luke's is the preeminent teaching hospital in central-eastern Pennsylvania. In partnership with Temple University, St. Luke's created the region's first and only regional medical school campus. It also operates the nation's longest continuously operating School of Nursing, established in 1884, and 28 fully accredited graduate medical educational programs with 226 residents and fellows. St. Luke's is the only health care system in central-eastern Pennsylvania to earn Medicare's five-star rating (the highest) for quality, efficiency and patient satisfaction. St. Luke's has earned the 100 Top Major Teaching Hospital designation from IBM Watson Health (formerly Truven Health Analytics) repeatedly – six times total and four years in a row including 2018. It has also been cited by IBM Watson Health as a 50 Top Cardiovascular Program. Utilizing the EPIC electronic medical record (EMR) system for both inpatient and outpatient services, the Network is a multi-year recipient of the Most Wired award recognizing the breadth of the SLUHN's information technology applications such as telehealth, online scheduling and online pricing information. St. Luke's is also recognized as one of the state's lowest cost providers.