News
New Time-Saving Protocol at St. Luke's Monroe Campus Adds Valuable Minutes for Heart Attack Patients
July 09, 2018
Keyna Lundy is living proof that minutes matter. She was the first patient to benefit from the St. Luke's Monroe Campus' new "Direct to Cath Lab" program, which saves valuable time for patients who need catheterization by allowing them to bypass the emergency department.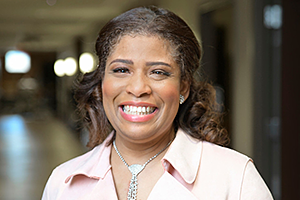 Keyna Lundy
On May 3, 2018, Lundy was five minutes into her drive to work when something started going very, very wrong.
"Prior to leaving the house, my lungs were sore, but I thought it was my asthma," says Lundy, a resident of Tobyhanna. "I used my inhaler, but as I was driving, I became very nauseous, stared feeling sharp pain and my vision got blurry. Then, everything started to go dark."
Lundy pulled off the road and used her phone's personal assistant to call 911. Lundy told the operator that she was in a silver Jeep and that she was near the local fire station.
The response team – which included paramedic Damian Ober and EMT Javier Cruz of Pocono Mountain Regional EMS – was on the scene within minutes. Stroud Area Regional Police officer and Coolbaugh Township Volunteer Fire Company assistant chief George Dobson also arrived to assist.
"I remember the team saying that they were starting the procedure for someone who is in cardiac arrest," Lundy says. "The paramedics had already contacted the hospital to let them know my condition and symptoms. They had all my personal information inputted and in the system.
"Once I made it to the hospital, I went right from the stretcher to a bed in the operating room. I was in and out of consciousness. They couldn't find a pulse in my left arm. They went through the groin on my right side to implant the stents. They had to resuscitate me. I had had a massive heart attack and Dr. K saved me."
Dr. K is Vinod Kudagi, MD, a board-certified interventional cardiologist with St. Luke's Cardiology Associates in East Stroudsburg. Dr. Kudagi says that the Direct to Cath Lab program is designed for patients who are experiencing ST-elevation myocardial infarction (STEMI), which is a severe heart attack caused by a major artery that is clogged and prevents blood from reaching the heart.
"Every second we wait, the patient is losing heart muscle that will never be regained," Dr. Kudagi explains. "By taking the patient directly to the Cath Lab instead of to the Emergency Room to be checked in and assessed, we can save 20 or 30 minutes."
In this case, Lundy's "door-to-balloon" time through St. Luke's Monroe Hospital's new Direct to Cath Lab program was only 12 minutes, which is much quicker than the recommended practice guideline time of 90 minutes.
"This means that we managed to open her blocked artery – which was causing her heart attack – in only 12 minutes after she presented to the hospital," Dr. Kudagi notes.
After her emergency care, Lundy stayed in the hospital for several days and had open-heart surgery in late May. She is happy that St. Luke's offers the convenience and capabilities to provide top-quality and time-saving care to the residents of Monroe County.
"St. Luke's built the hospital in an area that's convenient to get to from our area of the Poconos," she says. "Time was very critical for me. The Direct to Cath Lab program was beneficial because every second mattered. Everyone worked well as a team."
Says Ober, "It's a very valuable service and as we've seen, it is potentially life-saving. Once upon a time, all patients, no matter how serious or minor their condition, would go to the emergency department to be evaluated by a physician before any advanced measures – such as the cath lab – could be scheduled or ordered."
He says that for several years, EMS workers have been doing 12-lead EKGs in the field on a pre-hospital basis.
"With the 'Direct to Cath Lab' concept, we're able to identify the likelihood for a patient to need percutaneous coronary intervention at the cath lab," Ober adds. "We can identify that based on EKG abnormalities that we see and we send a copy of that to the receiving hospital and consult the hospital to give them a summary of the patient's condition. It's a time-sensitive procedure and you don't have much leeway. You don't want to delay it at all by taking any unnecessary stops."
Cruz adds that key components of the success of the program are communication and trust between EMS and the hospital.
"The communication with St. Luke's Monroe is excellent," Javier says. "They are waiting for us at the main door and we go right to the cath lab. Work on the patient begins when we arrive on the scene and continues without interruption at the hospital."
That seamless coordination and transition saves minutes and, ultimately, can save lives. Through programs such as Direct to Cath Lab, St. Luke's Monroe Hospital provides outstanding heart care in the region so patients can stay close to home while receiving the best and highest quality heart care possible.
Media Contact:
Sam Kennedy, Corporate Communications Director, 484-526-4134, samuel.kennedy@sluhn.org
About St. Luke's
Founded in 1872,

St. Luke's University Health Network

(SLUHN) is a fully integrated, regional, non-profit network of 14,000 employees providing services at 10 hospitals and over 300 outpatient sites. With annual net revenue of $1.9 billion, the Network's service area includes 10 counties: Lehigh, Northampton, Berks, Bucks, Carbon, Montgomery, Monroe and Schuylkill counties in Pennsylvania and Warren and Hunterdon counties in New Jersey. Dedicated to advancing medical education, St. Luke's is the preeminent teaching hospital in central-eastern Pennsylvania. In partnership with Temple University, St. Luke's created the region's first and only regional medical school campus. It also operates the nation's longest continuously operating School of Nursing, established in 1884, and 28 fully accredited graduate medical educational programs with 226 residents and fellows. St. Luke's is the only health care system in central-eastern Pennsylvania to earn Medicare's five-star rating (the highest) for quality, efficiency and patient satisfaction. St. Luke's has earned the 100 Top Major Teaching Hospital designation from IBM Watson Health (formerly Truven Health Analytics) repeatedly – six times total and four years in a row including 2018. It has also been cited by IBM Watson Health as a 50 Top Cardiovascular Program. Utilizing the EPIC electronic medical record (EMR) system for both inpatient and outpatient services, the Network is a multi-year recipient of the Most Wired award recognizing the breadth of the SLUHN's information technology applications such as telehealth, online scheduling and online pricing information. St. Luke's is also recognized as one of the state's lowest cost providers.