News
St. Luke's Hospital - Warren Campus Celebrates 5 Years with St. Luke's University Health Network
October 30, 2017
Nearly $90 million of investments have improved quality of and access to care and boosted the greater Phillipsburg economy.
Five years ago, Warren Hospital in Phillipsburg, N.J., was a very different health care institution, facing the very real possibility it would have to close.
"Warren Hospital was struggling," recalled Board of Trustees secretary, Robert Rumfield, who was Chair of the Warren Board when Warren joined St. Luke's in 2012. "There was a lot of debt, a significantly underfunded retirement plan and no excess capital to allow long overdue upgrading of the facilities. St. Luke's was a great match. All the things we were hoping would come from our joining St. Luke's to benefit this community have come about."
Today, Warren Hospital is truly powered by St. Luke's. Since the hospital joined the Network, St. Luke's has invested nearly $90 million in patient friendly upgrades at the hospital's main campus and satellite locations throughout Warren and Hunterdon counties.
St Luke's Hospital - Warren Campus has generated the equivalent of over 95 days cash on hand, noted Robert Barlow, Chair, Board of Trustees. He described this as "a dramatic change" from before the merger when Warren had less than two days cash on hand to pay its creditors.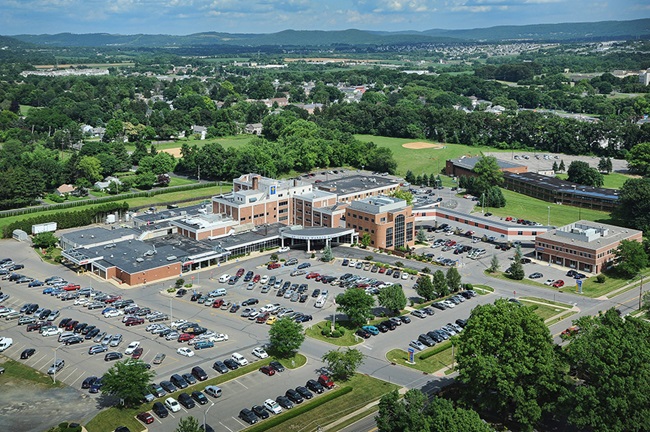 ---
St. Luke's Hospital - Warren Campus President, Scott R. Wolfe, recounted the transformation of the hospital in the last five years with a mixture of pride and excitement at how much has happened in that relatively short period of time.
"St Luke's Hospital – Warren Campus, a vitally important institution in the greater Phillipsburg area for nearly 100 years, has become a valued partner in the St. Luke's University Health Network," Wolfe said. "We are ensuring its presence in the community for many years to come by making sure we have the physicians, staff, facilities, and satellite locations we need to serve the patients who live and work here and throughout the region."
Wolfe highlighted some of the improvements at the hospital: "Patient rooms were completely re-designed & rebuilt. The existing Intensive Care Unit was replaced with a state of-the-art facility that can flex to accommodate patient needs, from intensive care through standard medical/surgical cases. The ER has been upgraded with the newest facilities, smartest technology and additional physicians and staff to provide the shortest wait times in the area. The Warren Campus also boasts 3D mammography and the very latest imaging equipment available in the Network."
With the addition of the Warren Campus and its satellite locations, St. Luke's brought the Network's nationally-top-ranked care and service across the Delaware River, into northwestern New Jersey.
Since then, St. Luke's has continued to extend its reach into New Jersey. For example, the Network recently expanded the Warren Hills Family Practice in Washington, New Jersey to include radiology and outpatient physical therapy services. And specialty physician coverage was expanded to include cardiology, podiatry and ENT to increase access to those services by the local residents.
"We have the best approach to patient health in the community," said Marc Abo, MD, board member and Chairman of the Department of Surgery at St. Luke's Hospital – Warren Campus. "There is an excellent medical staff and exceptional quality of care, along with access to the specialties and resources of a world class premiere health system. We've also increased our physician recruitment efforts to attract the best candidates in neurology, cardiology, orthopedics, gastroenterology, critical care and other specialties."
Added James Goodwin, MD, Warren board member and retired long time primary care physician at Warren Hills Family Practice: "A lot of effort and dedication also went into the quality initiatives. St. Luke's is serious about improving patient outcomes. SLUHN has transformed Warren into a real modern hospital. It adheres to all the clinical protocols of the network."
As part of the St. Luke's University Health Network, the Warren Campus uses electronic health records to easily share information and expertise among hospitals, physician practices, laboratories and testing sites. Electronic health records have replaced paper records to ensure communication about patient health is accurate, up-to-date and always available.
"Building on our success over the past five years, St. Luke's plans to continue to enhance and bring new services to Warren and Hunterdon Counties," Wolfe said. "People wanted St. Luke's here because we invest in our hospitals and our communities."
"St. Luke's crossed the river so patients don't have to."
Media Contact:
Sam Kennedy, Corporate Communications Director, 484-526-4134, samuel.kennedy@sluhn.org

About St. Luke's
Founded in 1872, St. Luke's University Health Network (SLUHN) is a fully integrated, regional, non-profit network providing services at seven hospitals and more than 270 outpatient sites in the greater Lehigh Valley. The network's service area includes 10 counties: Lehigh, Northampton, Carbon, Schuylkill, Bucks, Montgomery, Berks and Monroe counties in Pennsylvania and Warren and Hunterdon counties in New Jersey. In partnership with Temple University, St. Luke's created the region's first and only regional medical school campus. Dedicated to advancing health education, St. Luke's operates the nation's oldest School of Nursing and 23 graduate medical educational programs and is considered a major teaching hospital – the only one in its region. Repeatedly, including 2017, St. Luke's earned Truven's 100 Top Major Teaching Hospital and 50 Top Cardiovascular Program designations, in addition to other honors for clinical excellence. St. Luke's is a multi-year recipient of the Most Wired award recognizing the breadth of St. Luke's information technology applications such as electronic medical records, telehealth, online scheduling and pricing information. St. Luke's is also recognized as one of the state's lowest cost providers.