News
Richard Anderson Receives Honorary Doctorate
September 22, 2017
Moravian College bestows honorary degree upon St. Luke's President and CEO
Moravian College in Bethlehem presented St. Luke's University Health Network President and CEO Richard A. Anderson the honorary degree of Doctor of Humane Letters.
The presentation Thursday evening occurred at Moravian's inaugural Healthcare Forum, on a day that that also saw the dedication of the college's newest academic building, the Sally Briedegam Miksiewicz Center for Health Sciences.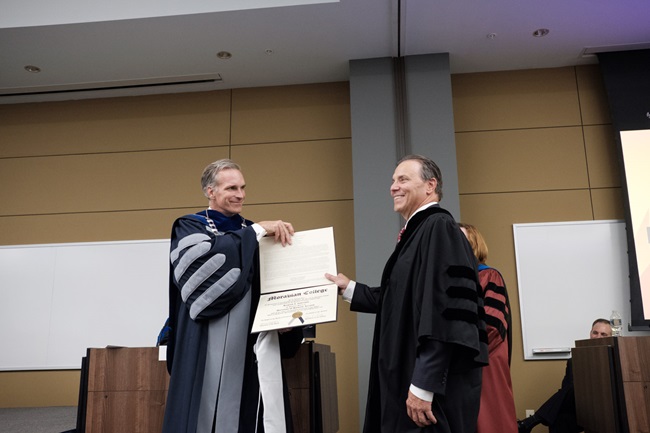 ---
Kerry Cheever, professor and chair of the department of nursing and health at Moravian College said, "Rick Anderson's philosophy is echoed in his words, 'St. Luke's is more than bricks and mortar. It is people.' He believes that developing and promoting the right team of people at all levels is the recipe to ensuring that patient care is of the best quality. Under his leadership, St. Luke's launched the Lehigh Valley's sole regional medical school campus, in partnership with Temple University, which graduated its first class of students in 2015."
Anderson also has been instrumental in guiding, mentoring, and developing the undergraduate and graduate nursing programs at Moravian College.
President Grigsby presented the honorary degree to Anderson who accepted the honor with humility. "Wow," he said. "I am humbled, honored, and so grateful. Words cannot describe my feelings. My family is here ... my colleagues. It doesn't get any better than this."
Read more here: https://www.moravian.edu/news/releases/2017/healthcare-forum#.WcVHn1Xyvb0
Media Contact:
Sam Kennedy, Corporate Communications Director, 484-526-4134, samuel.kennedy@sluhn.org
About St. Luke's
Founded in 1872, St. Luke's University Health Network is a fully integrated, regional, non-profit network providing services at seven hospitals and more than 270 outpatient sites. The network's service area includes 10 counties: Lehigh, Northampton, Carbon, Schuylkill, Bucks, Montgomery, Berks and Monroe counties in Pennsylvania and Warren and Hunterdon counties in New Jersey. In partnership with Temple University, St. Luke's created the region's first and only regional medical school campus. Dedicated to advancing health education, St. Luke's operates the nation's oldest School of Nursing and 23 graduate medical educational programs and is considered a major teaching hospital – the only one in its region. Repeatedly, including 2017, St. Luke's earned Truven's 100 Top Major Teaching Hospital and 50 Top Cardiovascular Program designations, in addition to other honors for clinical excellence. St. Luke's is a multi-year recipient of the Most Wired award recognizing the breadth of St. Luke's information technology applications such as electronic medical records, telehealth, online scheduling and pricing information. St. Luke's is also recognized as one of the state's lowest cost providers.