News
American Heart Association Loves St. Luke's Babies' Hearts
February 14, 2017
Bethlehem, PA (2/14/2017) –
Babies born in February at
St. Luke's University Health Network
will be the stylish recipients of red hats provided by generous volunteer knitters who have donated thousands of their creations to the
American Heart Association (AHA)
.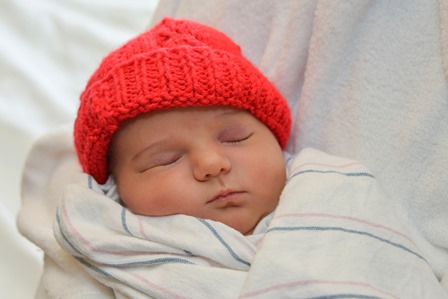 ---
Newborn Maeve O'Donnell wears a hand-knitted red hat donated by American Heart Association's volunteer knitters.

The AHA delivered 300 lovingly-crafted hats to St. Luke's on February 3 to remind parents that February is heart month and to draw attention to the issue of congenital heart defects. Mostly driven by social media, the program started in the Midwest but has become a national initiative, says Dawn Fernandez, social events director for the Lehigh Valley Chapter of the American Heart Association.
Two years ago, Pennsylvania legislators passed a law requiring all newborns to receive a pulse oximetry test that detects many congenital heart defects, Fernandez says. The test is useful for identifying conditions that, if undetected, could cause future issues.
"Our knitters get very creative," she says, "Some have knitted little hearts into the pattern and others use sparkly yarn. We provide a pattern to follow and directions for different sizes of hats. Some of the smallest hats you've ever seen are for preemies and then we provide directions to make hats for 9- and 10-pound babies, too."
St. Luke's nurses are very excited about distributing the hats to the families on the labor and delivery floors, she says, and the AHA gets thanks-yous from them saying they feel "honored to be a part of the event," Fernandez says.
Jared King,
St. Luke's Women's and Children's
Service Administrator is grateful for the effort, the hats and the program.
"St. Luke's is incredibly appreciative of the American Heart Association and its kind volunteers who have devoted endless hours to knitting these hats, ultimately raising awareness about congenital heart defects with families across the region. This directly aligns with our continuous focus to identify congenital heart defects prenatally and care for those affected throughout their lives as children and adults," King said.
The little red hats bring smiles to everyone's faces and help keep babies warm as they leave for home in the chilly February weather.
"We want to thank all of our knitters," Fernandez says, "Without them, this wouldn't happen."
About St. Luke's
Founded in 1872, St. Luke's University Health Network (SLUHN) is a non-profit, regional, fully integrated and nationally recognized network providing services at seven hospitals and more than 270 outpatient sites. The network's service area includes Lehigh, Northampton, Carbon, Schuylkill, Bucks, Montgomery, Berks and Monroe counties in Pennsylvania and in Warren County in New Jersey. Dedicated to advancing health education, St. Luke's operates the nation's oldest School of Nursing and 22 graduate medical educational programs and is considered a major teaching hospital, the only one in the region. In partnership with Temple University, St. Luke's created the region's first Medical School. Repeatedly, including 2016, St. Luke's has earned Truven's 100 Top Major Teaching Hospital designation as well as 50 Top Cardiovascular program in addition to other honors for clinical excellence. St. Luke's is a multi-year recipient of the Most Wired award recognizing the breadth of St. Luke's information technology applications such as electronic medical records, telehealth, online scheduling and pricing information. St. Luke's is also recognized as one of the state's lowest cost providers in comparison to major teaching hospitals and other health systems.